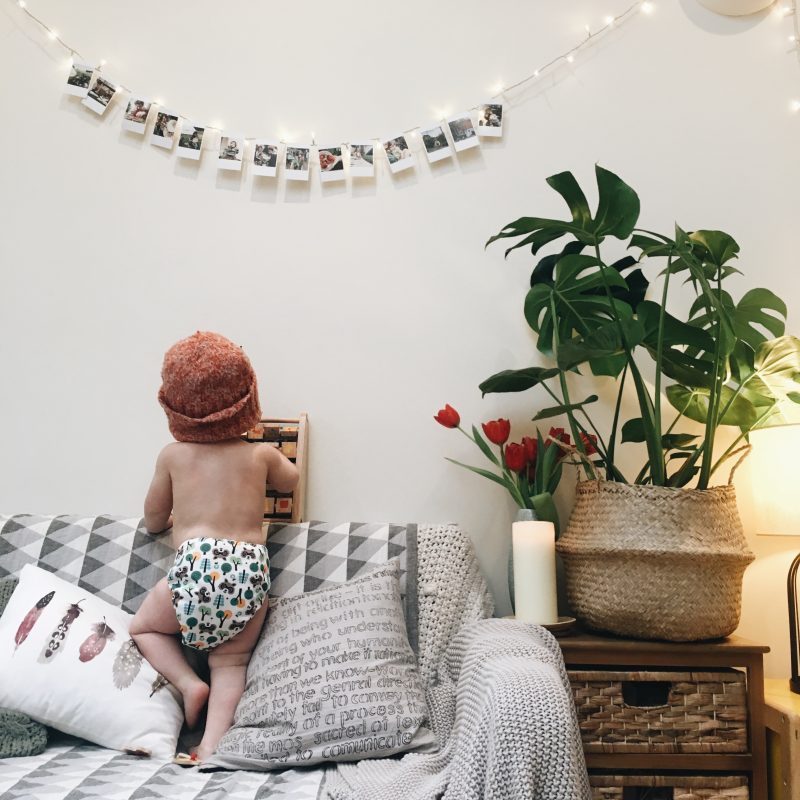 To celebrate Real Nappy Week, I wanted to post 5 questions for anyone considering ditching disposables and opting for cloth instead. Using cloth nappies is not hard, it's just different to using disposables and requires a slightly changed mindset. Plus, given the average baby goes through 5500 nappies from birth to potty, it's a pretty big deal and worth some real probing. So here goes, are you a good candidate for cloth nappy-ing?*
1. Are you OK with 'icky' things?
Cloth nappying can be a little, well, mucky. At times it will smell bad. You'll come close to your kids' poop. You might even get it on you. If you're going to cloth nappy, you need to be ok with getting your hands dirty. Literally. If you're more worried about newly painted nail, then it might not be for you.
2. Do you like dislike a big financial outlay?
The financial pain of cloth nappies is probably what most puts people off. I think it's because you're making a large upfront payment whereas with disposables, you just keep paying monthly, or however often you need to replenish your stock. The thing to know is that you don't have to buy a complete system in one go. In fact, I really recommend that you don't and that you experiment a little and gradually build up, like anything baby product related. The Nappy Lady has the following advice: "You could start with one night time nappy and 5 daytime nappies.  You'd wash daily and top up with a few disposables each day.  I'd wash each night and wouldn't buy a bucket or storage bag until later on instead I'd just put each soiled nappy in the washing machine and wash at the end of day making up a load with sicky bibs and muslins." I started off using a nappy bin but recently realise we really don't need one as I tend to just pop nappies straight into the washing machine. Finally, don't forget to check if your eligible for a Nappy Voucher from your borough.
3. Are you OK with going against the grain? 
Using cloth nappies is 'different', there's no doubt about it. Of all of my close mama friends, there's only 1 or 2 of us that use them (wahoo for Instagram and access to like-minded mamas all over the world!). I've had multiple mums question my choices and I've even had a mum snigger at me when I've pulled out cloth wipes. It's always the mums who have least idea who the most critical. If you're not afraid to mother a little differently, then keep reading…
4. Are you OK with things taking a little longer?
There's no doubt about it, cloth nappies require more effort. As I mentioned above, it's not hard; it's just different. It's rinsing and squeezing and washing; it's not slinging in a dustbin. It's hanging out to dry and stuffing; it's not grabbing from a packet. Day to day, it is slightly more time consuming, and you need to be OK with that.
5. Are you keen to reduce your contribution to landfill
Of course you are! Especially when I tell you that it takes ONE nappy 500 years to decompose and that 8 million disposable nappies go to landfill EVERY SINGLE DAY in the UK. If you don't want to be a part of that number, then cloth nappies could well be for you.
Do you use cloth nappies? I'd love to know the number one reason you love them, or if you don't, what it is that's stopping you? Oh and do check out my 10 min all you need to know cloth nappy guide.
Emma xxx
P.S 5 Zero Waste Parenting Switches and Ultimate Zero Plans Day Playlist
*so not a word