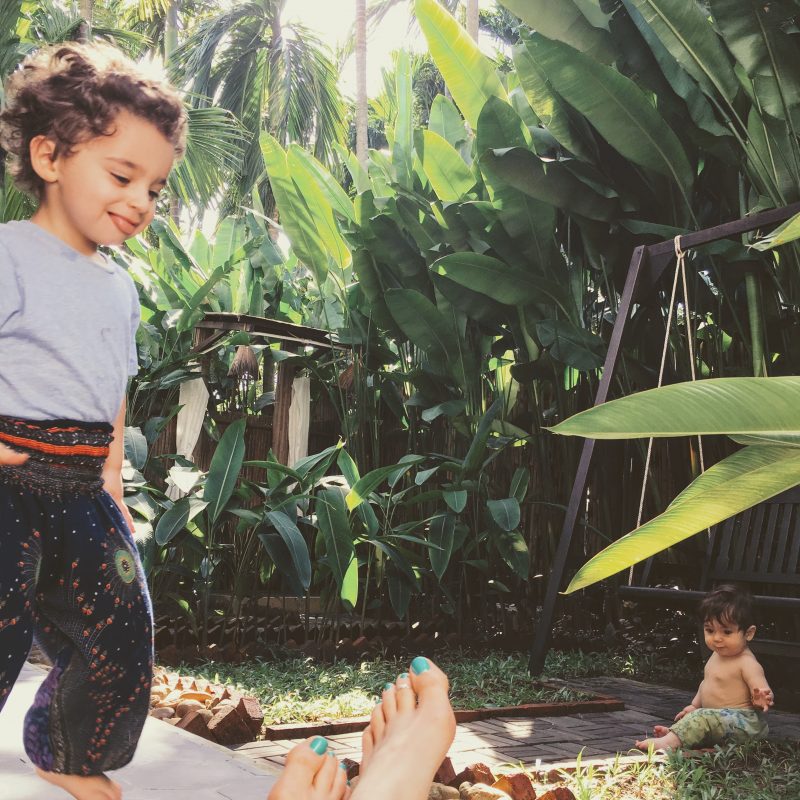 And so it was that with absolutely zero idea of the time let alone the day, and a "night" that consisted mainly of Paw Patrol on a loop and ritz crackers we found ourselves waking up at 5.30am (only we would fly half way across the world and then have to set an alarm to get us and the kids out of bed at some unearthly hour), grabbing pastries, coffee and bananas (thank the Lord for bananas) and piling onto a buggy cart and heading back to Kuala Lumpur airport. I don't remember anything of the flight but it felt great to land somewhere new and not have fitting two kids car seats be our first experience of a new country (we have lost hours of our lives trying to fit these things with grumpy looking staff just looking on). Instead we were greeted by a smiling man and led to our car which we all promptly collapsed in to, soaking up the air conditioning whilst Jack immediately noticed the bobbing Buddha's head on the dashboard, before all the boys passed out for the rest of the journey.
We soon arrived at our hotel, the beautiful Hoi An Ancient House resort* and were taken to our room. The first thing I noticed and loved was the outdoors shower – my absolute dream. The hard marble-like floor, not so much. Jack has just transitioned to a bed at home so he was sleeping in beds/ sofa beds on this trip and luckily a friend tipped me off about Shrunks inflatable bed rail which has been invaluable. The grounds of the hotel are stunning and we spent a gorgeous few hours hanging out (I hesitate to use the word 'relaxing' because whenever there is a toddler involved and he is awake, things are never truly 100% relaxing). That said, we are fortunate in that Jack is extremely content playing alone, especially if he has a few of his wooden trains which thankfully we brought along.
A bath and sugary coffee later, that evening we somehow found ourselves and our 2858 other items (we have since realised the importance of a GOOD and LARGE day bag) hauling ourselves onto the hotel shuttle to go and explore the old town of Hoi An. I'm not sure what we expected but what we were hit with far exceeded any pre conceived ideas. There was the most amazing atmosphere; a maze of narrow, bustling lanes with hand made lanterns of every colour strung up across the roads with tailors shops, restaurants and street food stalls spilling out. The roads mainly all converged at the main Thu Bon river packed with people and children selling lanterns to people to set afloat with wishes. To say Hoi An has charm is an understatement; I was walking around with my jaw wide open most of the evening. The main goal of the whole night though? To avoid getting lost and to make it back to the meeting point to catch the shuttle back. As luck / horrific  jetlag would have it, both boys fell fast asleep (Jack in the buggy and Sonny in the carrier on Sam) and with no time to mess around once we realised dinner might be kid-free, we dived into Mango Mango across the bridge which was delicious. (I've also heard great things about Morning Glory – the queue was too long though and the priority here was peaceful dining not necessary high dining). There was just time for a quick browse in the shops and coffee at Hoi An Roastery before the boys woke in time for some dinner (care of Ellas pouches) and a shuttle ride home. Several hours of bed jumping later, we all finally fell asleep….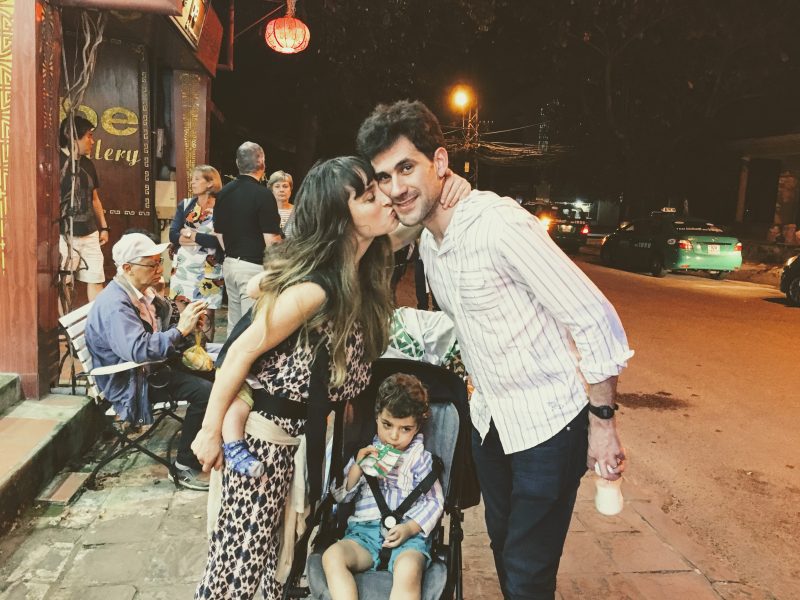 The next day, eager to see the sea as soon as possible and never really that good at sitting still for long, we headed to An Bang beach in the afternoon where we mainly hung out in the huge sofa beds at the very chilled out Soul Kitchen and ate noodles and let the boys sleep more before going for wander in the back streets. That night, there was only one way to spend the evening; room service, dressing gowns and a big glass of wine.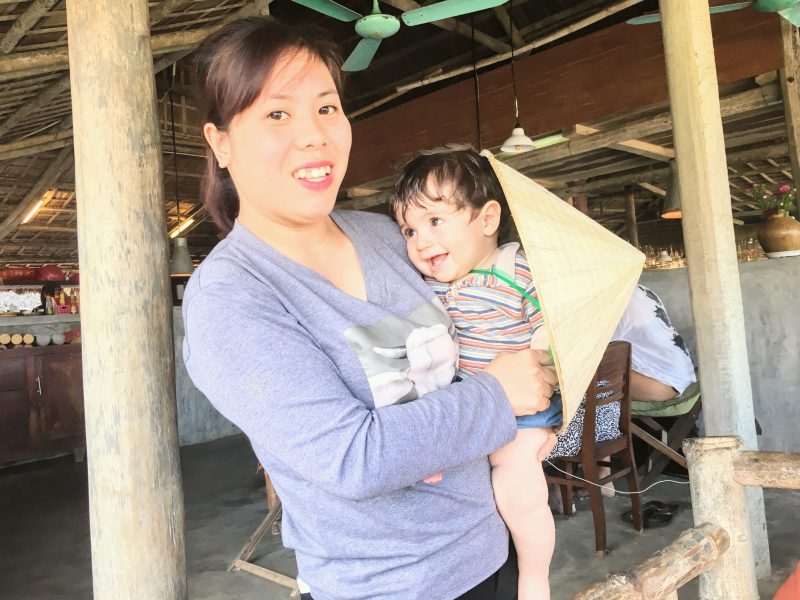 The following day we had one of the few things that we had planned pre arriving in Asia; a cookery class at Gioan Cookery School. As is often the way with us, we say yes and worry about 'how' later; in this case, about 60 seconds before we walked into the class. And so it was that we found ourselves in the middle of a bustling food market with a baby hanging off me, Sam wheeling another, having herbs and spices and amazing coloured and shaped fruits thrust in our faces by women with not a huge amount of teeth, and a super sweet Vietnamese teacher who I was sharing birth stories with within 5 minutes of meeting. Back at the cookery school, thanks to plastic tricycles and children- loving Vietnamese – we seemed to somehow be taught and just about make a four course meal from scratch: the most delicious spring rolls, veggie pho, aubergine clay pot and lemongrass chicken. All the while with the most animated friendly teacher who kept calling Sam 'daddy boy' and singing Beatles songs as she twirled brandishing some chopsticks and a huge knife. It was an unforgettable morning.
After the class, doggy bags in hand, we took a stroll to the old town to see it by day. Vietnam is famed for its coffee, and Hoi An did not disappoint. We crossed the Japanese bridge and found ourselves at Reaching Out Tea House –  a social enterprise cafe run by speech and hearing impaired individuals where the coffee and snacks are amazing, only whispering is permitted and there is a paper based ordering system. Literally, it wa the perfect place for a slightly frazzled couple, sleeping toddler and baby (being cared for by friendly staff) looking for a peaceful place to while away the afternoon. The coffee was strong and the home made coconut biscuits bang on. We left feeling rested, arriving back at the hotel for a "quiet" night in feasting on left overs and a cheeky Diet Coke from the mini fridge. Eatery wise, I'd also heard good things about The Field but unfortunately it was closed when we were there.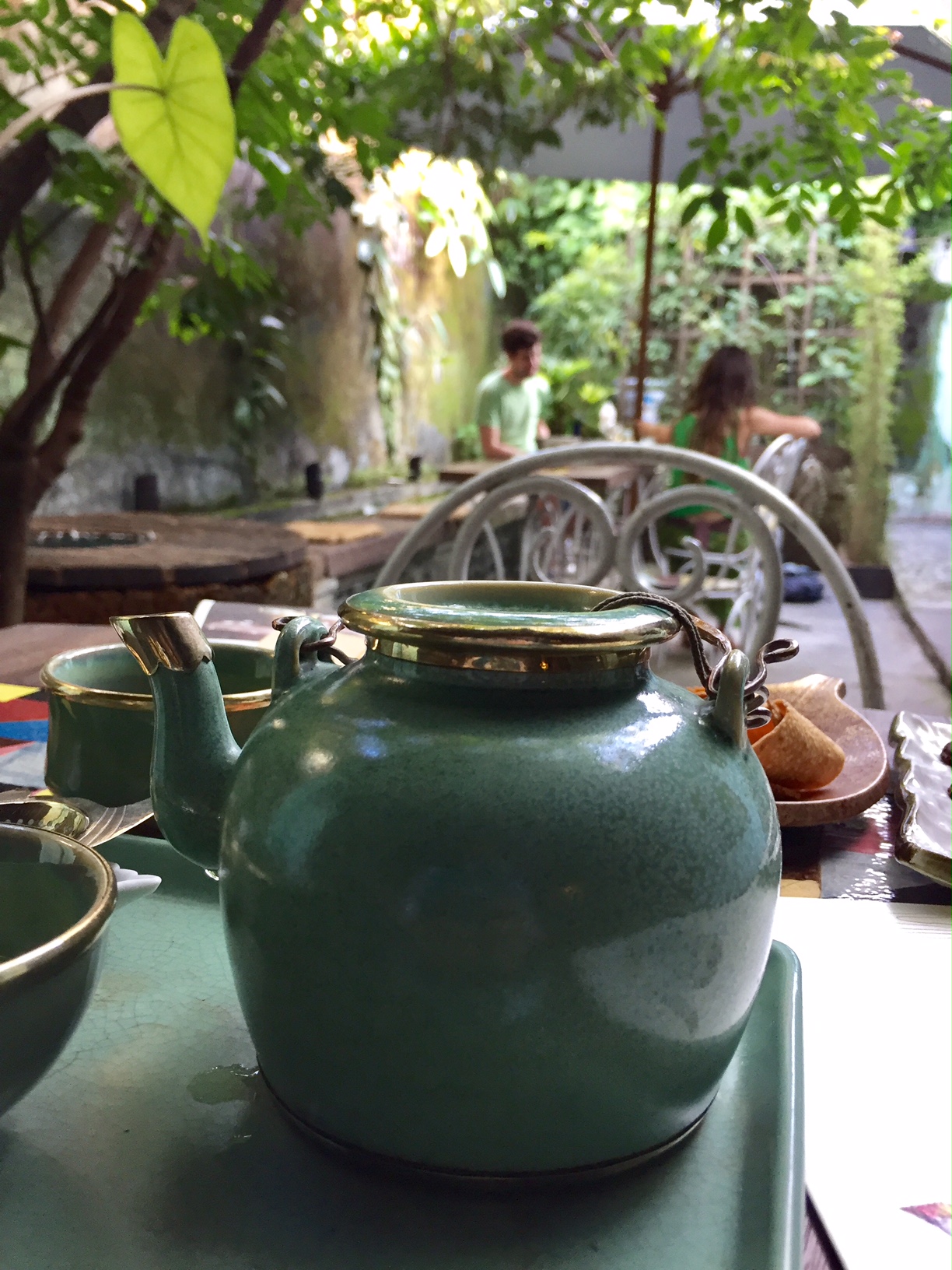 Our final morning was spent scoffing passion fruit and pastries before jumping on bikes and cycling out into the countryside. To clarify, Sam was carrying Sonny in the connecta baby carrier with Jack sat in a little seat at the back – given I could hardly reach the pedals there was no way I was risking anyone else's' life. That said – and there's been a few – it was one of those experiences where I spent most of it looking anywhere other than at Sam and the kids for the entirety of the time. Put it this way, I'm not sure it would have passed UK road safety standards. Mini heart palpitations aside, exploring the dusty back roads and idyllic fishing villages was potentially my favourite part of our whole time in Hoi An.  Jack and I got a ride on a buffalo and I watched/hovered over whilst he ran around the villages darting in and out the brightly coloured houses on stilts. The kind of places where washing strung up looks pretty. We managed to stay on land and upright and make it back to our hotel before heading to the airport for the next chapter of our travels. We had a seamless flight to Siem Reap with Vietnam Airlines but once we arrived to Cambodia we had to endure an extremely long wait for our visa. All I'll say is thank the lord for the hordes of Korean and Chinese tourists who took it upon themselves to entertain / help me carry / play racing cars / photograph the kids so that whilst Sam was dealing with the mammoth three hour visa situation, I was somehow jugging the kids. We didn't end up getting out of the airport until around 8pm but our night was only just getting started…Thanks for reading this far….more coming soon!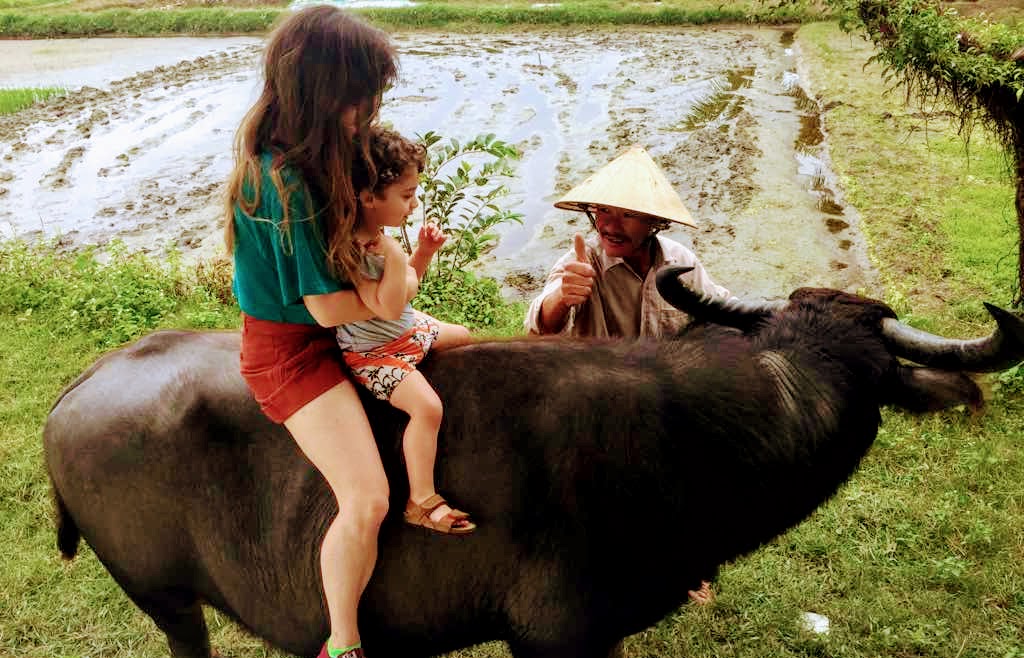 *we were fortunate to receive some nice Press perks during our stay.