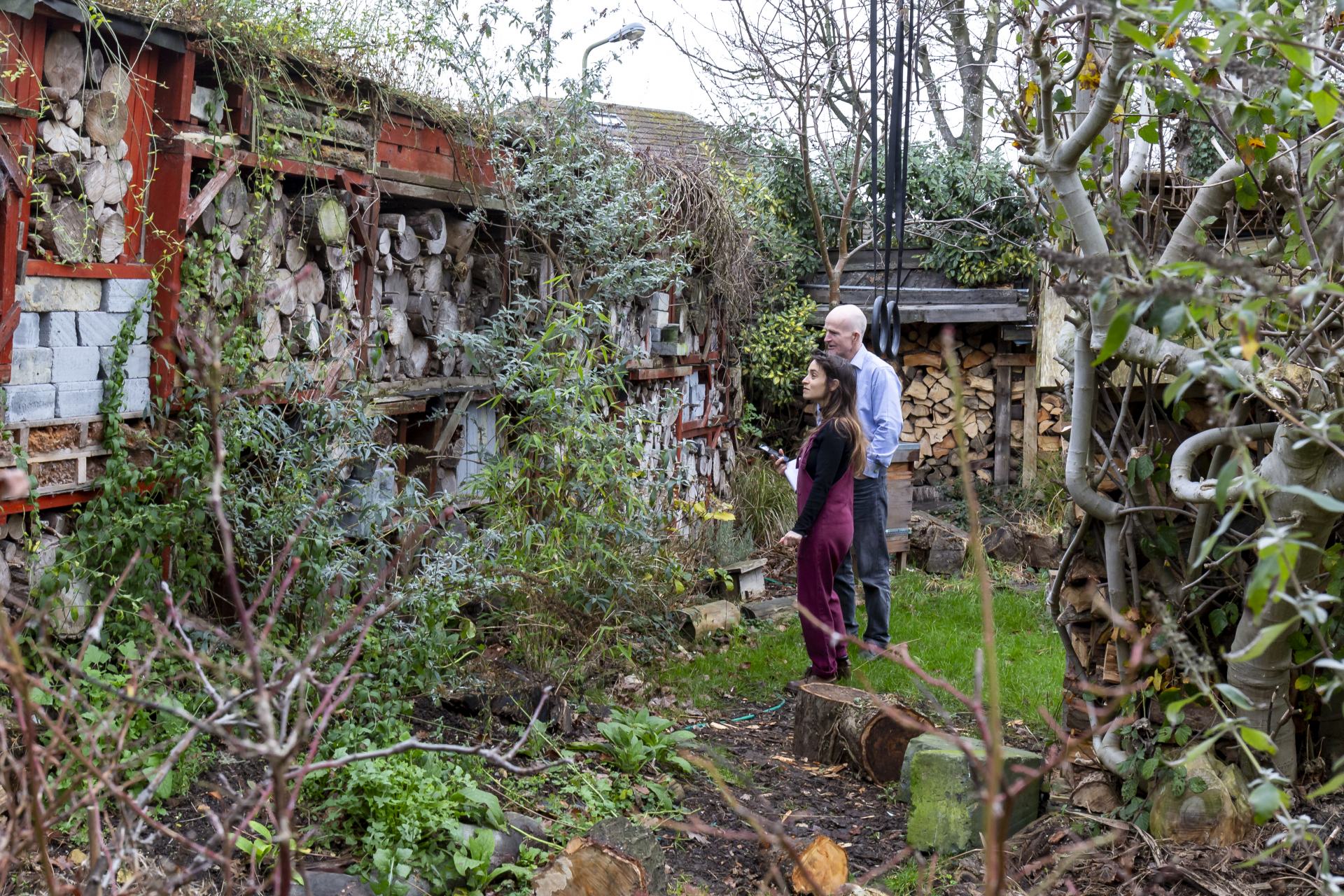 Don't get me wrong, I'm all for talking reusable coffee cups, bamboo toothbrushes and cloth nappies, but recently – and with a house move on the horizon – I've started to think about bigger picture changes we can make within the four walls of our home that go beyond the smaller (albeit brilliant) day to day acts.
As Sustainability Columnist on our local magazine, I recently profiled three homes in our area whose owners had gone to great lengths to make their abodes as energy efficient as possible while also making some serious financial savings – and finding enormous satisfaction – along the way. I thought I'd share my findings, as it was pretty impressive – with thirty two solar panels, a whole lot of insulation, and next to nothing electricity bills between them, it only reinforced what I already know: living sustainably is good for the environment and good for your pocket.
It was when Stewart, the owner of the first home we visited, casually pointed to the internal porch that he'd built himself to create an airlock that I knew this would be a fascinating morning. Stewart and his wife, who have an electricity bill of net zero and a gas bill of about £150 per year, live in a beautiful three-storey, end-of-terrace Edwardian house in North London. The solid-walled, 2,000-square-foot house still retains all its original windows and floors, but has two types of solar panels installed on the south and west sides of its roof. With eight solar PV panels (2kW) for electricity and two solar thermal panels for hot water, it's the sun that powers two-thirds of the electricity for Stewart and his wife's home, plus all their hot water from April to September. 
Living roofs (which not only look attractive but also prevent UV degradation), beehives, wooden rings gym equipment, a pond, a living wall, and sprouting mushrooms can all be found in their remarkable back garden. There are a number of woodstores made up largely of wood chopped from their own woodland in the Chilterns. I ask about a slightly abandoned grey bin and Stewart replies: "Oh no, we don't have a grey bin. That's for storing wood in." All food waste is composted, with any cooked food waste going into a bokashi bin. But solar panels and mushroom spores are really only half the story. It's what Stewart and other sustainable homeowners are doing inside their homes that was so new to me, and so interesting.
Insulation is the name of the game: Stewart's home has internal solid wall insulation, underfloor sheep wool insulation and secondary glazing on all 28 windows using Perspex magnetic strips, to name but a few features. Then there's the seemingly smaller changes: from sealing around skirting boards (use draft sealer or a caulking gun or, simpler still, cardboard and a sawdust/glue mix) to full-length interlined curtains ("As soon as it gets dark, we pull all the curtains in all the rooms") to double doors on storage cupboards. It's all about keeping the heat in. Another job Stewart did was to move all the radiators from under the windows: "Radiators on external walls are a waste of time", he tells me. 
It was while Lucy and Gordon were extending and refurbishing their home, a timber construction built in 1984 with a flat roof and seven skylights, that they decided to take steps to improve its energy efficiency. With 16 4kW solar panels; a closed, hot-water underfloor heating system; and two air-source heat pumps – one internally to provide hot water for the whole house, and one externally in a highly insulated tank to feed a sealed underfloor heating system – there is not a boiler or radiator in sight in this wonderfully unique home. Indeed, their whole house is heated by air. "Our fuel is not oil or gas, it's air – and so far, the government has not started charging us for that," jokes Lucy.
The pumps are run on electricity, so while their electricity bills are higher than most (around £100 monthly), they pay next to nothing for gas – they have a gas hob for which they pay approximately £4 a month. The electricity bills they do generate are paid for by the Feed-In Tariff from the government (just over £100 a month) that they receive for the solar panels. In total, their net monthly outgoings on all utilities, including wood for the stove, are around £25 to £30. The SuperHomes network estimates that they have reduced their carbon footprint by approximately 81%.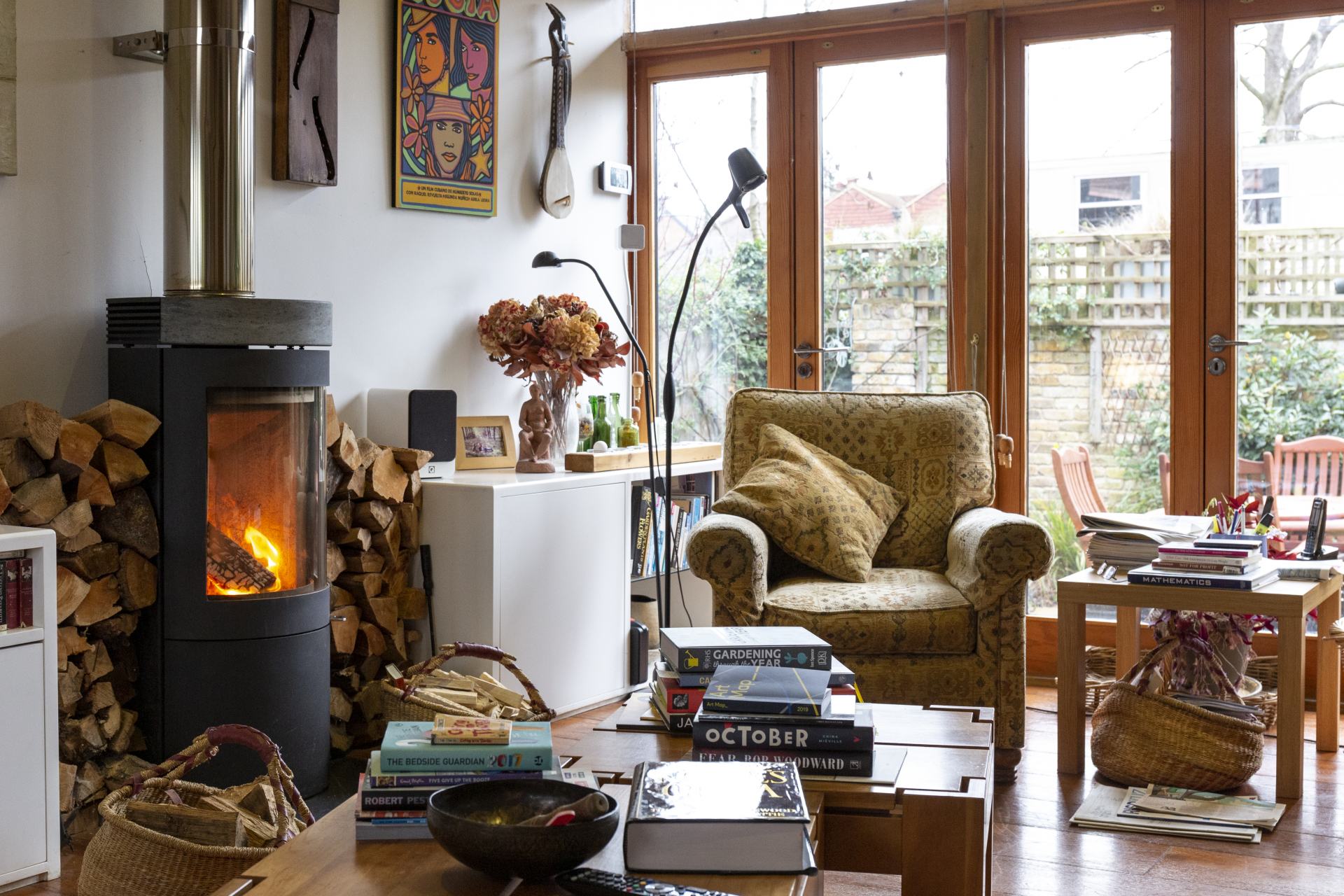 Like Stewart's home, insulation is a big theme from taps to floors. The couple reinsulated all external walls and floors with Kingspan Thermawall, added secondary glazing to the skylights, and put argon-filled double-glazed doors and windows along the entire back of the property. They also commissioned a thermographic survey to identify any sources of cold air entering the house through unsealed gaps around window frames, doors, floorboards, etc. Gordon tells me that "80-90% of what they found could be fixed with a caulking gun in just a few hours". The cost of the survey was around £400, but they've saved that money ten times over: "It was like putting a tea cosy on our home." 
They removed all the old lighting and installed LED lighting throughout the house and haven't had to change one single lightbulb in seven years, bar one in the bathroom. They've also installed a number of energy-saving appliances, including a boiling water tap and Miele energy-saving kitchen appliances. 
Our final stop was a 1920s ex-London County Council semi-detached house. The house was in a huge state when the owner, Pamela moved in and the inside needed to be ripped out – which was her moment to incorporate improvements to reduce its carbon footprint.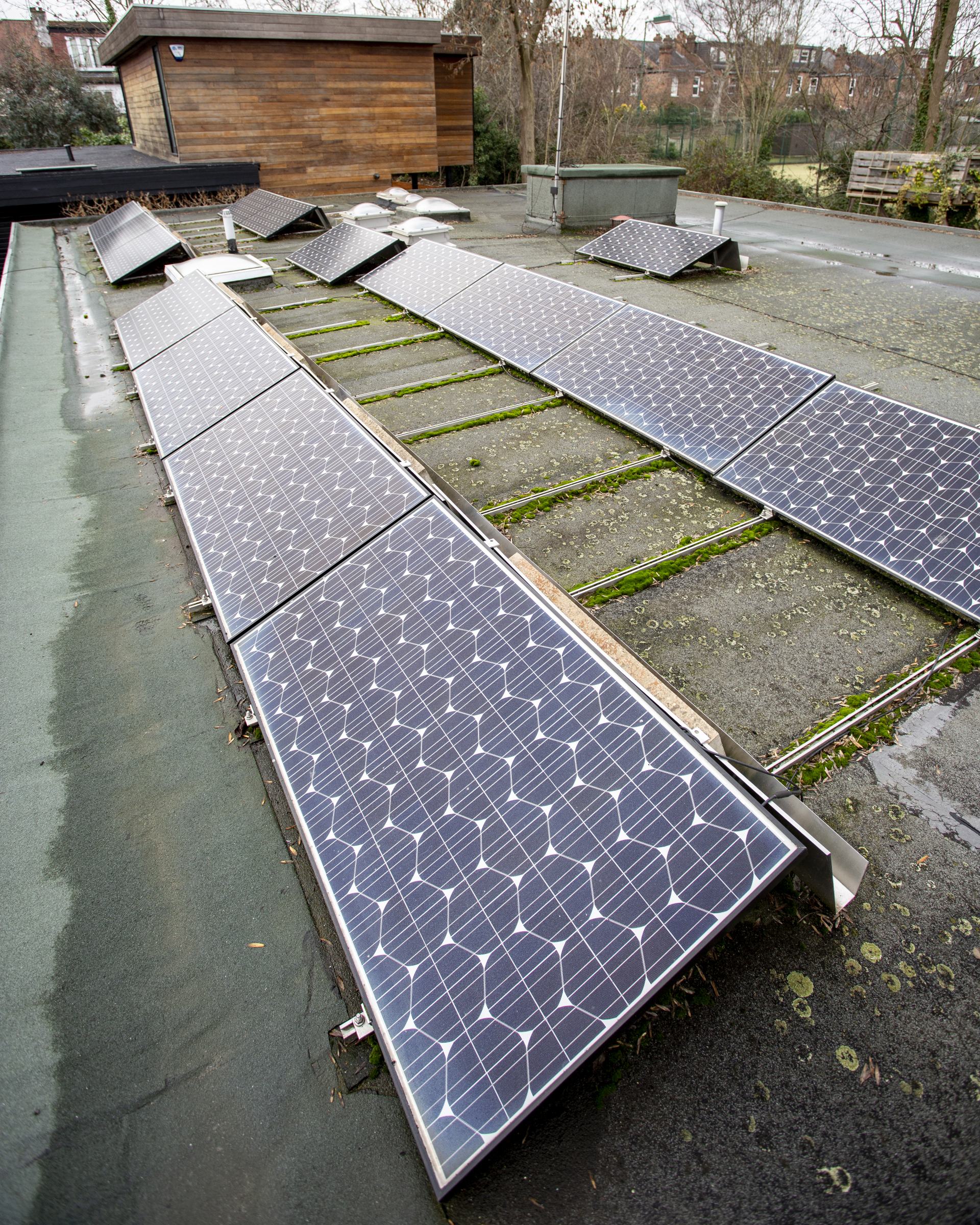 With triple-glazed windows and doors throughout, plus wood fibre blocks insulating the whole outside of the house, Pamela's home is now totally transformed and has been designated as carbon neutral, generating as much energy as it uses. She also has eight panasonic solar panels and a wood burner for central heating. With regards to controversy surrounding wood burners and smoke pollution, Pamela, like Stewart, is keen to point out that it is all about how you use them. "Wood burners are designed for smokeless zones – you recycle the smoke", she points out when I bring up the controversy around this type of heating. "Woodburners are incredible energy efficient so long as they are used correctly, specifically with regards to the air supply controls."
And with that, my tour of local sustainable homes had come to any end. What was most interesting to me was that these changes don't just make sense environmentally – they're also very compelling on a financial level. From appliances to light bulbs to insulation, some energy efficiency measures pay for themselves in a very short time, through savings in heating or electricity bills. Others it seems will increase warmth and comfort, but never repay the initial investment.
To make your home more energy efficient, you can follow these tips:
-If you need to do work to your house, that's the time to implement sustainable changes
-Remember: insulation is the name of the game
-If you can't afford any of the above, insulate your letterbox. Add a spring or a magnet and you'll stop huge amounts of cold air entering your home
-Join (or start!) a local Sustainability Group to be part of a community of like minded environmentally conscious neighbours
-Helpful resources: YouGen, SuperHomes, Energy Saving Trust
This foray into larger scale changes in the home is a new journey for me – there is so much to learn – and I hope you might join me.
Have you implemented any energy saving measures at home? What could you consider changing in your home?
Emma xxx
P.S Ultimate Food Saving Tip and 10 Ways to have a Greener Summer
Photography by Dan Bridge