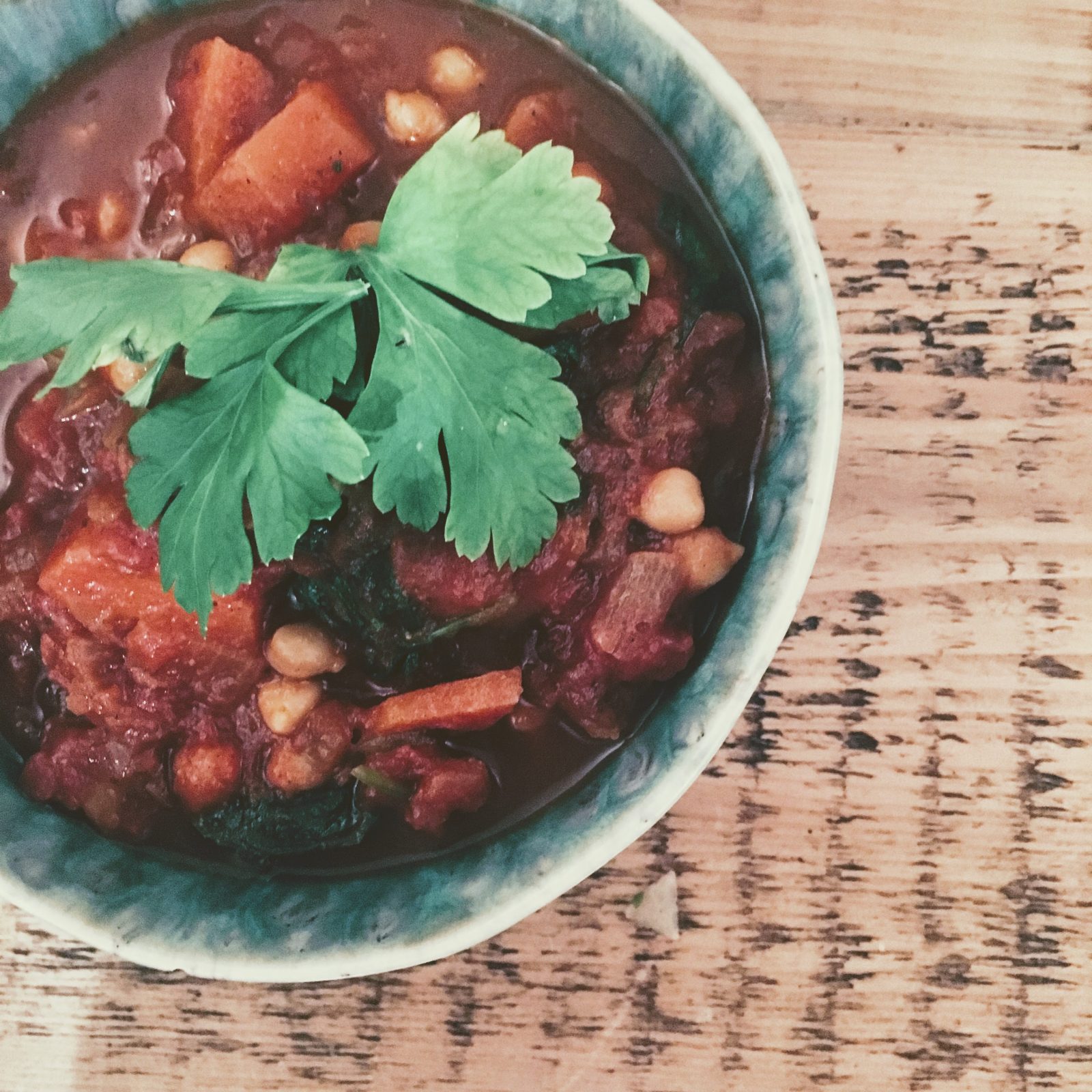 This is one of those soups that has super simple ingredients which together – and even more so after one, two, three, FOUR days in the fridge – yes, that's how many days in a row I ate this soup (I am addicted) – taste just incredible. I think it's the combination of the coconut oil, dates and paprika that make it so exceedingly sweet and so deliciously spicy. The Moroccan spices are easy to get hold of and who doesn't have a can of tomatoes and some chickpeas lurking at the back of the cupboard? So here goes – a wonderfully simple soup recipe that makes the tastiest, most warming and MOREISH soup that is low in calories and packed with health benefits. You will need:
MAKES ENOUGH FOR 3-4 PEOPLE
A small scoop of coconut oil (use your hand and give yourself an impromptu hand massage with what remains)
1 onion chopped
2 garlic cloves chopped up
2 carrots chopped
2 tbsp tomato puree or tomato ketchup
1 tbsp cumin
1 tbsp paprika
1 tbsp turmeric
1 litre vegetable stock
1 400g can of tomatoes (chopped or whole – doesn't matter)
1 handful of dates chopped
1 handful of fresh herbs (parsley / basil / coriander)
1 400g can of cooked chickpeas/ lentils / buckwheat – really doesn't matter – this just adds bulk
half a packet of spinach or four big handfuls
1 dollop of Oatly creme fraiche (vegan-friendly), otherwise just yoghurt
sprinkle of flaxseed / chia seeds / sesame seeds
green herbs to garnish (parsley pictured)
Melt the coconut oil and sauté the onion and garlic in a big pot for a few minutes. Add all the spices and stir, followed by the tomato puree, vegetable stock, carrots and tomatoes and simmer for about half an hour. Add the dates and the chickpeas / whatever your bulking agent is and simmer for a few more minutes / however long it takes to get kids to bed / people to the table. 5 minutes before it's time to eat, add in the spinach and stir until wilted. Serve with a dollop of Oatly or yoghurt, any leftover dates, sprinkles of flaxseed / chia seeds / sesame seeds and something green on top. Best served with a giant chunk of bread, a glass of red wine and a flickering candle to stare in to.