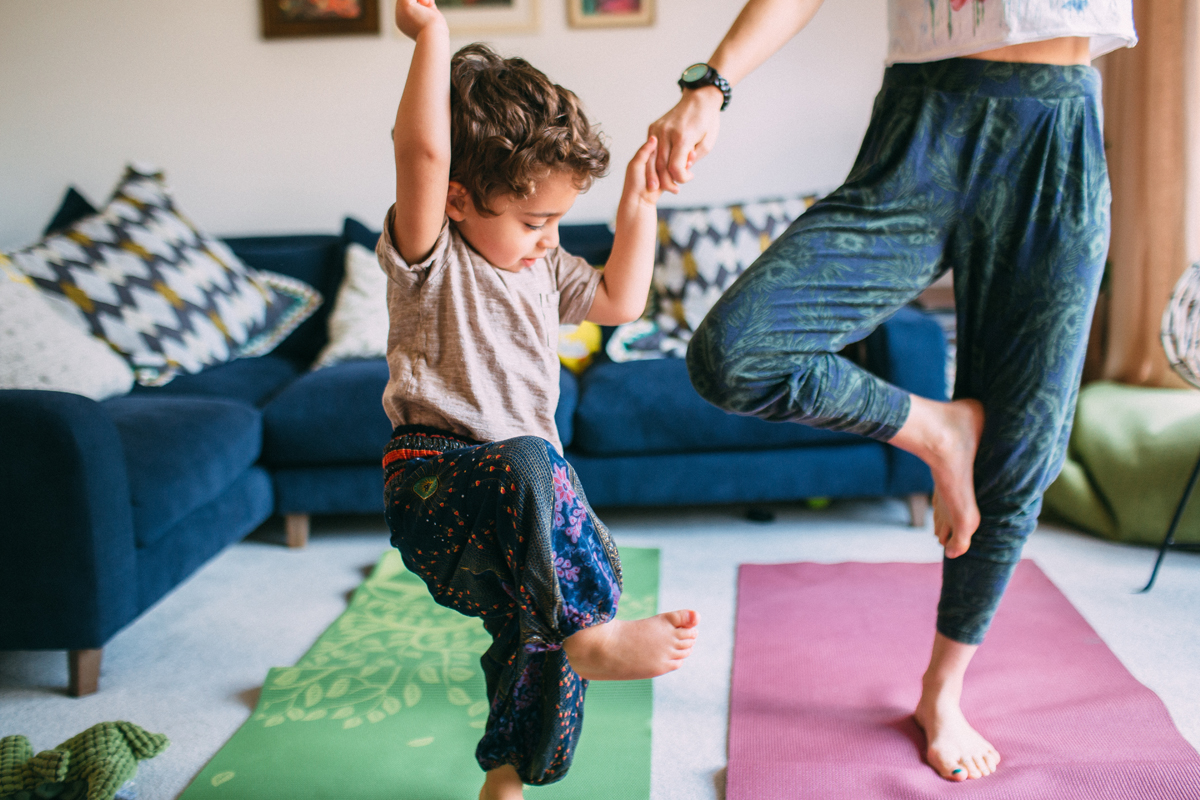 Yoga has always been – and I hope will always be – a seminal part of my life. I started long before I had children and it's pretty normal that at the end of a class, I'll find myself reflecting that yoga is basically my religion. I wasn't sure how I'd fit my practice in once I became a mother but have found that far from letting it fall by the wayside, it's actually now not just about doing it to keep me in shape physically, it's also about the head space gained when I step into the yoga studio (ideal scenario) or roll out my own mat in our living room with lego and littles at my side (more typical scenario), and increasingly it's about the fun to be had involving the children. So here's how I have kept it up amidst the mini people in my world – there should be something here for mums with young children of all ages from pregnancy, to newborn days right up to toddler time.

1. Explore online yoga classes 
I'm a huge fan of online exercise classes in general but it was when I was pregnant with Jack that I started exploring online pregancy yoga classes. They're just a great way to quickly fit some exercise in without leaving your house or even getting dressed (this is what those old pants are for, mamas 👊) which let's face it, when it's snowing outside and your bump is the size of a beach ball, is an enormous, unappealing faff. I love Yoga with Adrienne and the Tonic Useful Yoga series with Steffy White. I still refer to these sites for non pregnancy yoga – they have classes and series for all types of practice, mood, goal and length of time, so whether I'm wanting some specific morning yoga or am looking for some stress relief, you can find some amazing classes online.
2. Try out baby yoga classes
Once Jack was 12 weeks old we started going to baby yoga at Triyoga with the fabulous Nadia Narain which was a great way to get me back in the groove. Once I had done my first downward dog, there was no going back and what I love about these classes is that it wasn't all baby songs and mama chat – I got to do some proper poses and came out feeling like I'd had a good practice – albeit with some breastfeeding and nappy changing mixed in. It was also fun to meet some other mama yogis!
3. Self – practice (self practice, self practice…)
I always start and end the day with one or two sun salutations, a few warrior poses and an inversion. I cannot stress how much this sets me up for the day and helps me unwind and empty my mind before bed. So long as I keep an eye out not to land on a sleeping babe / kick anything over, I love snatching these few moments to myself just to realign, breathe and focus on myself for max 5 minutes. Similarly some quick stretching in the shower (yes, grab that time when you can mama!) can work wonders for me in the morning or a quick balance or cat stretch whilst watching TV ( admittedly I  am 95% of the time entirely slumped on a sofa when I do get to watch TV but try this for those other 5% of times). I'm yet to find a way to stretch and breastfeed but if you know one, please let me know! And of course, there is always savasana – lying and just being very still, simply breathing – that moment you do make it into bed.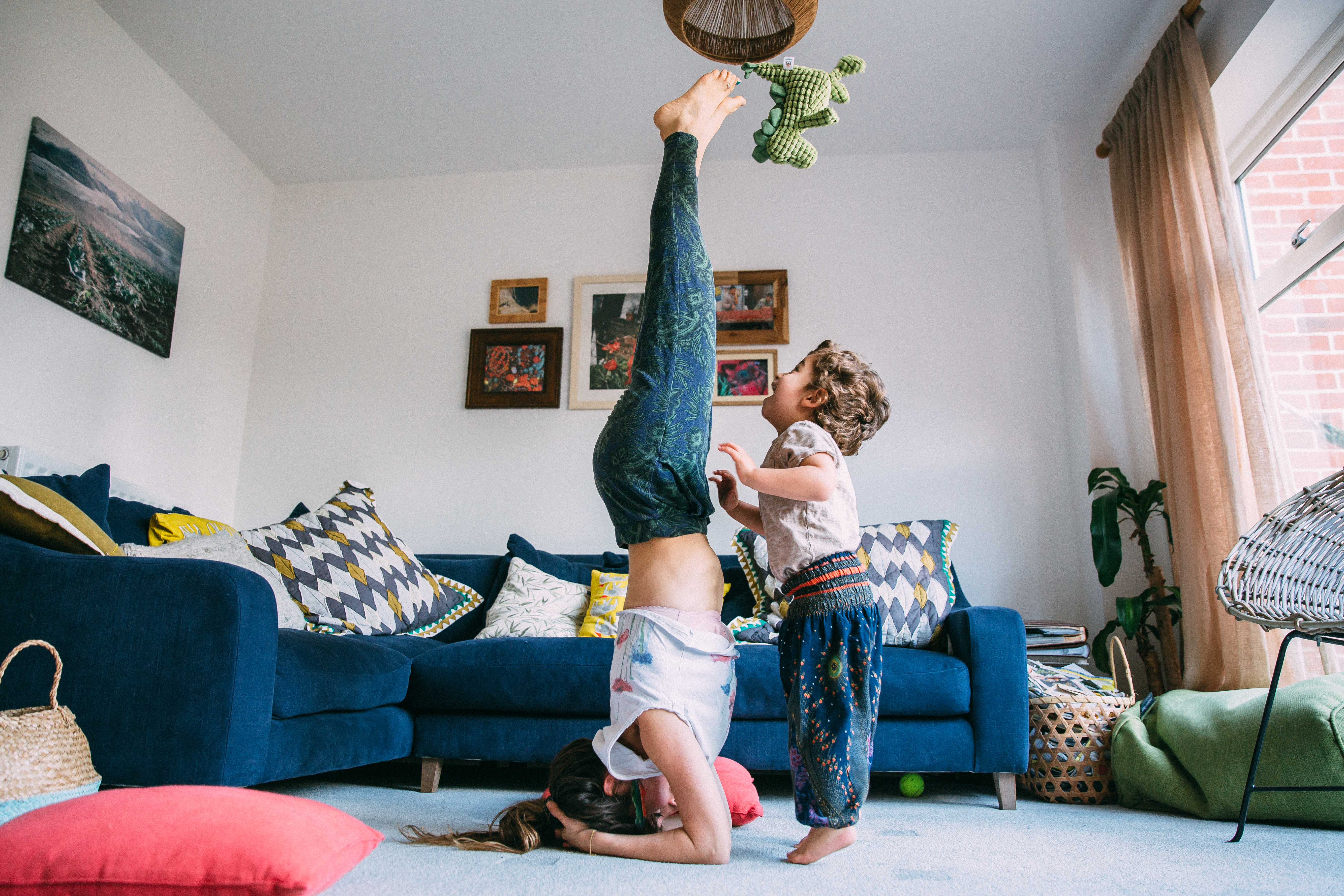 4. Get the kids involved
Once you have kids, free time seems to evaporate just as ideas for things to do with them collides. This is how I came to start to do yoga with the kids – it was just something fun to do and turned out, we all enjoyed it.
Do it in the morning – you and your little one are likely to be on much better form.  And if you leave it to the afternoon, you will probably find yourself putting it off.
Establish a routine. Always practice in the same place, and use a yoga mat. This is to signal to your little one that mummy will be practicing yoga now.
Some form of distraction is essential – I recommend toys (wooden toys are the best – avoid anything that makes noise), books and some snacks
Play with the poses and try to involve your child in them as much as possible. A small kiss or tickle can go a long way. Jack seems to be obsessed with my feet! That way they will see it as a bit of a game, and will start to find their own enjoyment in it rather than look at it as boring or worse still, resent you for seemingly being distracted.
P.S Search #toddleryogachallenge on Instagram to find videos of me and Jack practicing yoga together
5. Try to attend physical classes alone
This is the holy grail. For all of us, time is limited but since having Sonny, I've come to realise that some time out is crucial. So although it's not exactly the most romantic, Sam and I have made going to The Yoga Club yoga class in North London our weekly 'date night' (they also do classes for kiddies – check them out!). The classes are held in a beautiful barn and at only 1 hour, it's the perfect length to unwind, practice and work up a small sweat without worrying too much about the baby, boobs leaking everywhere and spending a bucket load on childcare. I never miss a class…
So those are my quick tips on managing to maintain a yoga practice once you become a mum. How do you keep your yoga up? What's your favourite way to practice?
Emma xxx
P.S What it's really like to go from one child to two.