It's no secret that I'm a HUGE fan of dungarees and between me and the kids, they pretty much comprise most of our wardrobe. Maybe it's because they tend to be pretty durable and wash really well. Maybe it's that they're super versatile and can be worn all year round – with nothing underneath in the depths of Summer or with a chunky knit underneath during cold Winter days. Or maybe it's because they're just really practical and comfortable with crawling and cloth bums and physical play to contend with. Today I'm sharing my favourite kids dungaree brands all of whom are committed to creating quality, sustainable clothing that will stand the test of time. I hope you love them all as much as we do!
JUJUNI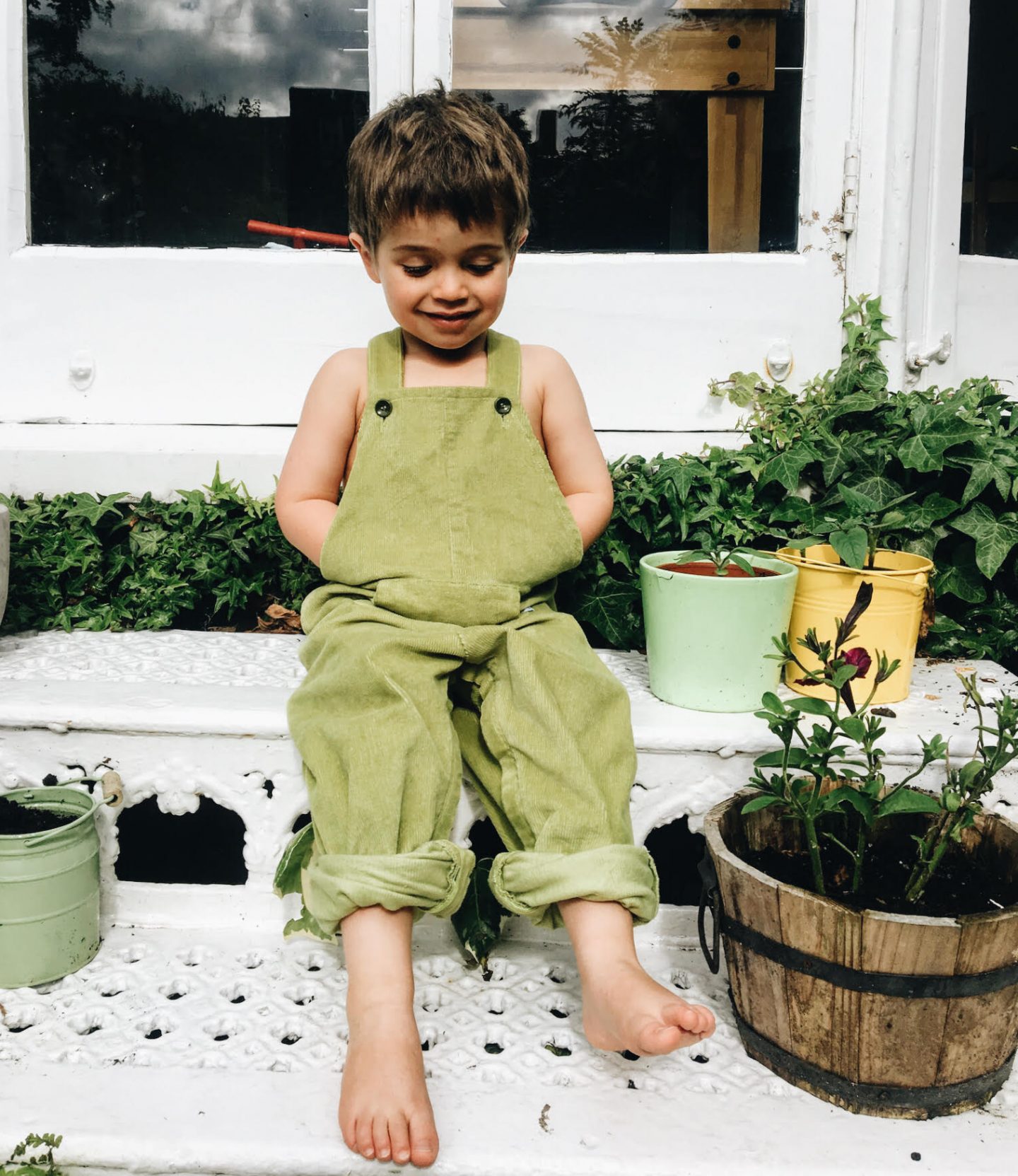 Jujuni specialise in colourful, organic and delightfully unisex kids needle cord dungarees that are fun even just to look at and match *anything* in the kids wardrobe. The idea is that their dungarees are practical, and should see a child through any adventure but that they're also super soft and comfortable. I love that the button up straps are adjustable and that there is a really generous turn up meaning that these will last Sonny for a long time to come. Oh and there's a zip opening at the legs to make nappy changes and toilet trips just that bit easier – hoorah! Jujuni are also a socially and environmentally aware brand, from packaging to fabric, and work with a small family-owned factory in Porto, Portugal – an area known for producing highly quality childrenswear – to manufacture the clothes. What's not to love? Go, go, go check them out!
MONTY & CO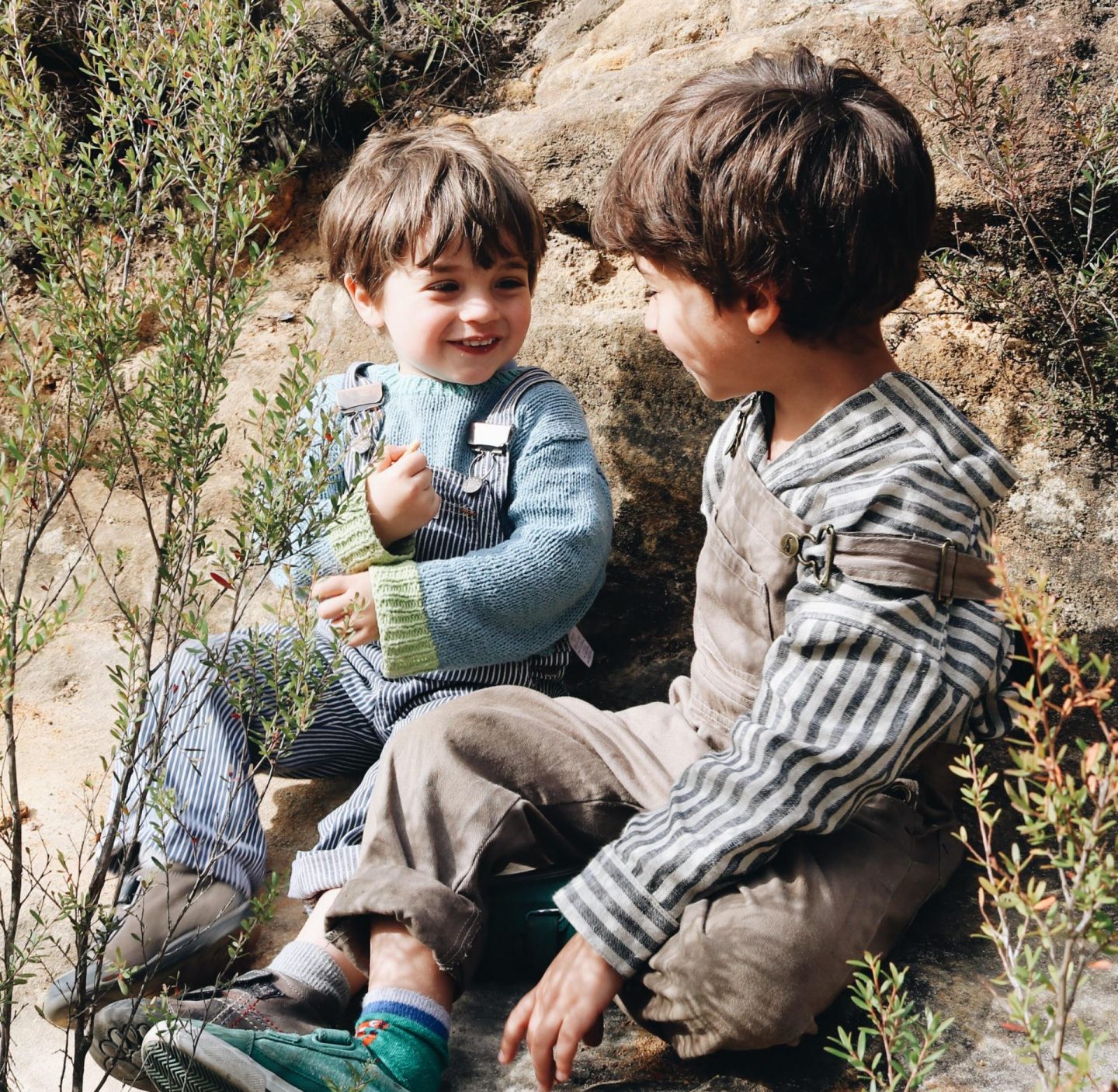 Monty and Co clothes are made from hardwearing fabric from 100% natural fibres (meaning they get better and softer with age and washing – hooray!) are a fairly recent new discovery of mine. Everything is made slowly and sustainably by small batch production in a factory in Norfolk which has been manufacturing workwear for over 200 years. Craftsmanship is key from the initial designs to drafting patterns to cutting and sewing – everything is done by traditional hand methods during the factory's seasonal downtime meaning the local skilled workforce can continue working. Monty and Co want us parents to say no to the relentless cycle of consumption in fashion and start to love and respect British clothing that can be worn, treasured and passed down to future generations. Check out their Loved circular scheme, as well. Take a peek here.
OSHKOSH B'GOSH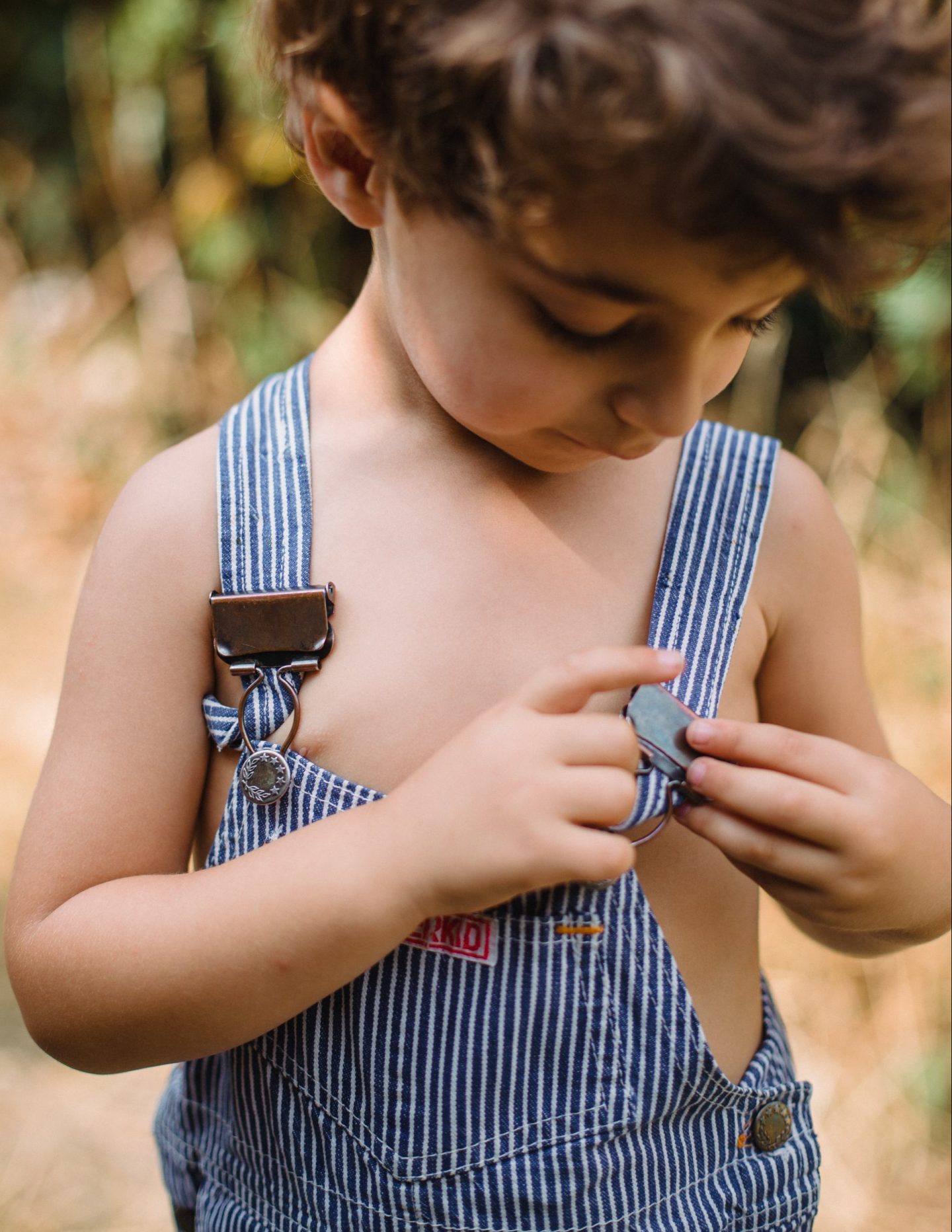 Minimalism is the buzz word of the moment but I could not be more grateful for having a hoarder mum who kept countless pairs of OshKosh B'gosh dungarees worn by me and my three siblings when we were kids. Founded in 1895 in Oshkosh,Wisconsin, the brand were originally a small-town manufacturer of adult work clothing but are now best known for their long lasting children's clothing. And indeed, who knows how many times these dungarees have been washed, but I'd imagine thousands and guess what – they still look brand new! OshKosh are still around these days (though they've been acquired by Carters) but you can get lucky and find a pair on Loopster or Wornbylittles. Oh, and don't forget to hold back a favourite item or 3 that your child wears – you never know how much they might love it for their little ones.
FRUGI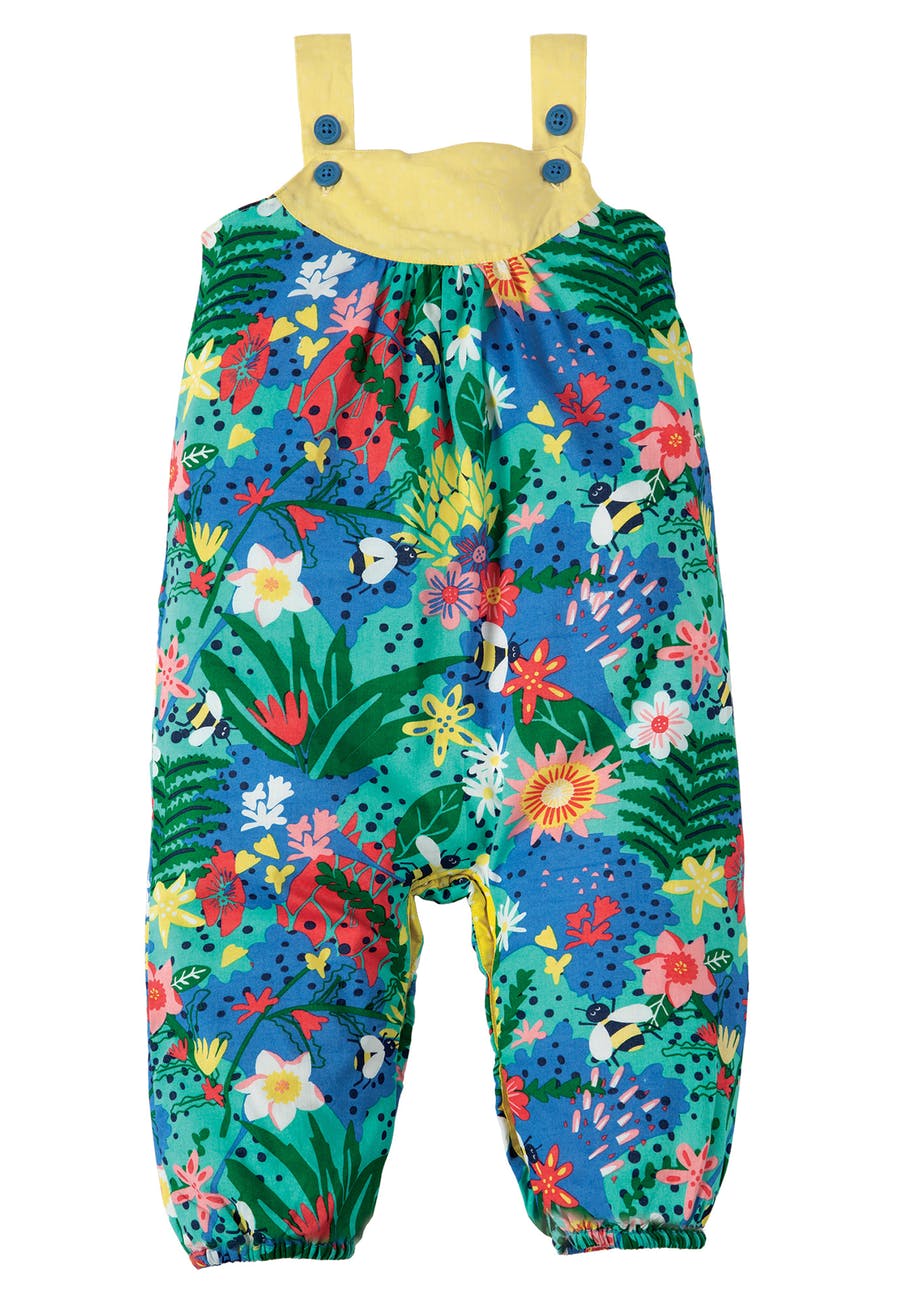 There's lots of reasons I love Frugi – from their long standing commitment to environmental standards (they launched in 2004…) to the funky patterns that adorn so many of their clothes, they're a brand who are on a mission to show the world that children's clothing can be ethically made and fun. They only use organic cotton grown by farmers they trust, which is super soft as the fibres are left intact and not broken not by the chemicals used in the farming and processing of conventional cotton. I'm totally in love with these Springtime dungarees with their elasticated back and leg cuffs for extra comfort. Go take a look here and nab yourself a pair.
SOPHIE & CO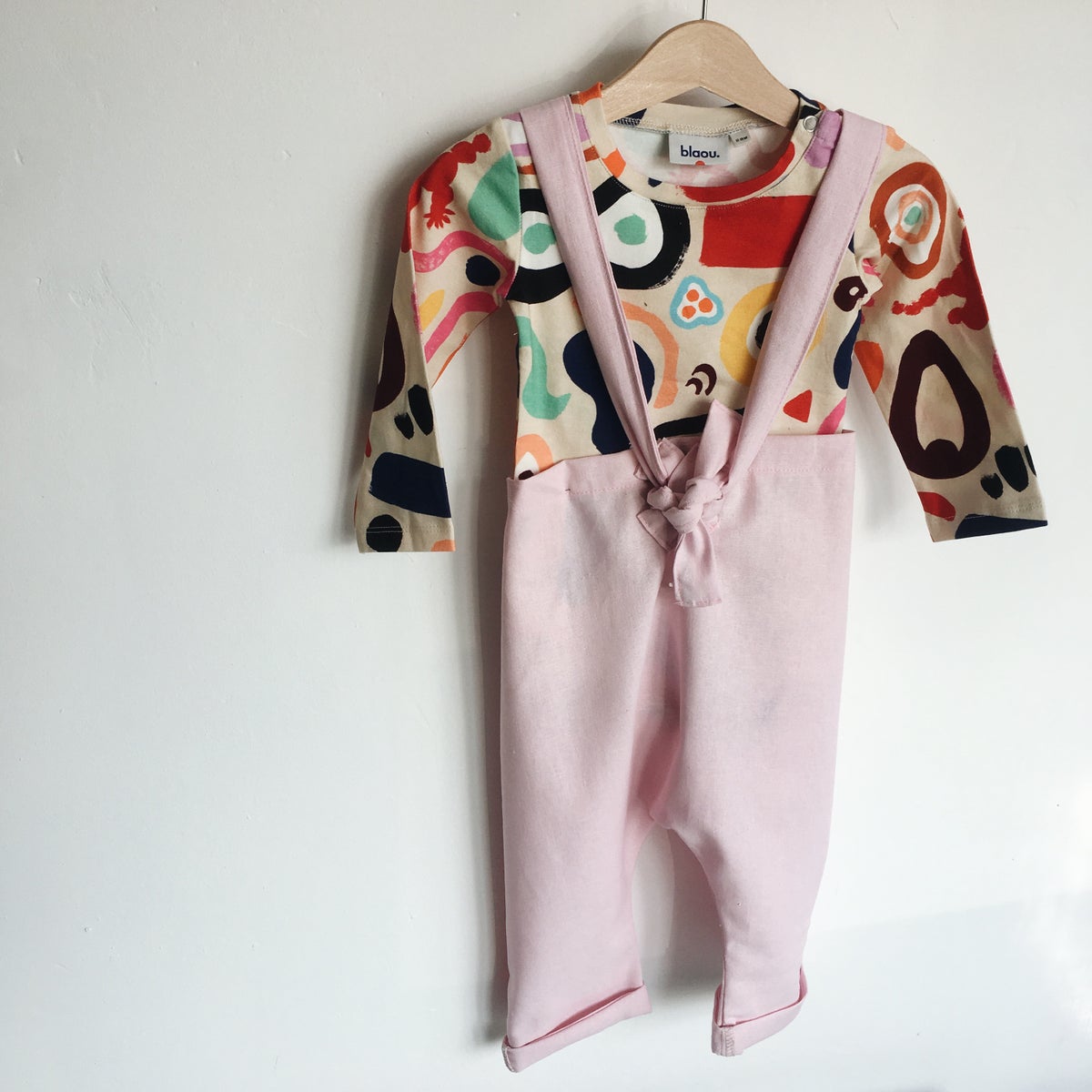 Sophie & Co are a small company based in Leicestershire creating high quality, handmade pieces for newborns up to 5 years (I'm still waiting for them to start adult sizes – I'll have to make do with their refashioning service). For me what sets Sophie & Co apart is their design – everything is so unique – and what I love is that their price point remains accessible. They're a brand who believe in clothes that can take children through all four seasons, that can be layered or worn alone, and that ultimately can be handed down to siblings to continue being worn and cherished. Shop them here.
Do your children wear dungarees? If so, have you got any favourite brands to share?
P.S 6 Best Kids Harem Pants and Dungarees Look Book
P.P.S Now all we need is for Lucy & Yak to make kids dungas! (Don't worry, I've already had a word..)