For those of you that follow me on Instagram or have read any of my previous blog posts, you'll know that I love nothing more than going on travels as a family. We've been roadtripping around Costa Rica with our toddler, backpacking through South Africa, to festivals, to stay on canal boats and more.  It's bloody hard work ("why do you do it to yourselves?" is a comment I frequently get directed at me and indeed, it can all feel a little torturous when you're frantically searching through your backpack trying to find a dummy that's almost definitely slipped to the bottom) And yet, I can't help it; I love the adventure and the freedom, and more than that, I love the fun and the challenge and the madness of doing it with kids.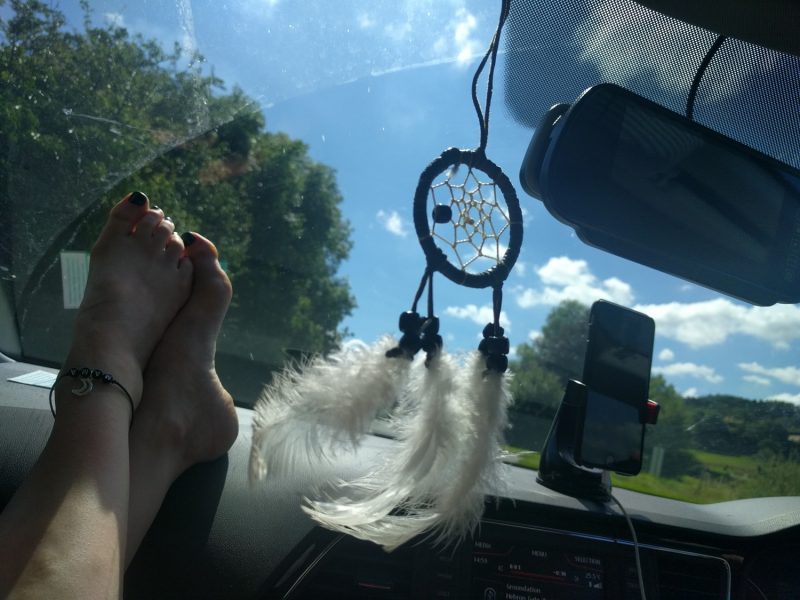 I did wonder if things would change once we'd have two. After all there are options. There's family-friendly resorts, hotels, b & bs, self catering, there's even going away with a nanny or indeed leaving the sproglets at home….and then there's camping. I love camping, but I did feel that as our first holiday as a family of four, this might be a *little* ambitious.  (we're doing that next week – YIKES) But it being Summer, I still craved the outdoors. Which is why glamping seemed the perfect solution especially when we heard about Cosy Under Canvas which promises to be "rustic and luxurious"…"with no compromise on comfort". And so it was that we set off the four of us for a few nights glamping in the Welsh woodlands.
The first thing I love about Cosy Under Canvas is how easy it is to find. Roadtrips with little ones can be disastrous but with excellent directions and brilliant sign posting, the three and a half hour journey to get there from London was entirely smooth (bar the last 10 minutes when we had to resort to nursery rhymes, which when wifi is hit and miss, and your toddler needs to hear every verse of The Wheels on the Bus, was a little tricky) We were soon parked up and wheeling the bags from the car to our dome using the conveniently positioned wheelbarrows right by the car park – the first 'activity' of many that Jack would come to love. Not that we had *that* much stuff because the site is super well kitted out. Our dome was quite simply, epic – and during colder, more dreary days would be the perfect place in which to sit and play board games and drink tea – but it being one of the hottest days of the years we didn't dwell for long on the fluffy sheepskin throws, the cosy rugs, the woodburner, the bean bags, the lanterns, or the huge king sized bed with the most comfortable mattress I think I've ever laid on.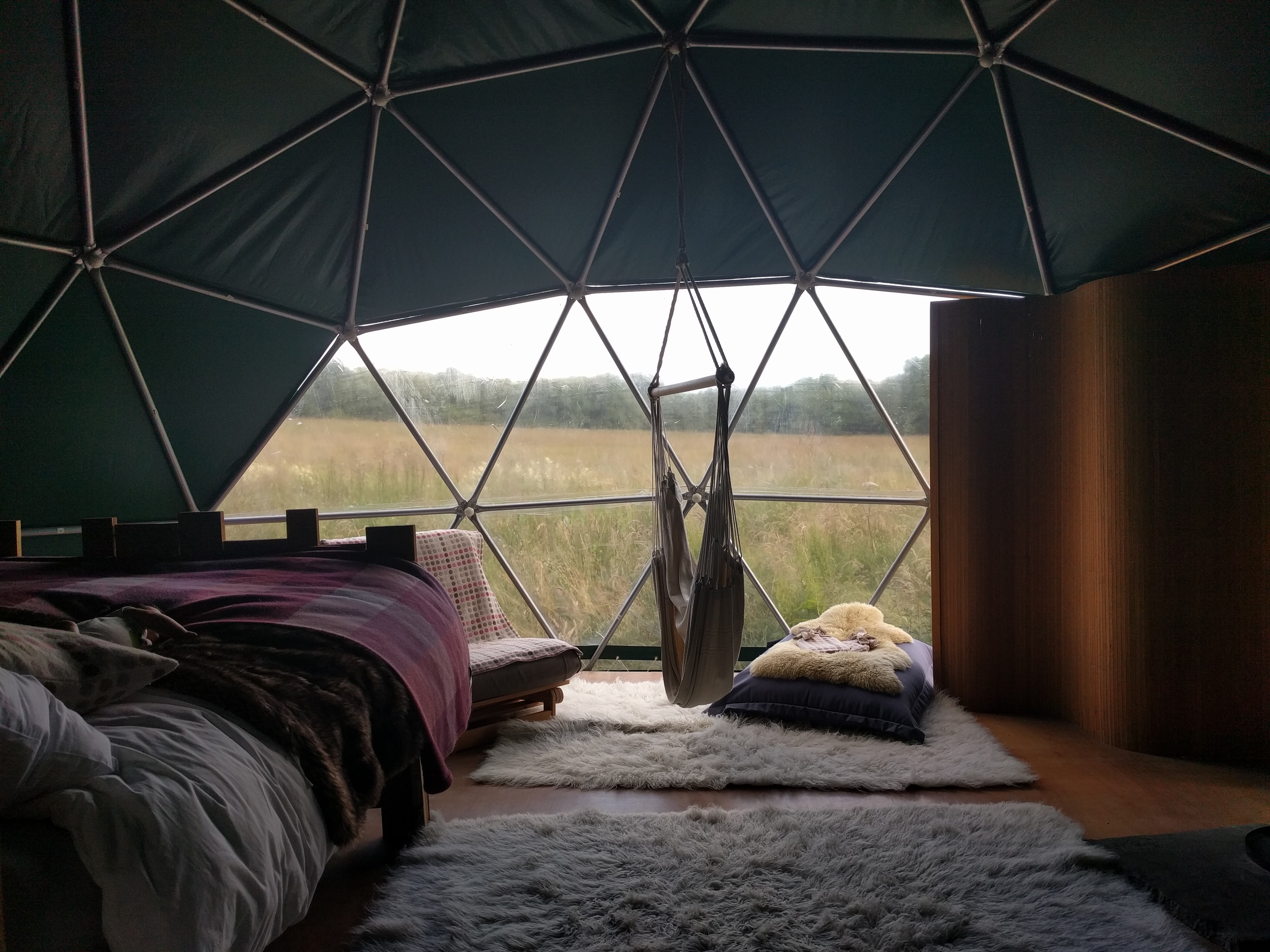 Instead I was more taken by what outside the dome had to offer; a hammock, fire pit, hot tub and compost loo – with the most amazing view to boot – were all waiting for us. We set about making ourselves at home, meeting our neighbours and exploring the area surrounding our dome. There is a communal kitchen fully stocked with everything from cutlery and crockery to pots and proper coffee with washing up liquid and tea towels thrown in too so if you're into cooking, you'll have everything you need. Sam set about stoking up the hot tub (tip: check in is at 4 pm so start doing this soon after you arrive as it takes a few hours to properly heat up) and I started unpacking whilst trying to keep Jack contained and Sonny happy (not the easiest – bring a portable DVD player for moments like this to plonk them in front of)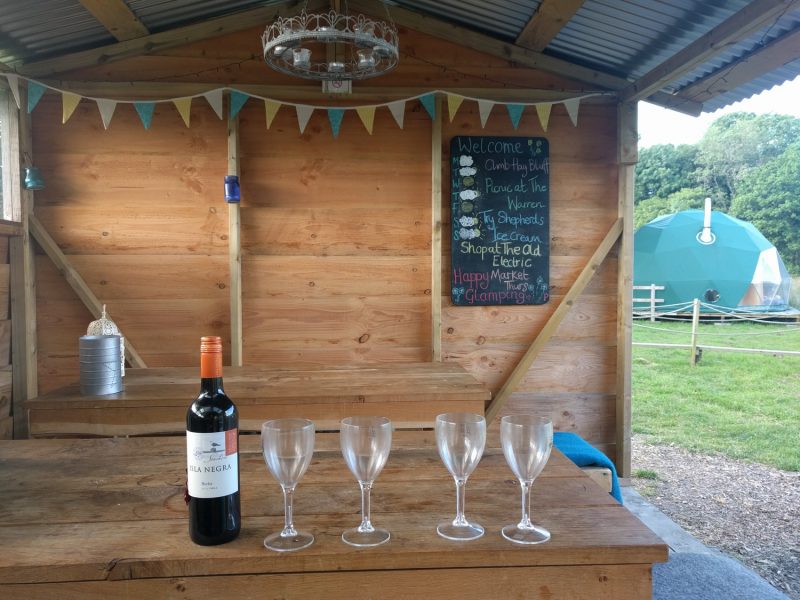 Other things I soon learnt to simultaneously love about Cosy Under Canvas is the fact that it is off grid which means no fridge, no showers, and no internet. This was such a liberating, albeit at times challenging, experience and pretty unique in these eternally 'connected' days. To be clear though, and if you really need it ( we took a family trip to the shower one evening…), all these things are available a short walk away by the main house but in terms of what you have at your disposal, don't rely on Peppa Pig (see above regarding the portable DVD player. Sometimes the adults need a break too!) The beautiful thing about camping or glamping is that every small thing becomes an activity in itself (brushing teeth, making a cup of coffee, putting on a smidge of eyeliner all become) and consequently, life becomes so much slower; but with kids, it's handy to have some things up your sleeve to help out too.
Come early evening and we would crack open a bottle of red wine to share with our neighbours as well as start preparing dinner together in the communal kitchen sharing all our supplies and whilst one of us whipped up something for Jack, another held the baby. There is no shop on site so bring all the food and drink you might need for your first night or until you venture in to town. We 'bathed' Jack in the still-cold-hot tub (we considered it "character forming") and soon instead of playing in his bedroom, now we watched as he ran about our field in his pyjamas, getting grubby all over again.
Once Jack was settled (not the easiest task given I had forgotten his milk bottle and he therefore had to be drip fed milk through a straw) we ate around the campfire; everything tastes so much better in the open air and Sonny was so happy in the cool fresh air (and his blanket came home smelling like a campfire, which I loved) On the first night after dinner, Sam stoked up the hot tub and at around 10.30pm something very magical happened; with both boys asleep, and the remnants of a bottle of red and bag of popcorn to finish, Sam and I enjoyed what was probably the only 25 minutes of pure relaxation we've had together since having Sonny – albeit to the background of Brahm's lullabies. It didn't matter; it. was. bliss.
We spent most of our time firmly outdoors (it reached 36 degrees!); we wandered around the utterly gorgeous town of Hay on Wye full of vintage shops and cute cafes with not a Pizza Express or Starbucks in sight. There is an impressive huge castle to explore (a must if you like craft beer as  there is a shop in the grounds) and plenty of restaurants; we had a brilliant meal at the beautiful old (sixteenth century) Three Tuns followed by the most delicious ice cream at Shepherds (peanut butter flavour – how can you resist?!) I highly recommend both. Another fab spot to visit if the sun is out is the River Wye. It was the perfect place to cool off and Jack loved playing in the water learning how to skim stones and meeting other children. There is also a lot of hiking (you are right in the beautiful Brecon Beacons!) and walking in the area to enjoy, not to mention the yoga, photography, massage and more that can all be arranged all at Cosy Under Canvas.
Below is a little vlog of our time there so do check that out and for more information about Cosy Under Canvas, please visit www.cosyundercanvas.co.uk
Thanks for reading xxxx
For more information about Cosy Under Canvas, visit www.cosyundercanvas.co.uk