Road trips are without a doubt my favourite type of holiday; yes, the inside of the car might look like we've been hit by a meteorite (I imagine we've lost a fair bit of our lives down the backs of various foreign car seats) but we've journeyed through some amazing places and had huge amounts of fun in the process. But a successful road trip takes some planning so here's a post summarising everything we've learnt along the many miles we've driven and addressing some of the questions that I've been asked over the past few months.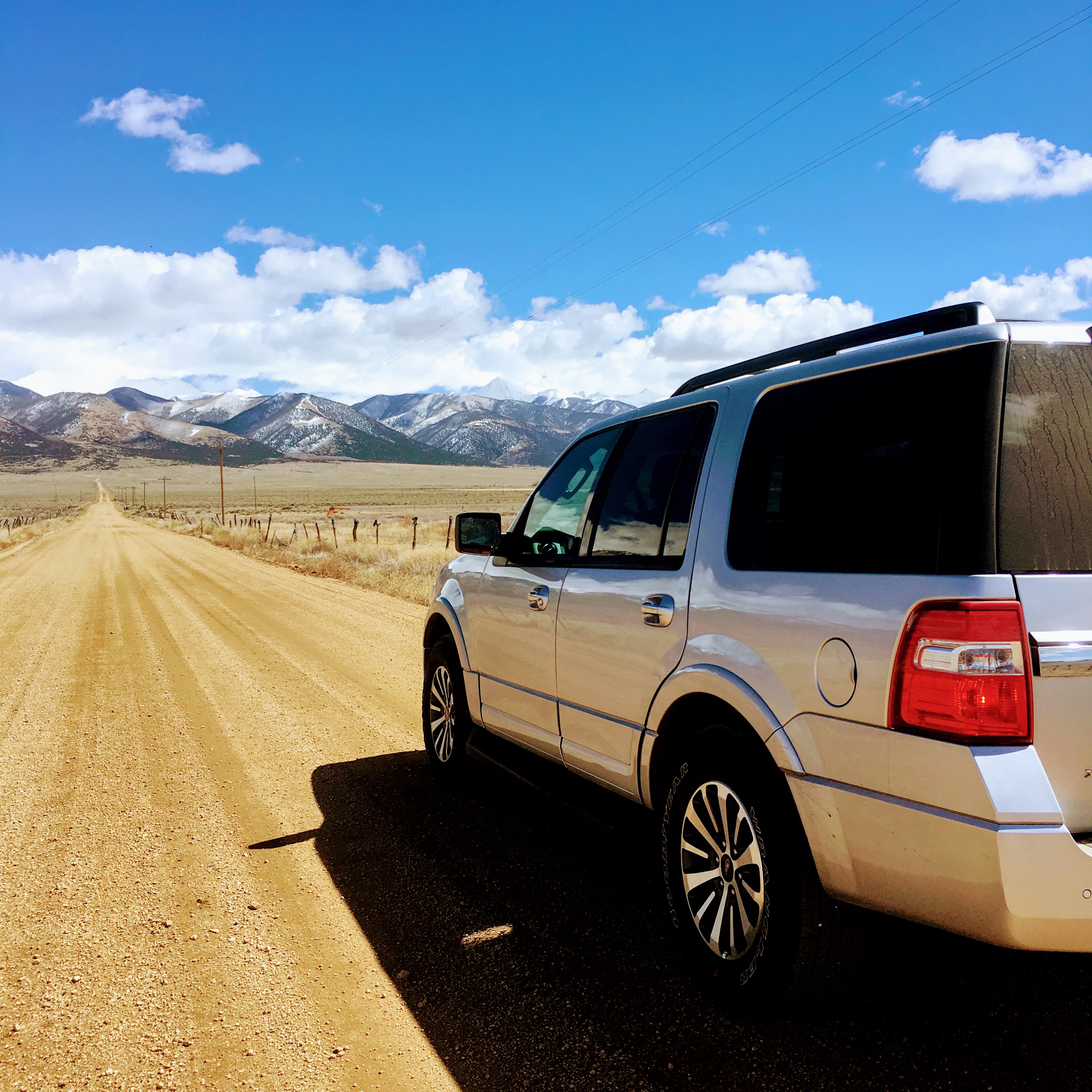 Should you bring your own carseat away with you?
This is such a personal question and really depends on a few external factors: how many hands will you have when navigating airports? What country are you visiting ie. are there likely to be good, sturdy carseats available?  What's your travel budget? How old is your child? How many of them are there?! Historically we've opted not to take our own car seats – the pro of this is that you don't have so much stuff to lug around which is a real priority for us. However the cons are that you never quite know what you're going to find the other end, they can be pricey to hire and difficult to fit – worth bearing in mind given that car hire companies aren't legally allowed to help (Cue Sam trying desperately to work it out using his iphone torch in a darkly lit car park whilst an unfriendly man looks on and I wrangle various tired kids). If you do decide to take your own, I would definitely recommend phoning the car rental company ahead of your trip and doing some serious probing into what brand car seat they have and if someone is at least going to be available to advise you how to fit it. Better still, find out the type of car seat and do some research beforehand into how to fix it in the car. This inflatable booster seat looks pretty interesting, and some folk have recommended it to me.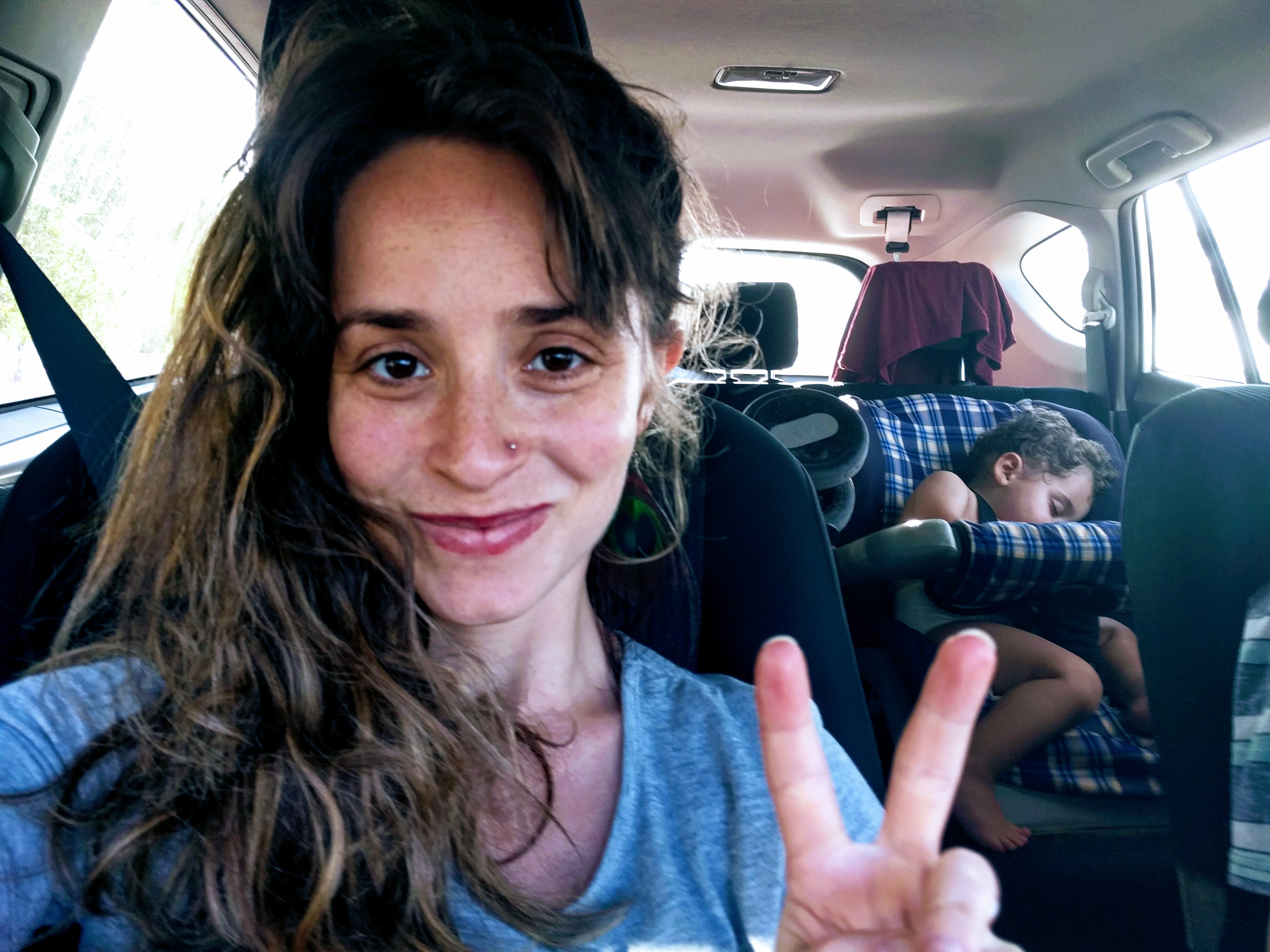 How long is it possible to drive in one go with no breaks before everyone goes a little crazy?
Again, this is very personal and wildly differs from family to family. The key factor is of course the driver and how alert they are / how many children have kept them up in the night and how much your little ones can handle. We can drive 8 hours in one day (with a break) which is our absolute limit and we have to resort to using every single one of the aids I list below. Read on for some other tips..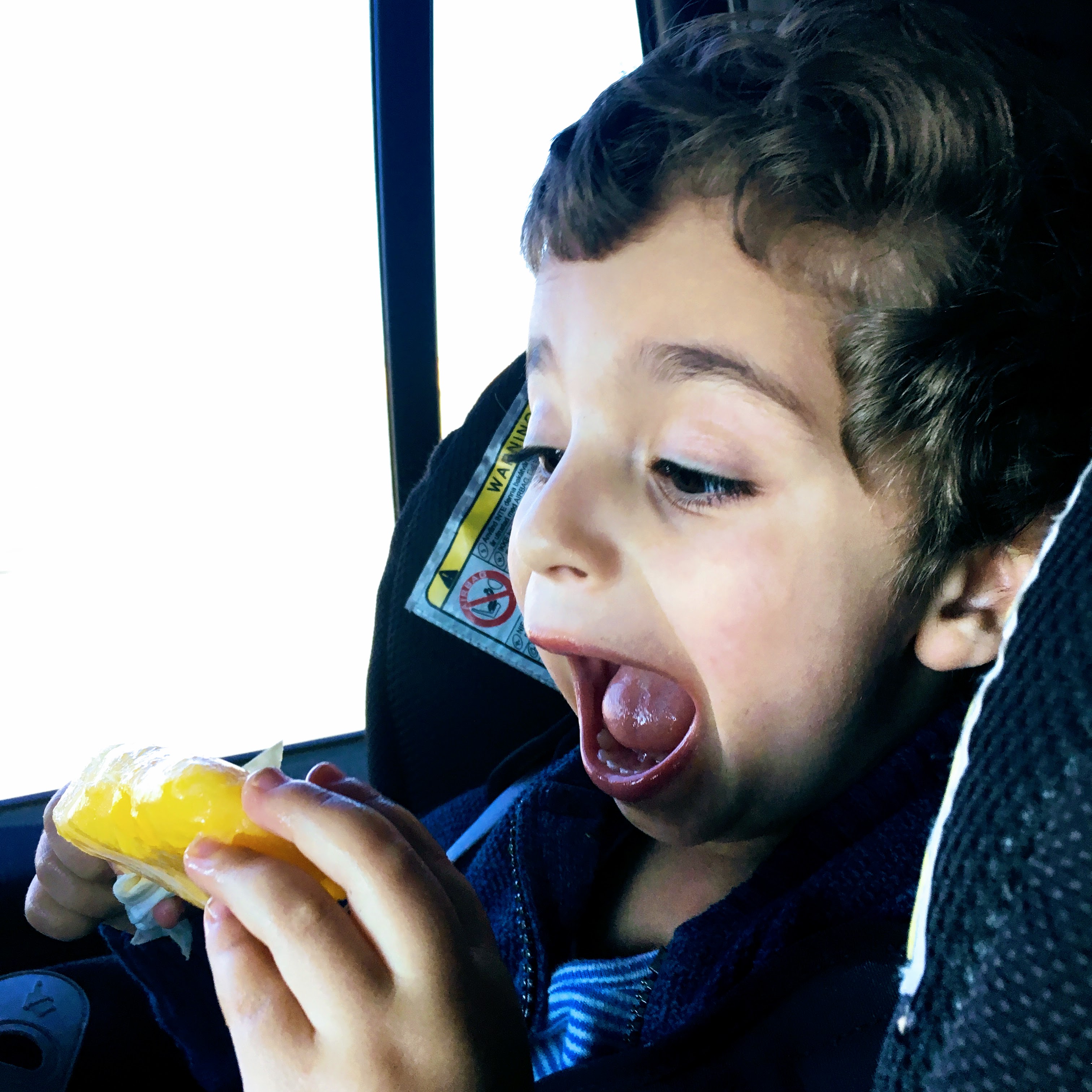 We want to cover a lot of distance – should we just do a little bit every day?
I would suggest not making every day a driving day – gear yourself (and the kids!) up for one day of a lot of driving and then have a few days rest with ideally no driving at all. The last thing you want to do is make your kids dread getting in the car because they think it'll just mean hours of driving again.
Where should we stop? I recommend doing some researching and looking ahead to find a nice spot to stop at for something to eat and to stretch everyones' legs. There's such a difference between making a deliberate, planned stop somewhere lovely as opposed to reaching breaking point and having to pull over at the nearest petrol station as everyone is just desperate to get out the car. Cafes with play areas are obviously ideal – it's worth bearing in mind that chains often offer these. The kids had a great time in a McDonalds soft play in a tiny town driving through Arizona!
How do you keep the kids happy? First of all, unless your child really can't nap in the car try to be driving for the portion of the day when you know they'll be sleeping. When roadtripping it's even more important to have loads of snacks, water and wet wipes on you before setting off. Avoid any food that is messy for little ones to eat – even food you don't think is messy will be messy – that ice lolly above was not a good idea). That said, rather than stress about keeping the car clean, let the good times roll and consider keeping a bit of time and cash aside for popping to the car cleaners before returning your hire car. In terms of entertaining them, we go by the rule that so long as they are happy and quiet, leave them alone! There is so much going on out the window for older children to watch; Jack stares out the window for a good while and remember to bring some toys too – Jack loves just holding trains and for younger children remember to bring a few of the car toys you might use at home along. It's also fun to tap into everyones' imagination – we have recently entered the world of i spy which has been really sweet and I'm sure audiobooks are soon to follow. (Any recommendations?) Music is also a real help and when things are looking a bit wobbly, we use bluetooth to connect our Spotify to the car system to put on some nursery rhymes or lullabies. As a last resort we use technology – mainly because I want Jack looking out the window not at a phone but also to avoid any car sickness. If and when necessary though, we do have some apps loaded on Sam's phone that he can use – he loves the Peppa Pig paintbox app. I love the fact that inside your car is your own space to do whatever you want away from the real world so I'd say embrace that and have some fun.
How do you adults stay sane? One of the main reasons I love roadtrips is that it gives Sam and I a proper opportunity to just chat and catch up in a way that we can't always manage to do at home. We also load up some podcasts and playlists (Desert Island Discs is our favourite) and we make sure we have shed loads of coffee, water and snacks.
What about if it all gets too much? If shit hits the fan, be prepared for the non driver to clamber into the backseat and soothe children / drip feed them snacks / sing very out of tune lullabies. I've spent a fair few journeys doing all of the above and sometimes it just has to be done. Better still, if everyone's hating it, pull over when you can, grab a coffee and some snacks, and take 30.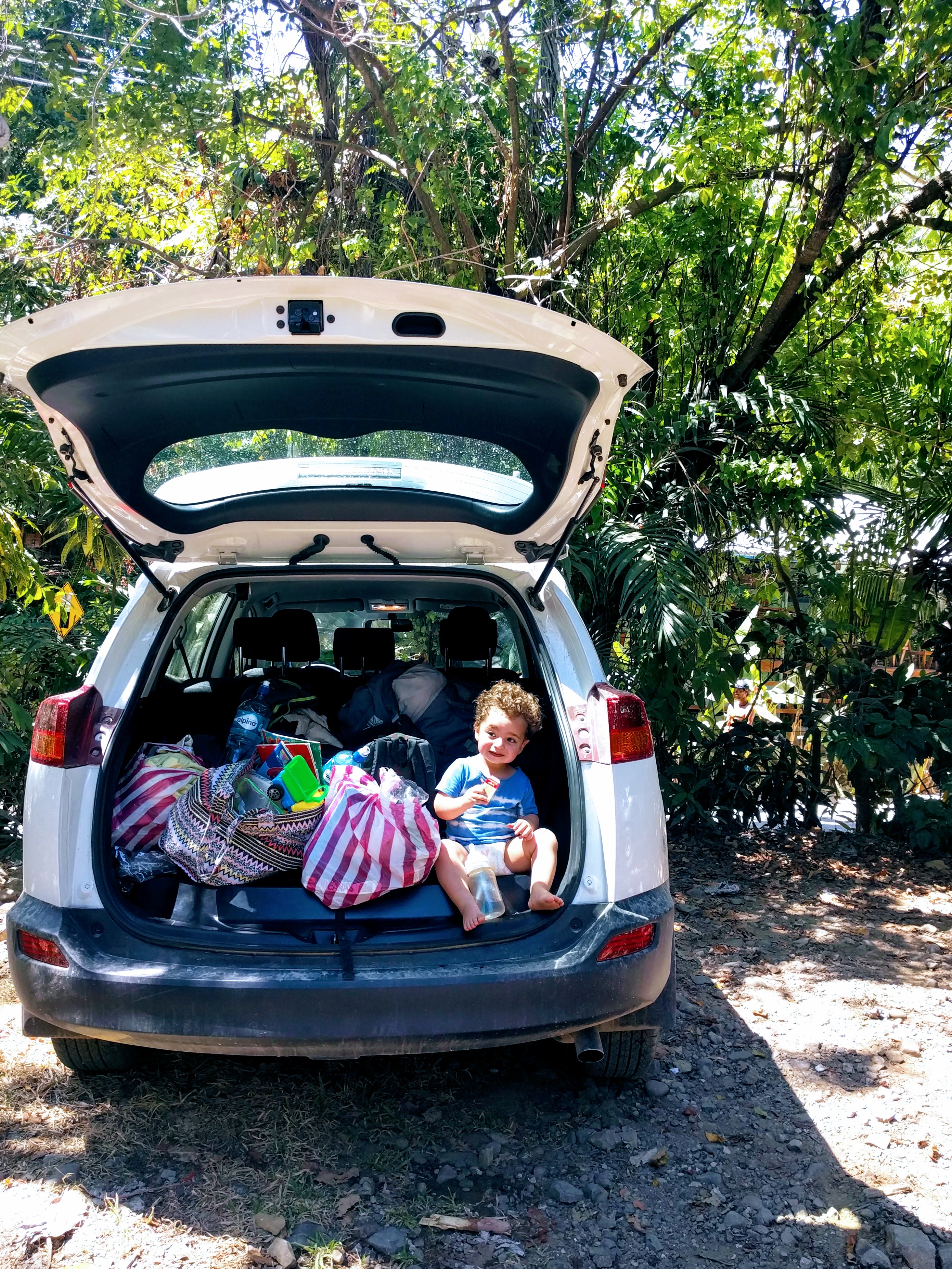 Any other quick tips? Don't ever drive in the dark in an unknown place – we've been there, and it wasn't entirely ideal (you can read more about that here) so set off early and allow plenty of time for traffic, getting lost and spontaneous stops. On the note of directions, do not always rely on Google maps or having signal – if you're heading somewhere remote, Google Maps might not have it covered or even more likely, there won't be signal so a good old fashioned map is really worth investing in. We always print directions off so we're not at the mercy of technology. If you are using your phone for navigation, remember to pack a car adaptor and USB cable for charging phones. Sun shades for the car might be useful to invest in / fashion yourselves – this can really bother children (understandably so). Try to be vaguely organised – everything should have its place – this should avoid too much getting lost. Most of all, have fun!
**********
I hope you found this post useful – if you're thinking about doing a roadtrip or have one coming up, just know that they are things might not always be plain sailing, but with a bit of planning I'm sure you'll all have an awesome time. I find this kind of trip incredibly bonding for you and your family and we always create great memories in the process. If you have any questions, or experiences of your own around roadtripping, I'd love to hear them so pop me a comment below.
Thanks so much for reading and have a fab day,
Emma xxx