For Jack's first birthday, I went all out (predictable, huh? Over-excited first time parent over here…). I made everything from scratch including a if-I-do-say-so-myself fairly mega monkey cake. It was awesome, and I so enjoyed preparing everything for him but this year round for his second birthday, I find myself 36 weeks pregnant and well, just feeling a little, ummm, how do I put it… L A Z Y. I knew I wanted a party at home but I couldn't face the thought of getting knee deep in flour and eggs again, but I am someone who can't bring myself to just stock up on *everything* ready made from a shop. Essentially, I wanted to achieve a sort of DIY 'look' with a lorra love in the air but not have to spend my days painting chalk boards and measuring out endless teaspoonfuls of baking powder. So I had a think and resorted to a few techniques to give the party that 'homemade' touch without going overboard. Here's what I came up with…
Invitations
I love hand making cards, but this year I decided to use Paperless Post for the invitations. Not only is this a more eco-friendly option, but some of the free templates are absolutely gorgeous and you can do some serious customization. You can find all the free baby party invitation templates here and here's what I designed for Jack: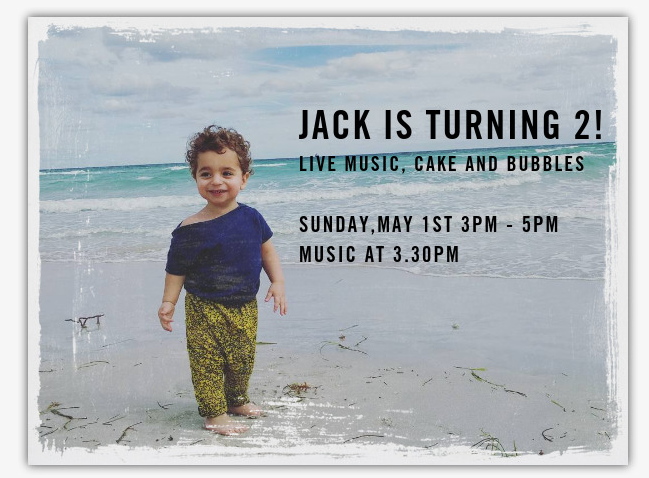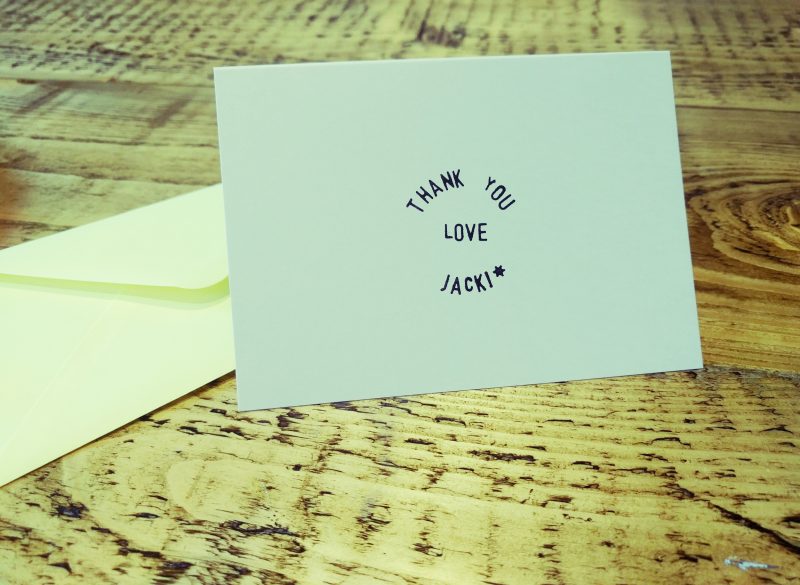 That said, I couldn't resist making my own thank you cards once his birthday was over – I love a good stamp and designing my own messaging. I find it really satisfying, not to mention money-saving. I bought these pastel coloured cards and envelopes off Amazon to get me started, which at £6 for 50 cards and 50 envelopes, was great value. I have a DIY stamp kit so just put the following phrase together on the block and stamped my heart out:
Decoration
I'm all about the small touches that make a big difference to a space. You want to make a nice first impression as guests arrive, and make the place look like there is a party happening and it's not just another chaotic day in your family's home. I'm a big fan of fairy lights, which we have up and switched on most of the time in our kitchen. Then fortunately, the weather was lovely so the main space we spent most of the day in was the garden. I'm not one for balloons and banners but I do love a bit of bunting – I considered making my own but in the end and in the spirt of not having to spend hours threading another piece of lost cotton through a needle eye, I picked up this pastel set from Hobbycraft which I really love, as I didn't want anything too garish. In fact, we've kept this lot up since the party and I have a feeling they are here to stay.
Flowers are a must-have for me when I am trying to spruce up a space. I absolutely love fresh flowers and just cannot get enough blooms in our home. I often sneak a small bunch of tulips into our grocery shop try but generally I try to limit them to special occasions. This beautiful bouquet is from Bloomon, an awesome Dutch company that sends out flowers to your home and which you can subscribe to to receive a bunch on a regular basis. They have so far lasted for nearly two weeks which is really impressive and if you use the code 'happymama1', Bloomon are kindly offering my readers a free vase too like the one in the photo below.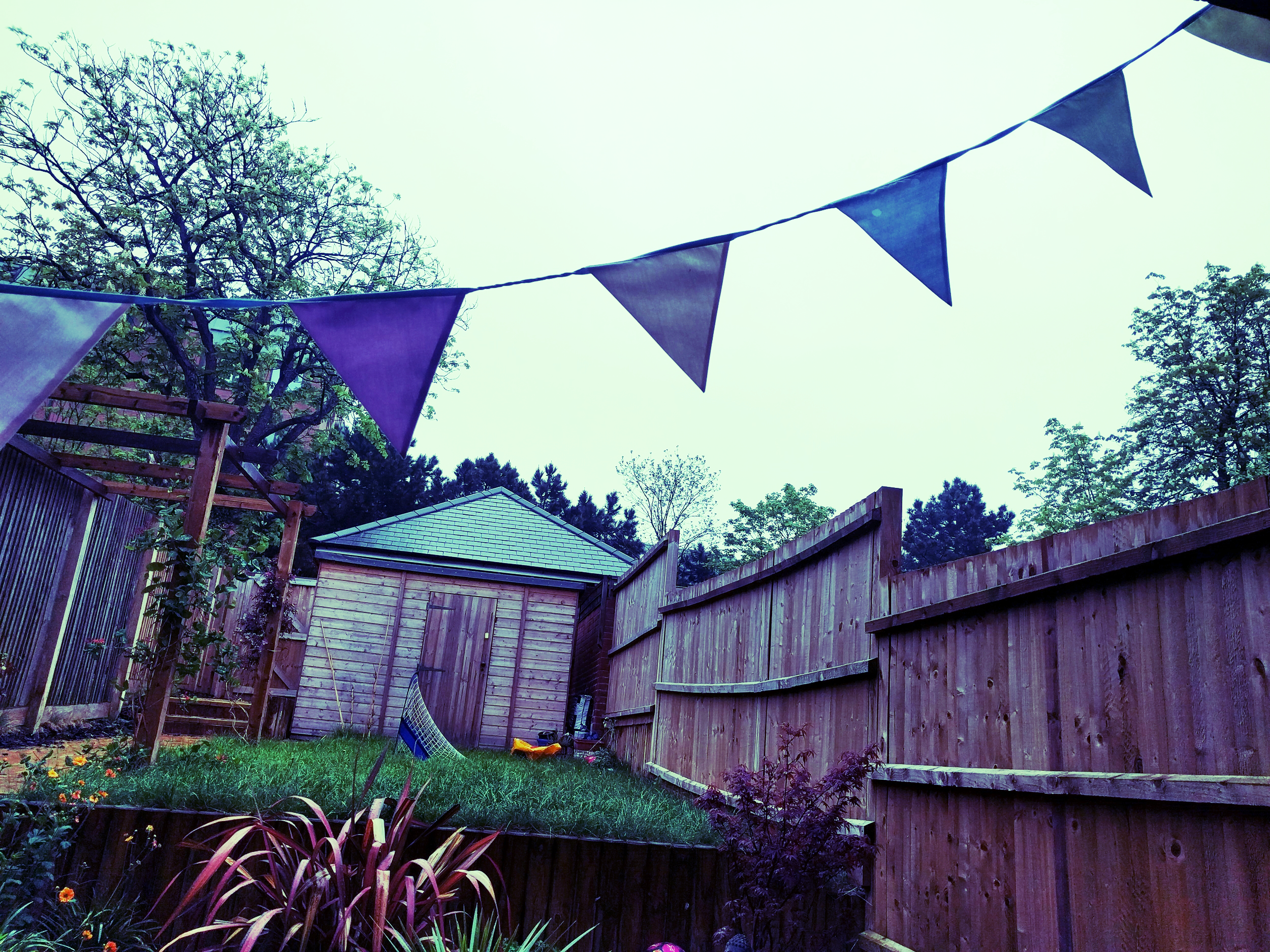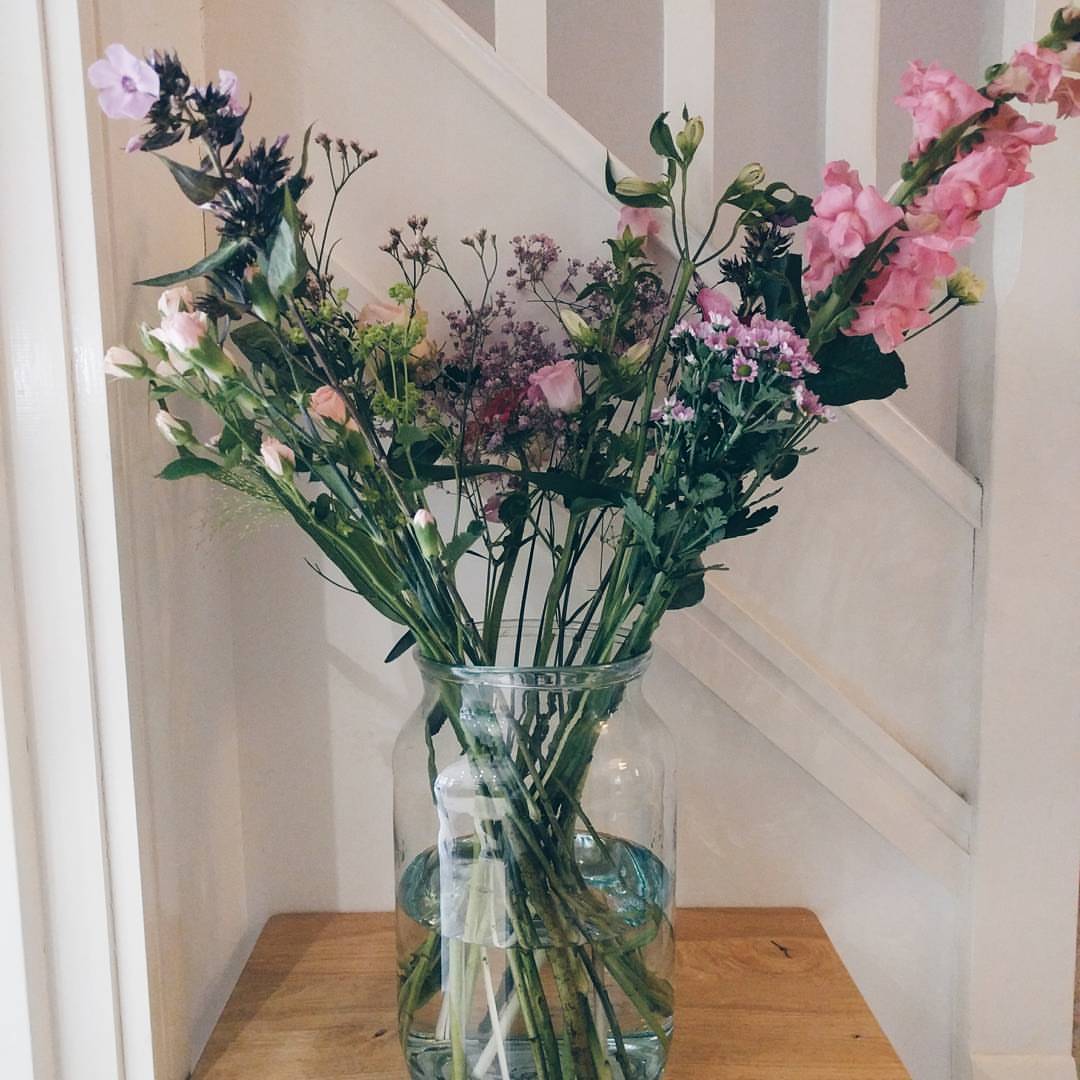 Finally, I love pom poms – I dug these plain coloured ones up from last year's party (they were from Ocado I think) and the funky multi coloured ones are from DotComGift Shop, an online retailer selling absolutely gorgeous bits and pieces for the home – check them out. We strung the coloured ones up in the garden dotted across the pergola and kept the plain ones for inside.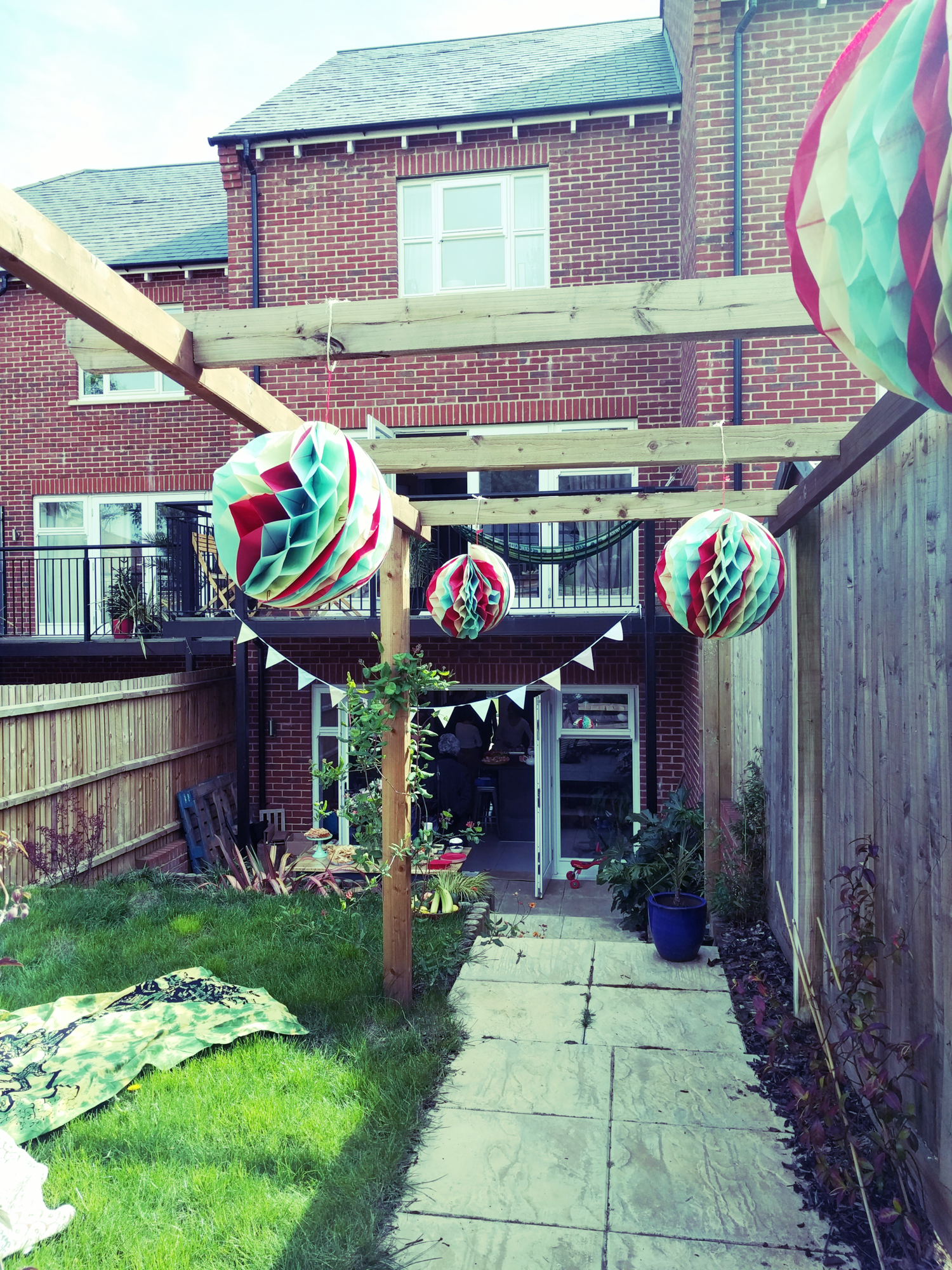 Food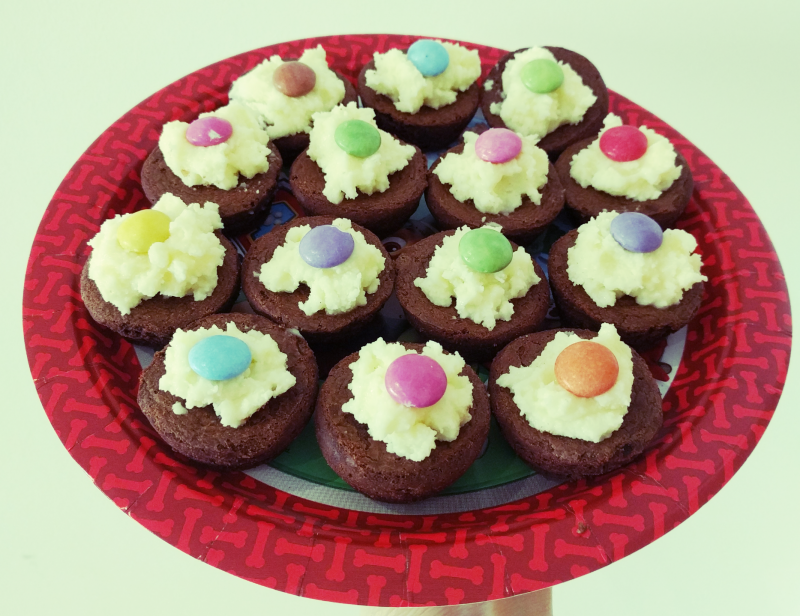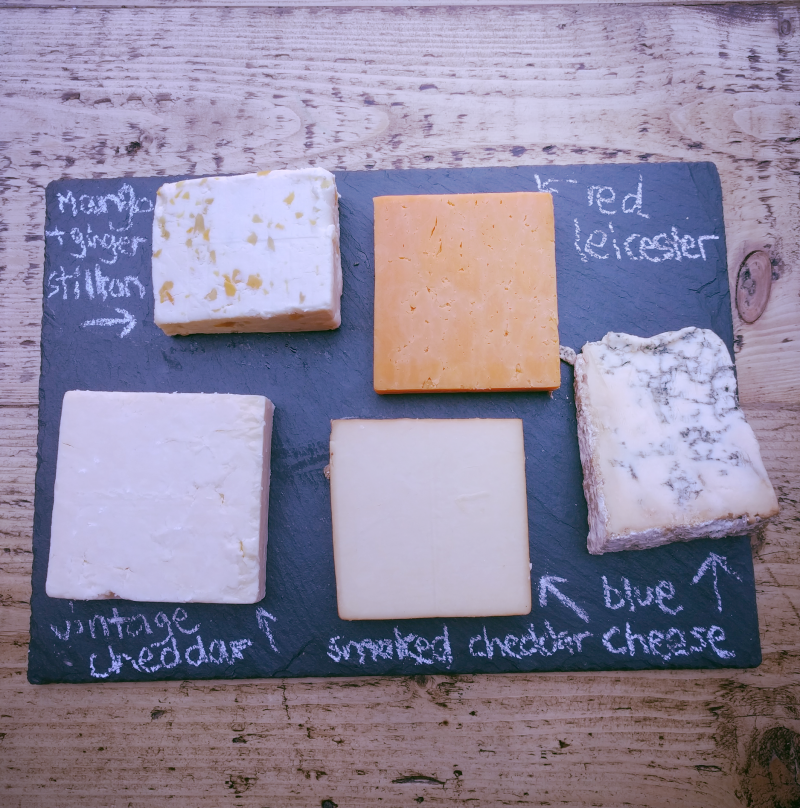 This is where most of our budget went. We combined a big trip to Costco with an online shop from Ocado and Tesco (online shopping is always a mum's friend, but particularly when catering for large numbers). Then I added a few touches to give a bit of that homemade look – I  whipped up some icing and added a smartie on top of the kids' muffins, I made a '2' out of raspberries to put on top of the victoria sponge cake, I scrawled some notes on the cheeseboard in chalk and I generally just made sure everything was out of plastic tubs and on my own plates so at least things 'looked' nice (thanks Anthropologie). Crockery wise, last time round I used all my favourite plates and mugs; this time I opted for plastic plates and managed to find some sweet discounted cups from Ocado.  We also invested in some small kids' chairs and tables from Costco – I hope these will come in use for years to come, and they're stackable too so easy to store without taking up too much space.
Entertainment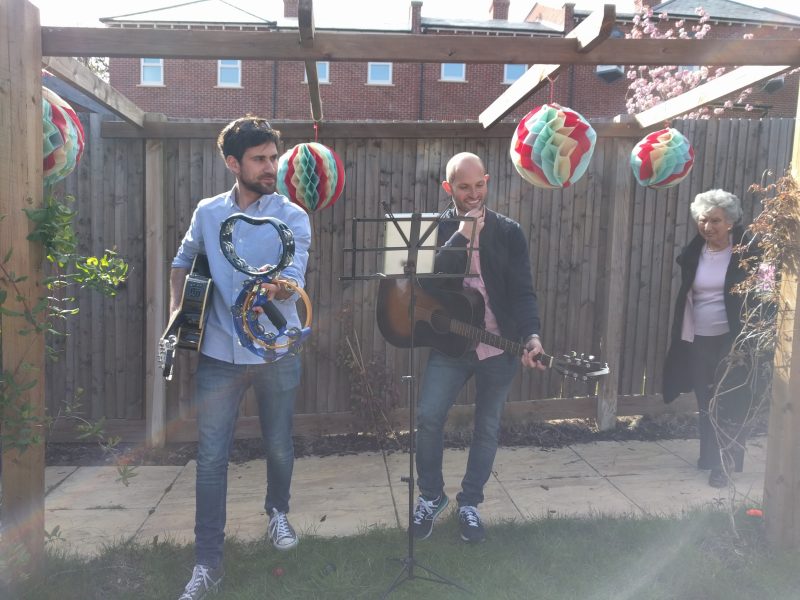 Given Jack hasn't been to any baby classes, we're not really in the know when it comes to good entertainers and what little ones tends to enjoy and what they might run away from in fear/ boredom. Fortunately, my husband and brother are game and were up for getting their guitars out and performing some nursery rhymes to a rabble of toddlers. It was awesome and the kids loved it. Watching Jack sit at his little table with his friends, tambourine in hand, looking on, albeit slightly bemused, is not a sight I will forget in a long time – it warmed my heart. Plus I'm pretty sure he experienced his first feeling of being embarrassed by his parents – WIN.
Cake
Again, I absolutely love home made cakes and am not a fan at getting shop bought cakes, especially not the birthday cake. It's not that I'm a control freak, I just get a lot of satisfaction from making things myself, and devoting time to the process. This time though, I did outsource this part -to my mum! She really kindly offered to make Jack a train cake which is her speciality. It was absolutely awesome and he loved it, cooing 'wowww' when it was placed in front of him.
Party Bags
I'm not a fan of pointless plastic crap whose job it is to fall down the side of a car seat; which is basically how I view the contents of kids' party bags. If I'd have had more time I would have loved to have given the kids a tiny plant – perhaps something they can look after each day, or at the very least, that their mum might like to have next to the sink. In the event, I didn't bother with party bags at all – I don't think anyone minded 🙂
So those are some quick tips on how I achieved a 'home made non home made' look for Jack's second birthday party. If you've done something similar, or have any other tips along these lines, I'd love to hear them!
Emma xxx
P.S A Jungle Themed Party and A Toddler's Pyjama Party