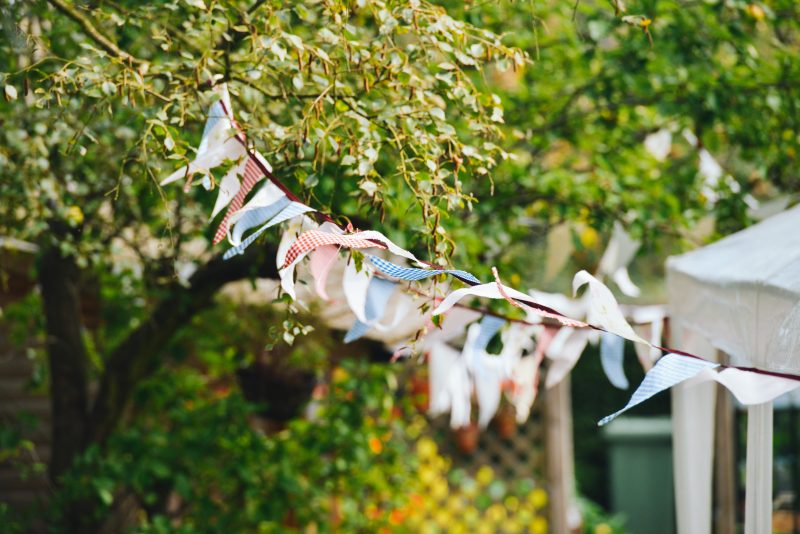 Birthday parties are an integral part of family life and rightly so – it's important to celebrate the good things in life! Somehow though, like so much in modern day to day living and parenting, they seem to have spiralled a little out of control and have come to be some of the most wasteful events of the year. In this post I'm going to talk you through some ways to keep waste to a minimum at your kids' party and avoid finding yourself carrying out black binbags full of rubbish at the end of it all. It's totally possible (and even more fun, I'd say!) to celebrate sustainably, without being a total party pooper.
Location
Growing up, my mum always made my siblings and I our birthday parties at home – it's all I've ever known and I (and my childhood friends) have fond memories of being sat cramped in my parent's hallway, wishing the parcel would land on us and taking turns to have a whack on the homemade  piñata. That said, celebrating at home isn't always an option. In this instance, my preference would always be to support a local small business (here's where I've got my eye on for one of our upcoming celebrations!) or centre, or if the weather allows, to take your party to the outdoors – the woods make the best location for kids to explore and run around in!
Invitations 
Paper invites just fill up other peoples' homes and go straight in the bin immediately afterwards (sometimes even before!). Yes, they can often be recycled (if free from glitter) but I would always opt for online invitations and thank you cards from Paperless Post where there's a bunch of different options available. If you tick the 'Free' box option when creating the card, there's no cost (you do have to work quite hard though to avoid creating a card that requires 'coins'!)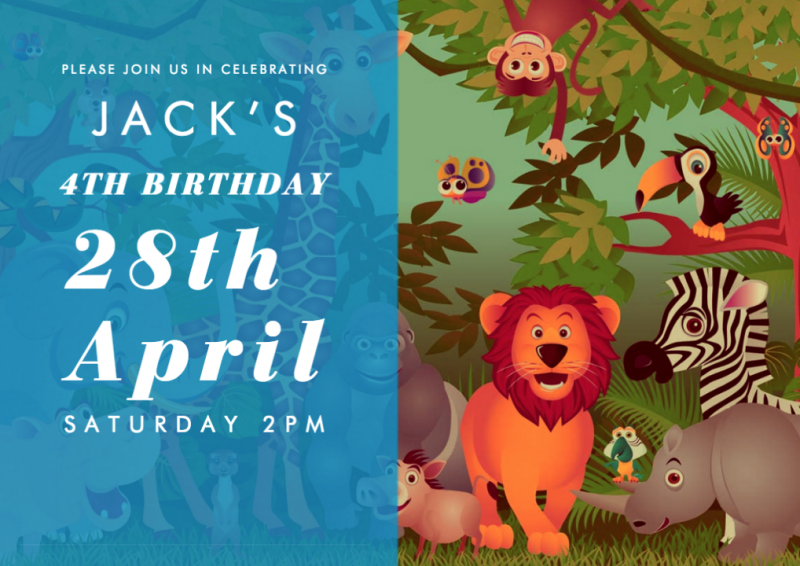 Otherwise, just an email would suffice or if you're in a Whatsapp group with other mums from the class, why not just pop an invite through via Whatsapp with a photo of your kid. It's actually the most time efficient way of doing it!
Decoration
If you do want to go down the 'themed' route, then choose a theme that you think you can create easily with what you already own or can borrow. For me, being a crazy plant lady, makes a jungle themed party, for example, pretty ideal. Other ideas I come back to again and again are food related – breakfast parties, pizza or cupcake making. DIY pamper parties could also be a really nice idea.
Inspired by Etsy, I might make some very simple banners and string them up. I'll also make use of fairy lights, some pom poms I've had for years. I might post on my local Facebook group to see if anyone has any spare decoration, and borrow the rest from friends and family. Balloons and party poppers are a no go for me (unless I've got some lurking at the back of a drawer from years ago) – ever noticed how toxic they taste when you blow them up? Plus, what goes up, must go down…Yeh, that. Painted paper chains made from newspaper are also a lovely idea, and the best part of all? You can keep using them year after year. Fresh flowers are also always a winner and make any party look pretty.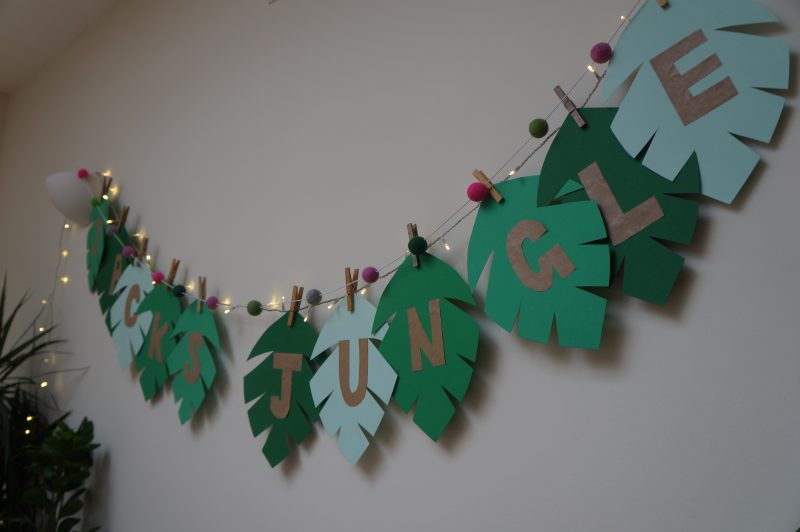 Entertainment
This largely hinges on the weather and what sort of space you're in. First up, a banging kids' party playlist is always great to play (we rotate this with 'adult music' too if adults are there), and then the core entertainment will really depend how old your child is; so far (and our eldest is 5), we've done it all ourselves / with other parents. Most recently, we divided the children into different groups and had stations set up of different activities run by different parents; we've had races, a craft table, face painting, pass the parcel, musical statues, reading books, and cupcake making.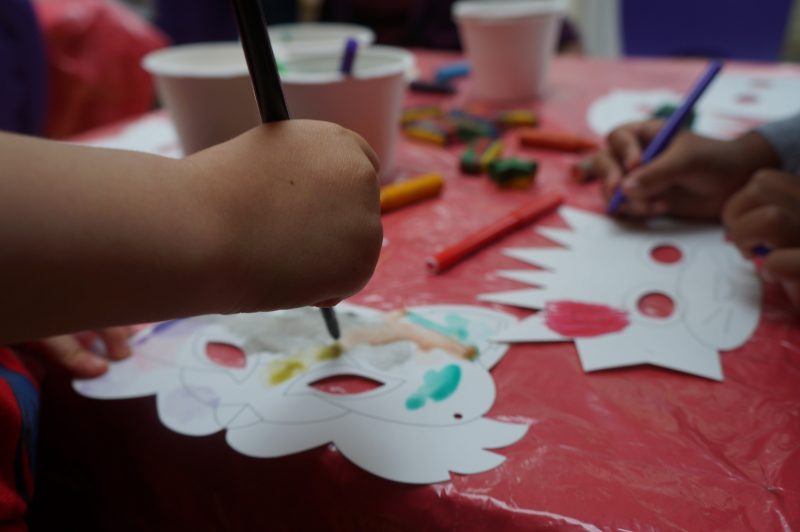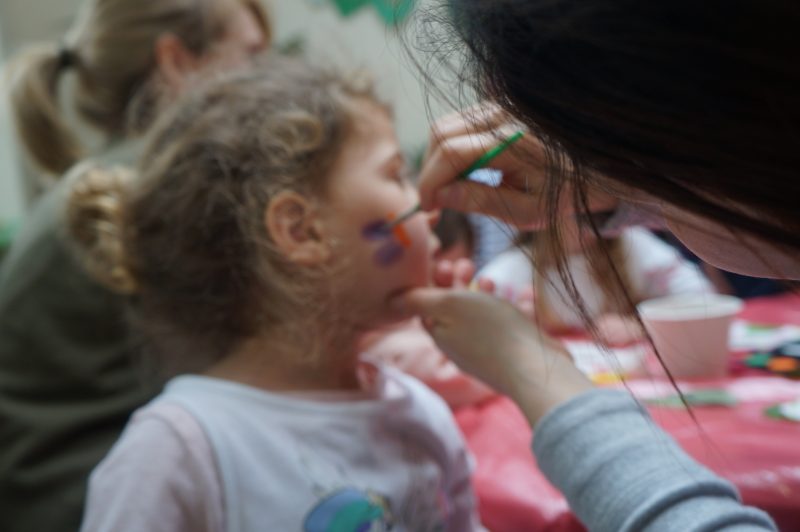 Food
I never want to serve up junk, sugar filled food but equally I knew that energy balls and hummus at a kid's party isn't always going to hit the spot. As always, keeping things simple is my strategy. Cut up (plastic free) fruit and veg, cheese and salad sandwiches, diluted juice (I don't normally give my kids juice but as a treat…), and then for dessert, I love the idea of cupcake decorating: prebake some cupcakes using this super simple recipe and prepare some bowls of icing and toppings.
For plates, we use these palm leaf plates which we use every year – I'm not sure how long they'll last but for now, we just gently wash with soapy water, leave to dry and they keep on lasting. Just be sure to make sure anyone who is helping you tidy up knows the drill not to throw them away!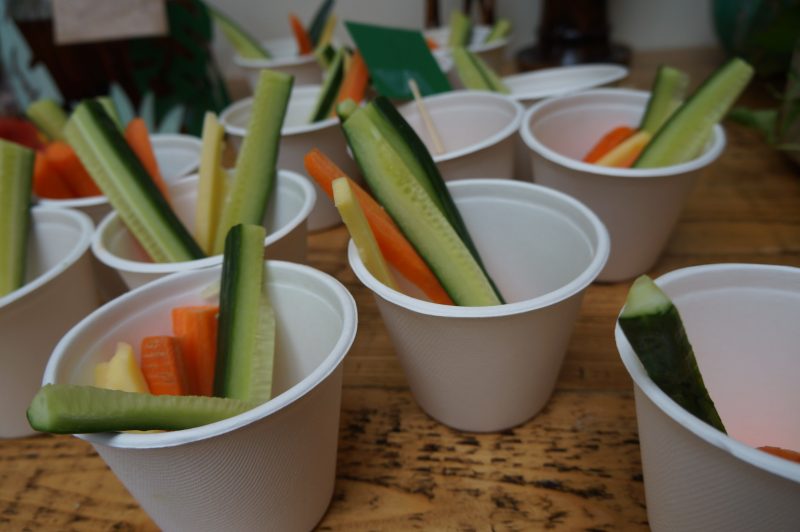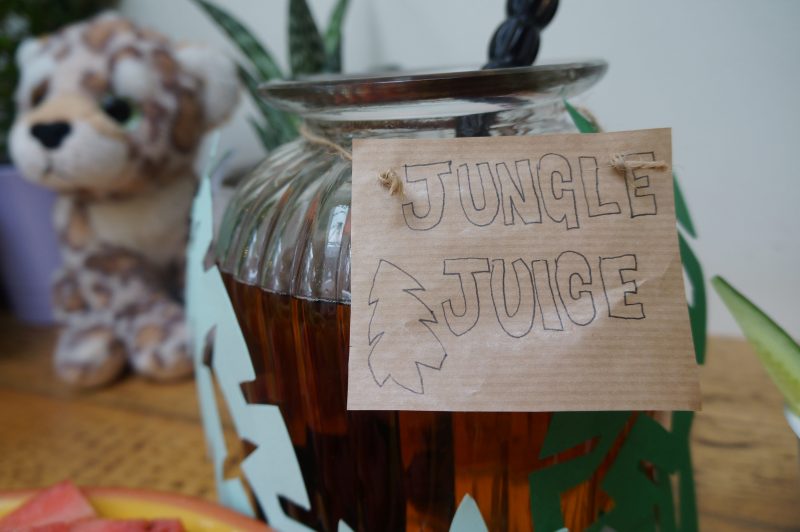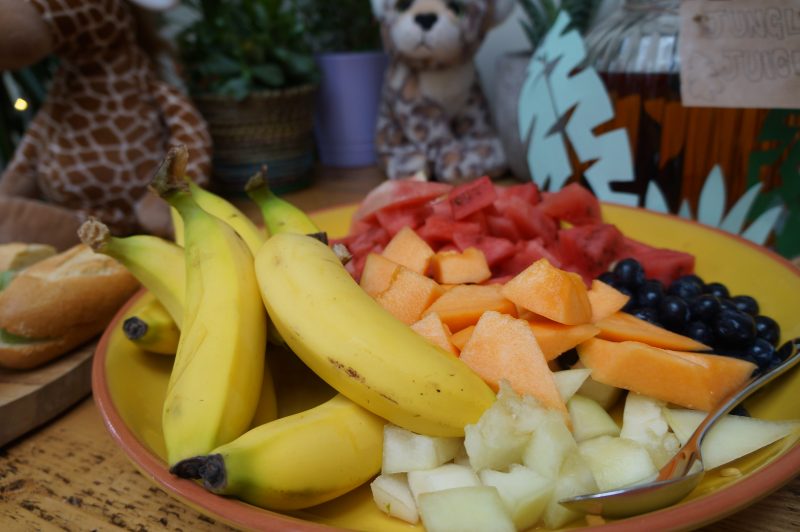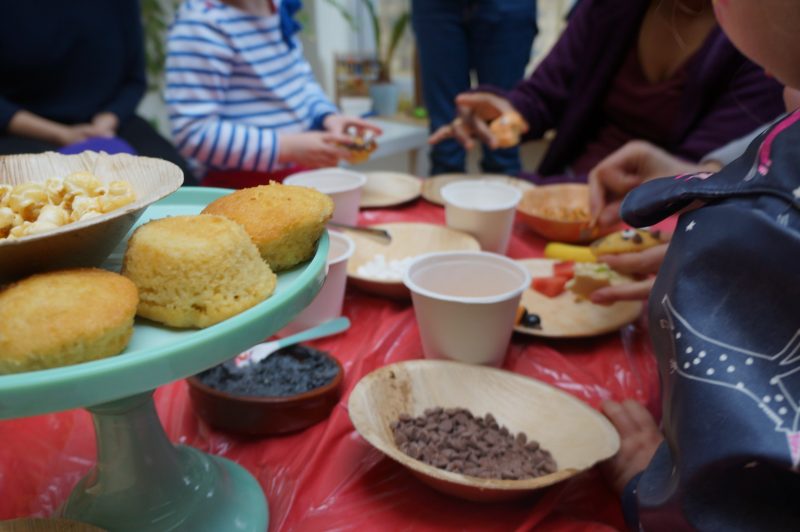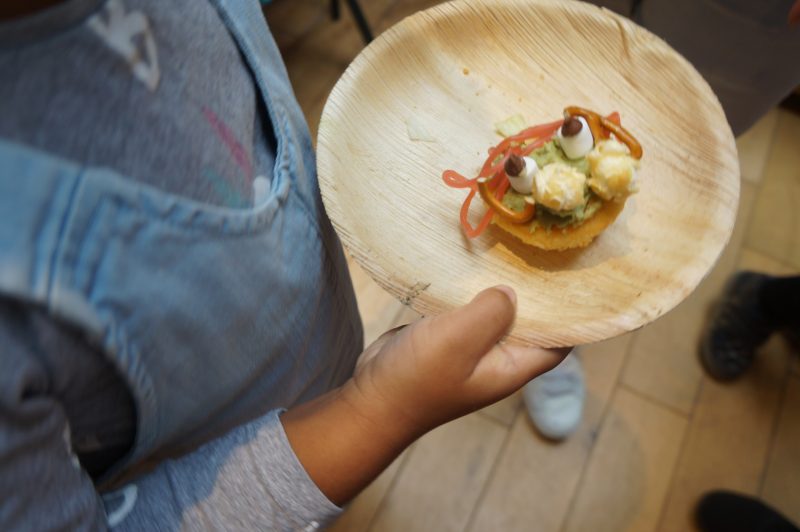 The Cake
I've always been a bit of a nervous cake maker – my mum is amazing and in the past I've delegated this job to her and she's always kindly agreed. But this year I decided to take on the task myself and actually had so much fun with it. I made my friend's Johanna's vegan chocolate olive oil cake twice over (SO crazy easy), added a layer of mascarpone and some green buttercream icing on top. Then I made some 'palm trees' out of wafer biscuits and green icing and gathered some plastic animal figures we had knocking about the house to decorate (the tiger was a recent 50p charity shop purchase). Oh, and always reuse candles – you won't know the difference once they're lit!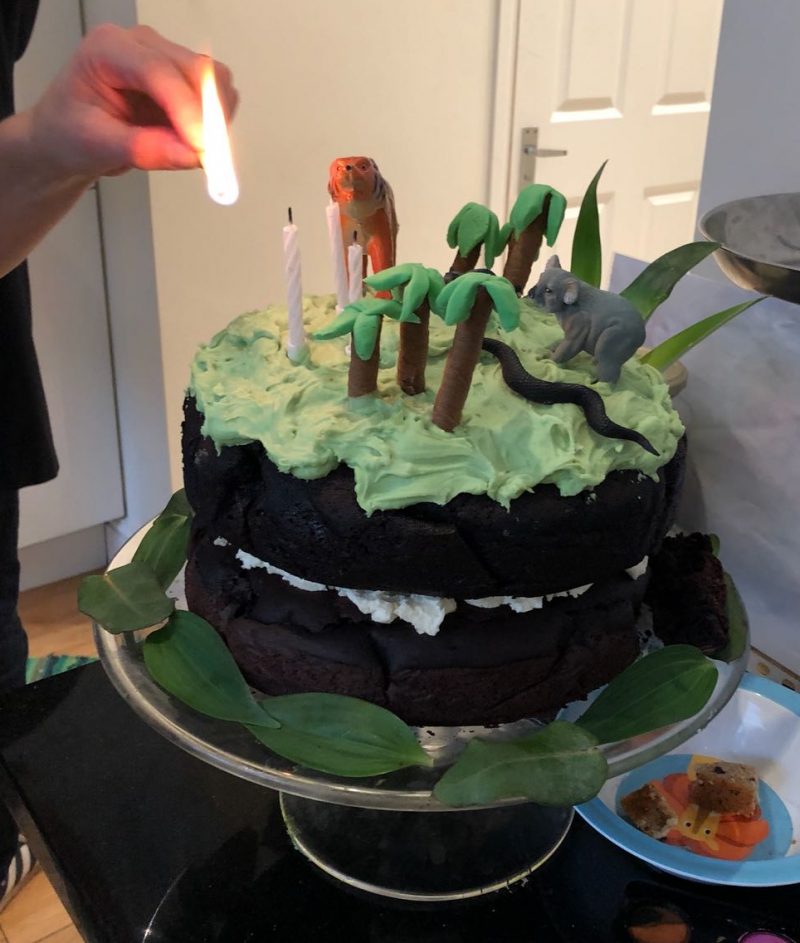 Going Home Presents
Last year for Jack's party I didn't give going home presents, and although I know that they're not really necessary, they have become the norm and the kids expect them. I decided to keep it simple and plastic free so I gave a Mr Men book (sourced from Poundland) and some Bear Nibbles snacks. Check out Plastic Free Party Bags for another option, and use the code MAMALINA to get 10% off any order you place.
A few final tips for hosting a kids party at home:
-Advanced preparation is key: I made the cupcakes and the cake weeks ahead and froze them
-Instagram / Pinterest are amazing for inspiration: Follow @foodbites for the cutes kid food
-Accept it will be slightly chaotic and embrace it: there will be kids running everywhere if you're indoors
-If hosting elsewhere, enquire what their efforts are to reduce plastic waste – it will make them think, if nothing else
-Make a 'parents corner' with coffee and cake: it will be appreciated
-Ensure you have a good takeaway place and bottle of wine ready for the evening
Have you hosted a kids party at your home? What sort of thing did you do? Please share any tips in the comments below.
Emma xxx
P.S A Toddler's Pyjama Party and a DIY Kids Party at Home
P.P.S  A super cute idea for a birthday