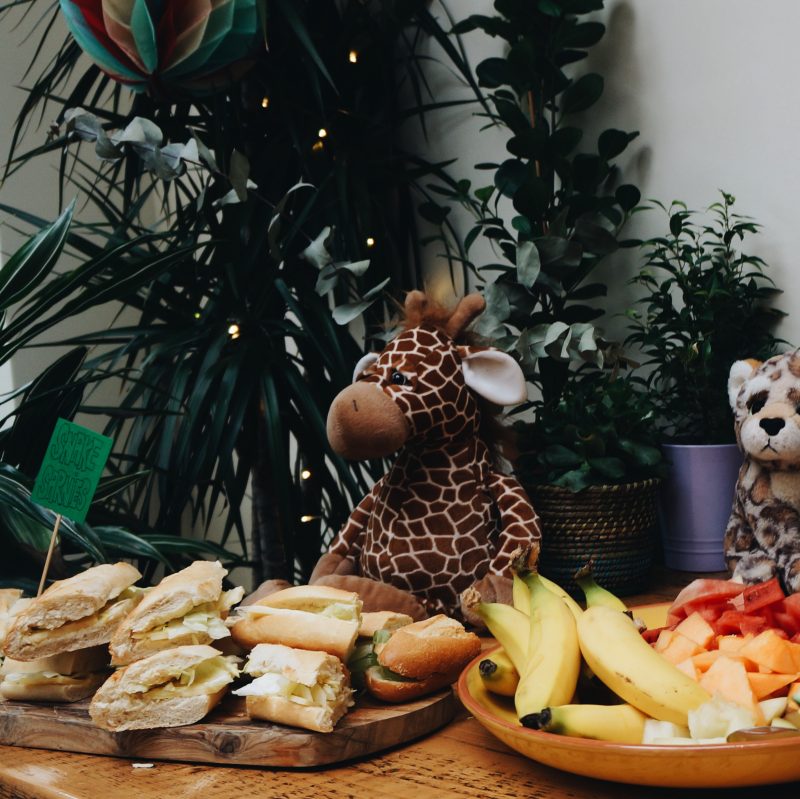 Growing up, my mum always made my siblings and I our birthday parties at home – it's all I've ever known and I (and my childhood friends) have fond memories of games of homemade piñata and pass the parcel cramped in my parents' hall.Naturally, therefore, I feel inclined to recreate something similar for my kids and now that I'm no longer working in my job, I have a little more time on my hands and generally love anything creative. So when Jack announced he'd like a jungle themed party, I was on board.
Invitations 
I used to love hand written cards and invitations but I've come to realise two things: they just fill up other peoples' homes or bins and they're wasteful. Consequently, I now always opt for online invitations and thank you cards and my go to is always Paperless Post. They have so many options and if you make sure to tick the 'Free' box, you can always create something pretty cool for free (NB: You have to work quite hard to avoid creating a card that requires 'coins'!). I did the same for thank you cards though it's a bit trickier as you have to edit it each time, but it's more than doable.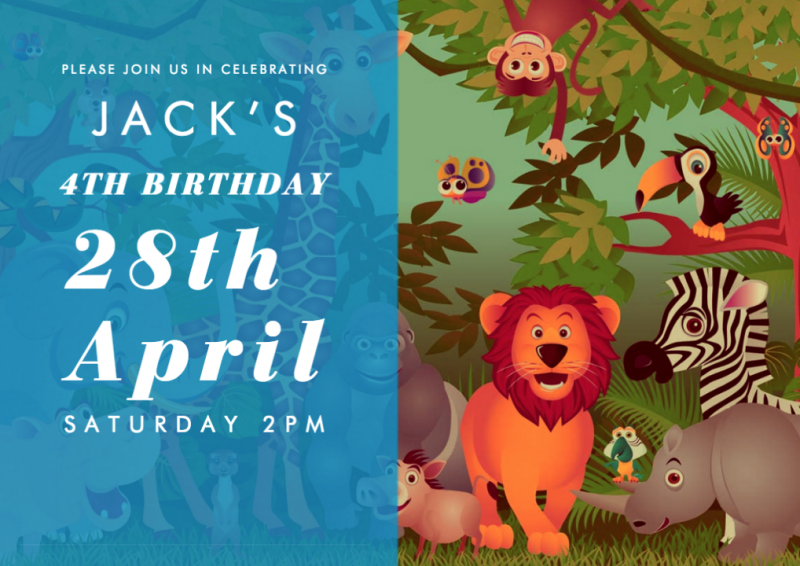 Decoration
Admittedly, a jungle themed party for a crazy plant lady is pretty much ideal and yes, when Jack was choosing between that and a PJ Masks themed party, I can't say I didn't slightly veer him towards the former. I kept it simple and economical by collecting up all my plants from around the house and clustered them all around the table in the kitchen. Then, inspired by some Etsy designs, I created a 'Jack's Jungle' jungle banner and strung it up across my much loved fairy lights and pom poms. Then I also used a few hanging mini jungle animals from Rex London to place in the plants and gathered up all the cuddly animal toys I could from around the house to place amongst everything. I also posted on my local Facebook group if anyone had any spare decoration, and borrowed monkeys and other cute animals from friends and family – why not, hey!?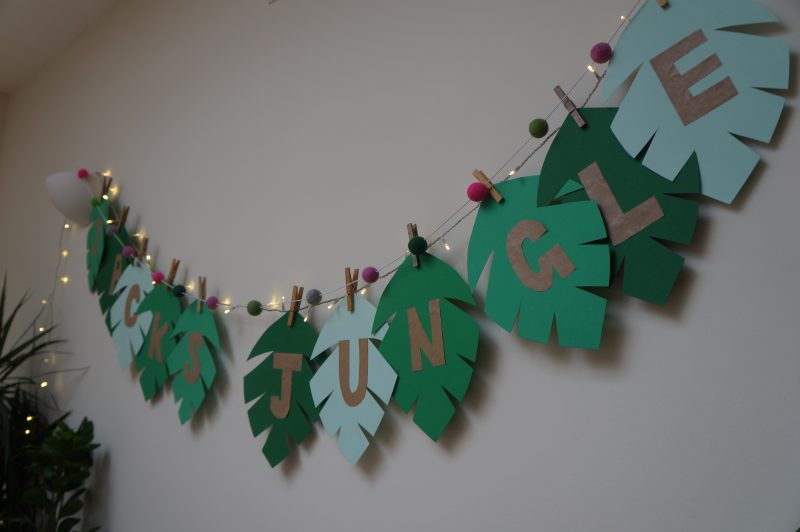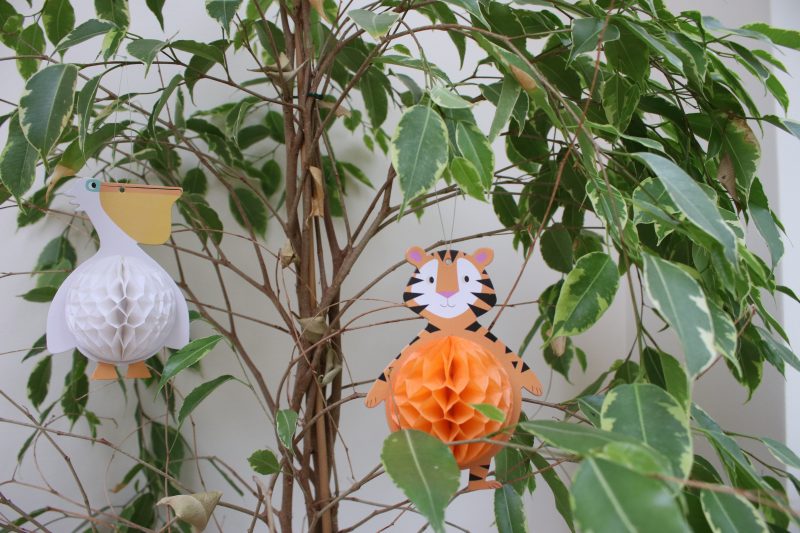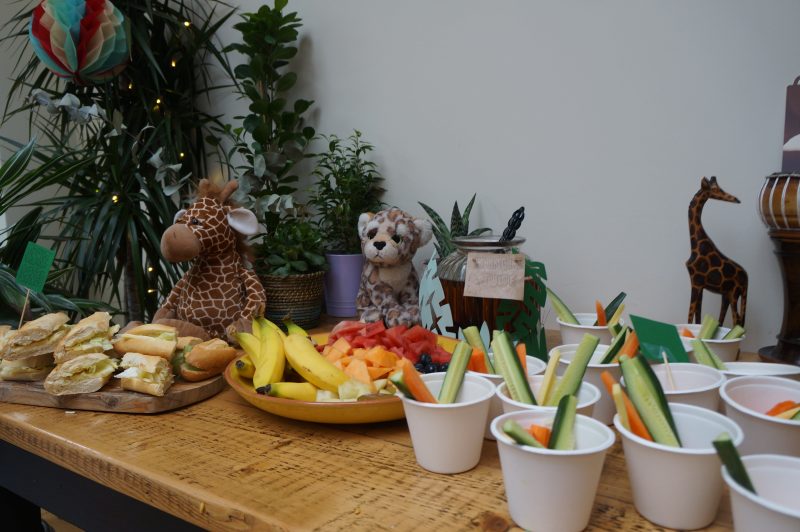 Entertainment
This largely hinges on the weather and we were blessed with some truly grey English, wet weather. I'd have loved to have done a treasure hunt for the kids in the garden (hunting hidden 'bugs' painted onto rocks and have the kids make their own 'binoculars' from toilet rolls). In the event we were mainly indoors: we had a fun kids' party playlist on and Sam and I took it in turns to run the games. As the kids arrived I had animal masks and face paints set up. My brother was the designated face painter but some parents started picking up the paints and painting their kids faces too, which was nice. We also played pass the parcel (wrapped in newspaper – there was no way I could justify proper wrapping paper!), musical statues, and read jungle themed story books – also a great way to calm down a group of hyped up four year olds!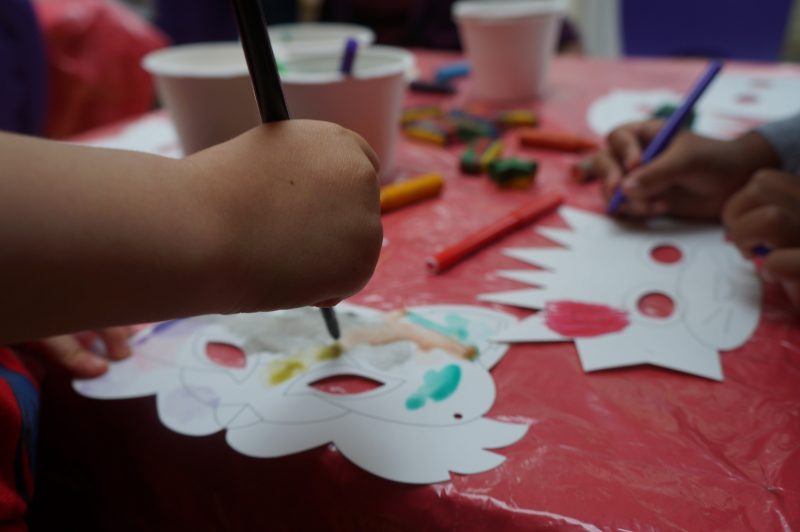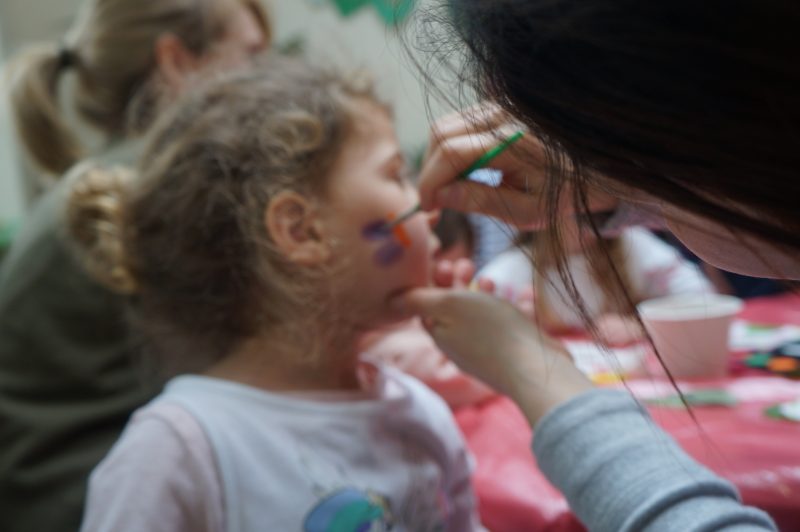 Food
I didn't just want to serve up junk food but equally I knew that serving up energy balls and hummus at a kid's party isn't necessarily that much fun for them. I kept it simple and prepared cut up carrot and cucumbers, a huge bowl of chopped fruit, cheese and salad sandwiches (with a snake twist) and made some 'jungle juice' from diluted apple juice. (Again, I never give my kids juice but offering water at a kid's party seems a little unfair. For dessert, the kids did cupcake decorating: I had baked some cupcakes using this super simple recipe and had pre prepared some bowls of icing and toppings and tasked the kids with creating jungle animal cupcakes. P.S Always reuse candles – you won't know the difference once they're lit!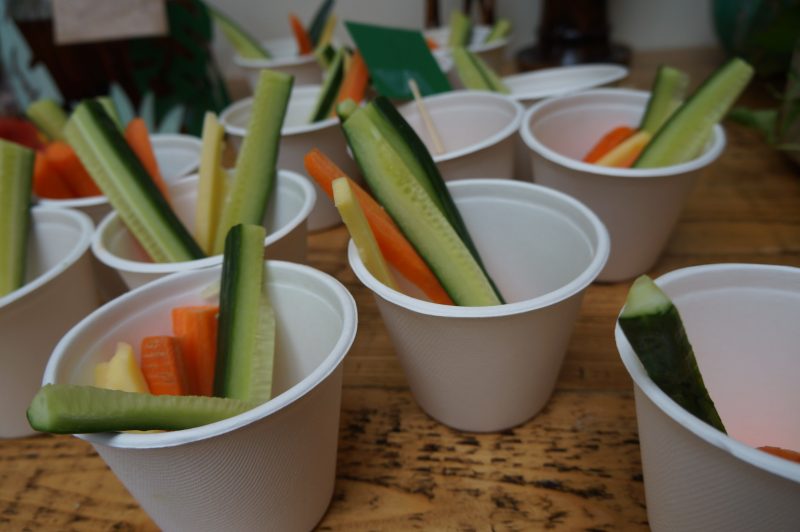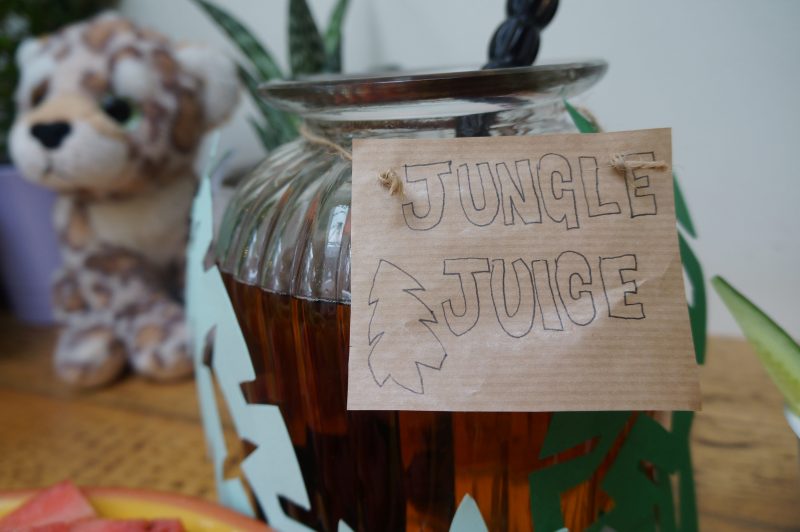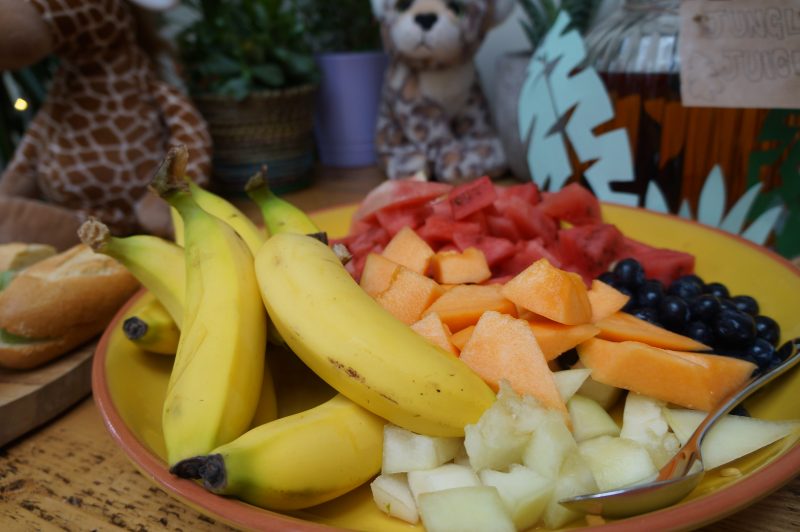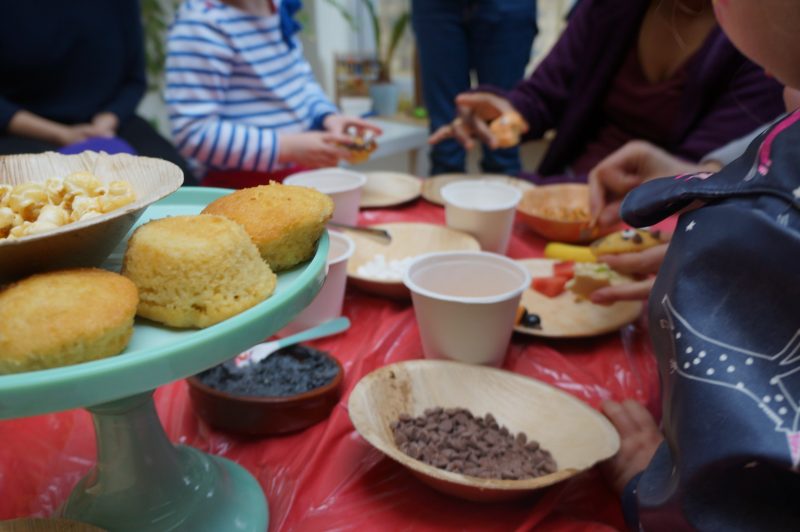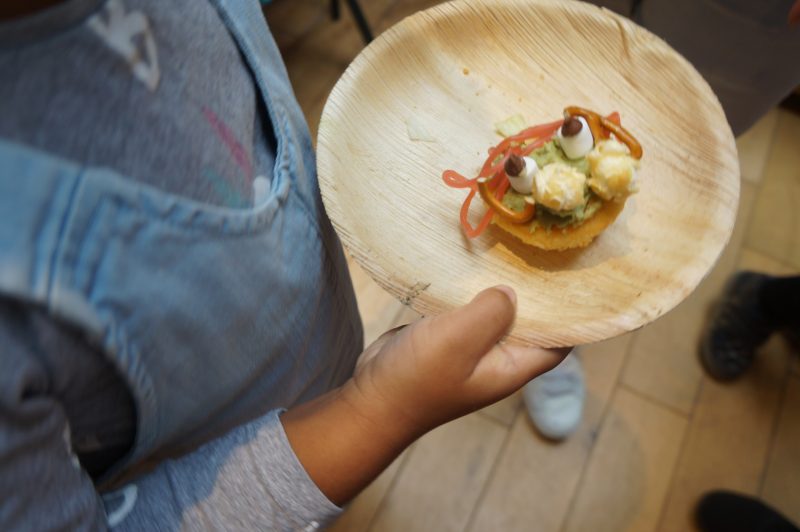 The Cake
I've always been a bit of a nervous cake maker – my mum is amazing and in the past I've delegated this job to her and she's always kindly agreed! But this year I decided to take on the task myself and actually had so much fun with it. I made my dear friend's Johanna's vegan chocolate olive oil cake twice over (SO crazy easy), added a layer of mascarpone and some green buttercream icing on top. Then I made some 'palm trees' out of wafer biscuits and green icing and gathered some plastic animal figures we had knocking about the house to decorate (the tiger was a recent 50p charity shop purchase).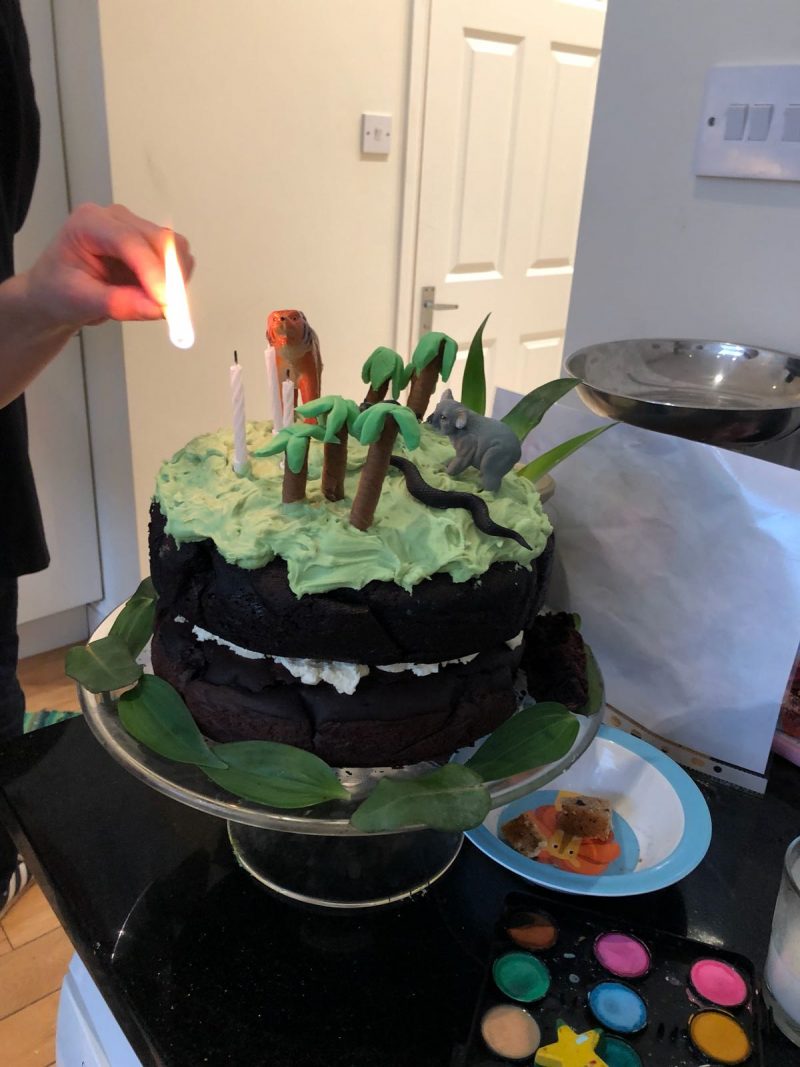 Going Home Presents
Last year for Jack's party I didn't give going home presents, and although I know (as do probably all the parents) that they're not really necessary, they have become the norm and the kids expect them. I decided to keep it simple and plastic free so I gave a Mr Men book (sourced from Poundland) and some Bear Nibbles snacks.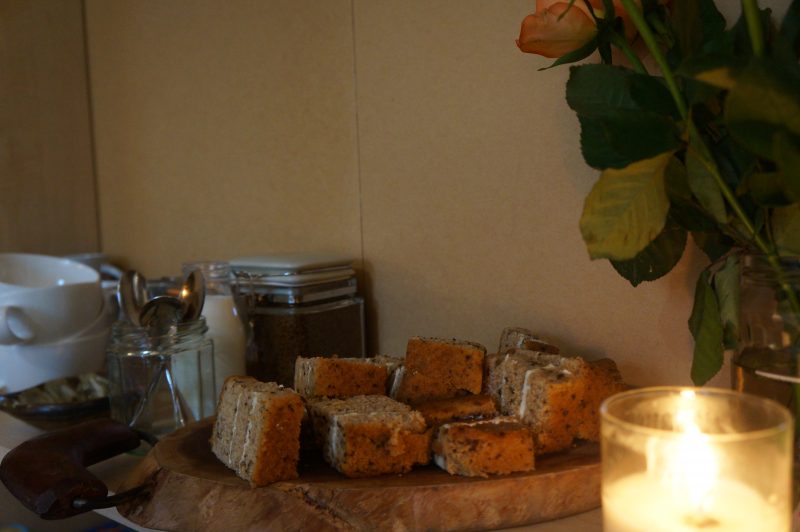 A few final tips for hosting a kids party at home:
-Advanced preparation is key: I made the cupcakes and the cake weeks ahead and just froze them
-Instagram and Pinterest are amazing for inspiration: Check out @foodbites for cute kids party good ideas
-It doesn't have to be all plastic and junk food: I bought these palm leaf plates last year for Jack's party which we'll be continuing to reuse for many parties to come. I had some left over biodebradable tubs which I gave the kids for cups
-Accept it will be slightly chaotic and embrace it: there will be kids running everywhere
-Make a 'parents corner' with coffee and cake: it will be appreciated
-Ensure you have a good takeaway place and bottle of wine ready for the evening: you might need it
Have you hosted a kids party at your home? What sort of thing did you do? Please share any tips in the comments below.
Emma xxx
P.S A Toddler's Pyjama Party and a DIY Kids Party at Home