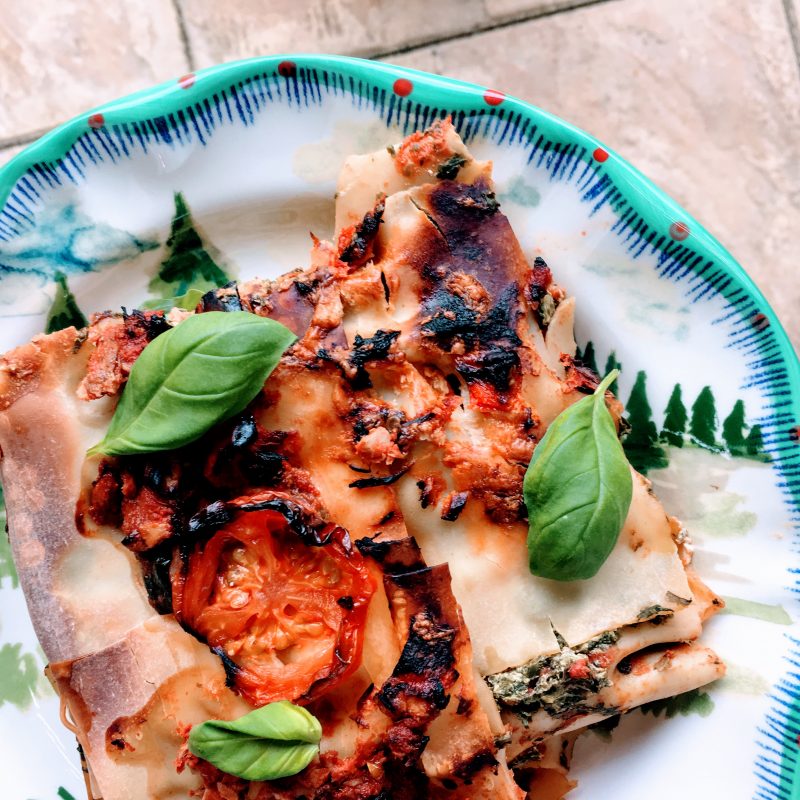 I wouldn't call myself a 'food blogger', more of a "crap-what's-for-dinner-oh-yes-there-is-that-aubergine-in-the-fridge" kind of writer. I post simple, nutritious, mainly plant-based meals for busy people who might, just say, be mopping up yoghurt off the floor with one hand and layering pasta sheets with the other, meals or snacks that are EASY to make and make your soul actually feel good. This is one of those: a perfect mid-week dinner that is quick to put together, has no exact timings and tastes amazing – and can easily be switched up to allow for any non vegans in your home.
SERVES 4 (or 2 with leftovers for the next day)
X2 onions, X2 garlic cloves, X2 courgettes, X2 aubergines, X2 peppers (whichever vegetables you have in your fridge)
Dash of dried chilli powder (omit if for kids)
X2 can of chopped tomatoes
X10 balls of frozen or 3 bags of fresh spinach
X 1 tub oatly creamy oat fraiche
1 handful of nutritional yeast (optional)
Sprinkling of basil leaves
X1 pack of lasagne sheets (dried or fresh)
METHOD
Start by sautéing the onion and garlic in some coconut oil. Add the chopped aubergines / peppers / courgettes and cook until soft. Stir in your chopped tomatoes. Cook for another 20 minutes and if you're feeling energetic, using a liquidiser or hand held blender to puree the sauce until smooth.
Whilst the sauce is cooking, make your 'cheesy' creamy sauce. Put the frozen spinach into a pan and warm until it has defrosted. Drain off any additional liquid. Leave on one side to cool and once cool, mix in the oat fraiche.
Spread a thin layer of the vegetable tomato sauce in an ovenproof dish, followed by a layer of the spinach mixture and topped with the lasagne sheets. Keep repeating the process, and end with a layer of the tomato sauce. Sprinkle with the nutritional yeast and / or the mozzarella and bake in the oven for about 35 minutes or until bubbling and golden on top. Sprinkle with the basil leaves and serve with salad, crusty bread and a glass of red wine. You won't be able to resist seconds.