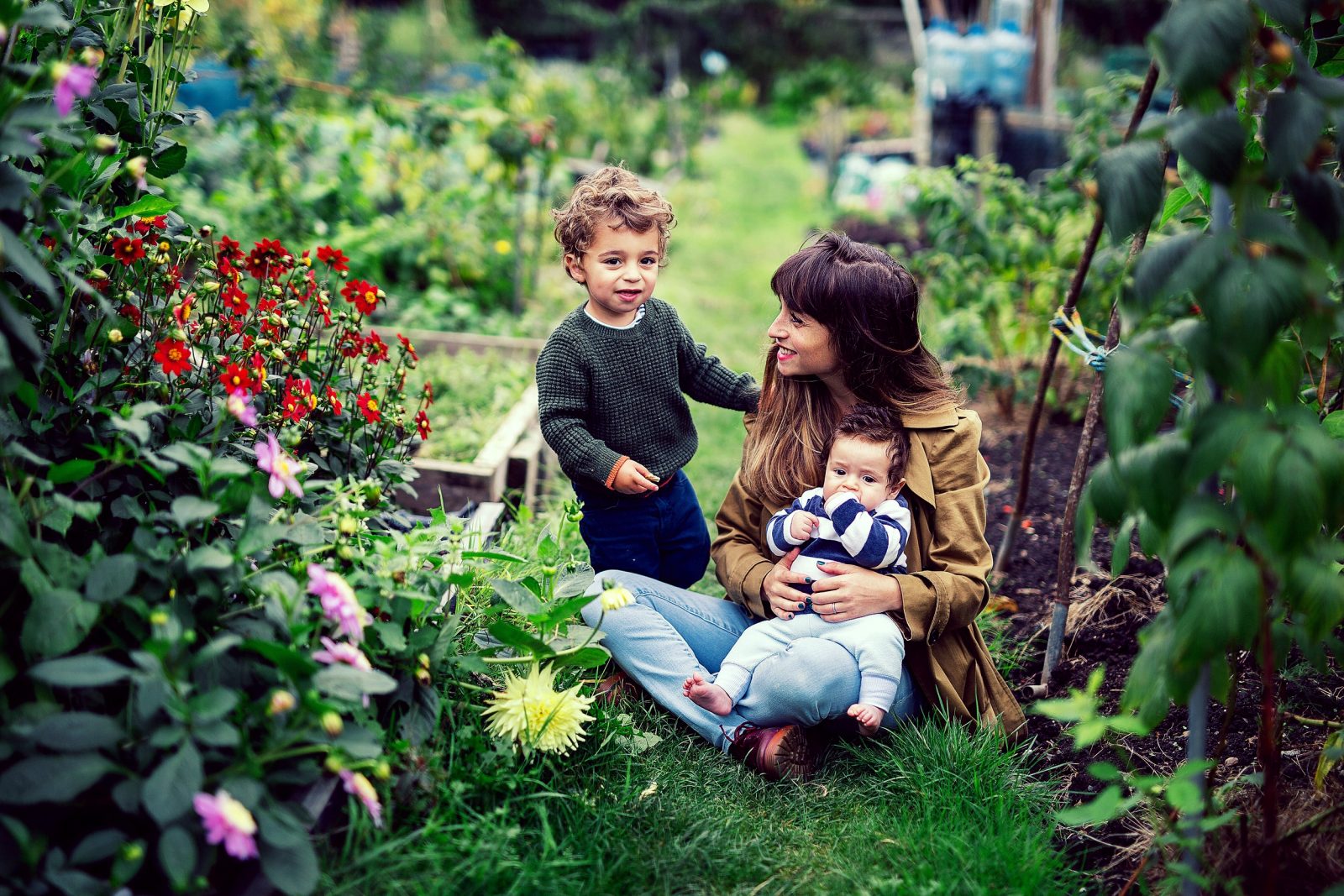 So many people scared us before having Sonny about how we would cope with two. "Say goodbye to *any* free time you have" was one particular phrase we heard a lot. Lines like that one, as well as the sleepless night, mess and bickering that having a new baby inevitable involves made us both begin to feel anxious in the weeks leading up to Sonny's due date. Not ideal when you're waddling around 40 weeks pregnant and running after a toddler…
The reality is, thankfully, hugely different and I can honestly say that never have I felt more content and calm – both on the inside and the outside. Busy and tiring yes, and you'll probably still need that glass of wine at the end of the night, a good supply of frozen pizzas, and yes there'll still be some fraught times, but I cannot stress how much more knowledgeable you are, how you and your partner are by now a real team when it comes to parenting (importantly, also I feel Sam and I are so much more 'allowing' eg. first time round: "you want to sleep in a separate room?" "That's so selfish, I need you" VS. this time round "F*cking do it, we'll all sleep better!") But no, this is like nothing I have ever known before; our lives have become a beautiful chaos and it's a huge and wonderful adrenaline rush 24/7. So to any parents to be out there considering a second, much like all the negative birth stories, ignore the scaremongering. You're going to go on your own journey, it'll be unique and it'll be perfectly imperfect.




Everyone's parenting style and journey will be so different, but based on how I'm currently experiencing it with some of help from the wise 'Instamum' community, I've put together a couple of tips on how I cope with certain issues. Here goes….
HOW I COPE WITH….
JEALOUSY:
Of course with a new baby, there will be a shift in the family dynamics – that is unavoidable. Remember, this is new to *everyone* – you're learning to be a mum of two, number one is learning to be a big brother or sister and your newborn is learning how to live earthside. In my mind though, Jack is still be the 'priority' in terms of where my main attention would focus goes and I try to find that balance of giving him lots of extra attention (so perhaps a Paw Patrol magazine when things are on the verge of becoming challenging when in the supermarket with both of them…) but without spoiling him. (it's still a treat) In fact, the best piece of advice someone gave me before Sonny came along was to "make it all about the toddler, the baby doesn't really have any idea (yet)" This is the motto I've lived by and I have to say, jealousy has not been a problem at all. In reality, Sonny just needs milk, sleep and some cuddles; Jack is the one who has far more complex and concrete emotional and physical needs, and it is he who I have focused on. Been offered some help with the kids? Give them the baby. It's tricky because your maternal instinct will make you want to look after your precious tiny new addition, but I am quite sure that the more attention paid to the toddler, the less you will encounter jealousy. As much as possible, I always say YES to Jack when it is the three of us (and if I can't do something with him, such as when I'm feeding Sonny, I explain that clearly to him). I'm not personally an advocate of spending time with one child alone without the other; I prefer us to be a unit. More on this coming soon…The other thing we did is that before Sonny came along, we bought Jack a little baby. Every evening we would give the baby a kiss goodnight and put it to sleep, and in the morning we would go and find it. I'd sit the baby with Jack at meal times, and talk a lot about the baby. Who knows if it really helped – it probably confused the hell out of Jack! But it certainly got him used to the look and feel of a baby.
GETTING OUT THE HOUSE:
My main advice here is do what is easiest and what causes the least chaos possible! If that means sticking the toddler in front of the TV, do it. If it means, timing it with naps so you know one will sleep in the buggy, do it. And finally, if it means not really leaving the house at all, friggin' do it. All I will say is, allow a lot of extra time. Oh, and seek caffeine out ASAP once you do leave the house! A short word on double buggies: I'm still not a fan. Most of the time I take out a single buggy and use a sling and alternate the kids between the buggy. I just find the double buggy so cumbersome. You can find a separate post about getting out the house with two kiddos here.
GETTING ONE TO SLEEP:
I'm a bit of a weirdo (and I dislike routine) so we have never had any routine for Jack. This means that he has no set nap time or bed time or anything time. It's now that Sonny has come along that I've really realised – and I'm just embracing it even more as there is nothing I can do about it! Sonny will have to. So when one does need to sleep I might use the TV for Jack so I can settle Sonny, or often I will place Sonny in the sling (which sort of hides him) whilst I take Jack up for a sleep. At night time, I bath the two together which is not only really special but it seems to really calm Sonny, who is then happy to lie outside Jack's bedroom whilst I give Jack his milk and put him to sleep. We also play lullabies for Jack in his room which Sonny can hear which I'm sure help keep him happy too. We're fortunate in that Jack doesn't need any bedtime stories (we do enough reading during the day!) so I don't usually have to spend too long with him.
FEEDING:
A lot of the times, Sonny needs feeding and Jack needs attention at the same time. This is one of my favourite times to read with Jack; I will ask him to bring over some books and we sit, the three of us; eating, reading, and listening. I'm sure Sonny enjoys the stories too! When Jack needs his food, Sonny will go in the bouncer or in the sling. I've also started putting Sonny in the bouncer next to Jack whilst Jack eats – firstly, it entertains Sonny but also I think it's nice for them to start to 'eat' together. Ditto potty training – which has become a joint exercise.
KEEPING BOTH HAPPY:
I'd actually say here a lot of your work is done for you! Sonny is definitely happier when Jack is around as Jack is great entertainment for Sonny. In fact, I enjoy days when I have them both around far more than just me and Sonny, which I actually find harder work. I love having Jack around also as company (is that sad?) to 'talk to' rather than just the newborn who as much as I can oggle at him and coo away, he doesn't make me laugh with his silly words or light up my world when he tells me he loves me. We're lucky perhaps in that Jack is also very content playing alone (read my thoughts about children and independent play here) which does give me more time to focus on Sonny when I need to. Also I find interestingly, they sort of take it in turns to 'play up'; when one is tricky, the other will be good as gold. The other thing is that I'm fortunate in that we have wonderful grandparents who help out and Jack also goes to nursery two days a week – this gives some variety for Jack, and allows me to spend time with Sonny alone.
GETTING ANY ME TIME:
Now we have two one thing I am passionate about is getting me time, or at least 'couple' time. You have to plan it and carve it out, and be organised (not my forte!) Sam and I go to yoga together once a week – it's not much, just an hours class, but it is amazing to be out the house, just the two of us, and get on the mat and then there have been a handful of times where I've been out for a few hours here and there. I've come back feeling so refreshed. I also want to add that we have decided to co-sleep this time round, which in my mind is the only way to really get any sleep – that's certainly hugely helped me and kept the dreaded exhaustion at bay. I'm probably making a rod for my own back, but for now it is keeping us all in a good place.
*****
So that's it – it's messy and it can be very challenging, and yet bringing two up is so special and beautiful and I can honestly say that the transition from one to two is NOT AS BAD as you will inevitably fear or have been told. In fact, I'll let you in on a secret; it's really rather wonderful and I know that I will miss this crazy chaotic haze… I also want to add that the jump from 0-1 kids is WAY bigger than the jump from 1-2…(sorry if there are any new mums to be reading this..!)
Got any other tips? Please share them in the comments below and I really hope you enjoyed this post. Thanks for reading and do check out my 'Day in the Life' videos here with both kids.
Emma xxx
P.S Check out this more recent Summery day in the life with both kids featuring tye dye and massages…