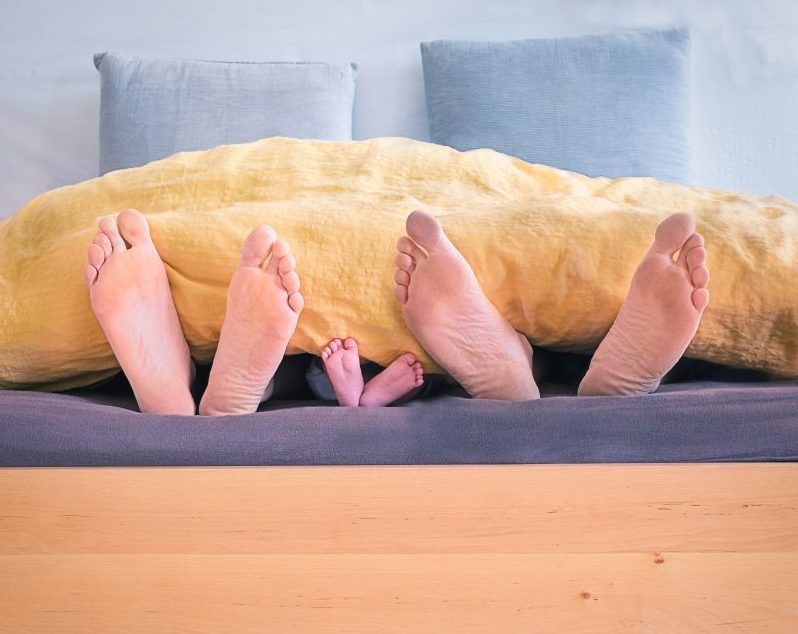 It all started when I was 9 months pregnant with my first child and I received an email from a colleague titled "Newborn Essentials". I stopped what I was doing, opened it excitedly and started reading. And reading. And reading. The email was a good 3 A4 pages long, a proper scroller, and I remember feeling my eyes widen as I read. I quickly forwarded it to my husband and picked up the phone to book us in an appointment at the John Lewis Nursery Advice service (don't so it).
Flash forward 4 years and I've learnt a lot (and got rid of a bunch of useless items we didn't need.) And when I put it out to the Instagram community, it seemed you parents felt the same. So here goes; a list of 50 Newborn Essentials you don't need (but everyone tells you you do) according to other parents. I struggle with the emphasis on stuff when having a baby and the whole concept of trying to sell us mums stuff before a baby is even born to create a fully prepared nursery.
Take the specific items with a pinch of salt – every child and every parent, their situations and needs are different, and if an item makes us feel happier and calmer as a mum, then that's a win. The list is more a simple reminder to just think twice about buying so much stuff. It's very easy (especially at 36 weeks, waddling along) to be sucked in to the Marketing hype (I certainly was) and feel pressure to buy certain items. So here's the list, plus some accompanying commentary from parents; I hope you find it useful.
1.Wipes Warmer machine – "for the Royal fanny. Just no."
2.Disposable wipes – "after a week of wasting a box of warmed wipes on my newborn who wouldn't stop screaming with every nappy change, I quickly switched to what my mum once did with me, which was just washing us in the sink"
3.Nappy bin – "basically a big plastic bin, with a plastic cartridge full of plastic bags to wrap dirty disposable nappies in. Horrendous" / "definitely the most unnecessary item ever" /"A nappy bin which wraps the nappies in plastic, WHAT WAS I THINKING?!"
4.A bottle prep machine – " I just have a thermos of prefect temp water" / "when I was sleep deprived with my first I used to click the button on our perfect prep then just stand there like a Zombie watching the water pour all over the floor whilst I still had the bottle in my hand ??"
5.Socks
6.Impractical/uncomfortable outfits – "my kid is dressed in 95% hand-me-down onesies and 5% gifted clothes."
7.A bath thermometer -"a bath thermometer. Why?!? Just stick your finger in and feel if it's warm or not ??‍♀️"
8.Snot sucker – "snot sucker, not only is it grim it's also useless and unnecessary!" / " if anyone has ever successfully used one of these, I am yet to hear of it!"
9.Moses basket / cot – " in those first few weeks I wondered why on earth my baby didn't like the Moses basket. Oh. Turns out they all like to sleep near their mama!"
10.Expensive buggies –  "once upon a time I was in Mothercare dreaming about these buggies way out of reach ££££. Here I am realising a sling, carrier is all baby needs"
11.Or even just a buggy – "no need for a buggy if you can carry (unless recovering from a section)
12.Ball pit
13.Baby bath – "the most ridiculous, unpractical item
14.Baby walker – "took up about half of our flat, he didn't use it and it barely worked on our carpet ?"
15.Most baby 'toys' – "my son was only interested in my boobs" / "she is 7 months and she just wants what we have. She loves lids, old tv buttons, a wee ball she found, menus when we are out, her food bowl and bag straps – the toys don't get much of a look in!"
16.Special baby shampoo or wash– "my baby has survived pretty well for the last year on just plain old water. Never had dry skin or any of the other problems that I imagine the chemicals in most washes actually aggravate or cause" //" We don't use anything but coconut oil" / "Once was enough to give him a baby acne. Water is the best.. "
17.Baby food blenders  – "I can steam food and mash up just fine without a fancy plastic machine" //"I bought it and sold it to the next unsuspecting victim within one unsuccessful use"
18.Special baby changing bags – "just use a backpack"
19.Baby monitor – "and pretty much any item that only has one function!"
20.Changing mat – "in fact, anything revolved around a "changing area. A blanket does just fine"
21.Food pouch fillers
22.Shoes –  "they can't walk… what the hell is the point?"
23. Co-sleepers – "haven't used it once. Every newborn ?? needs a bosom for a pillow ✌?"" /  Seriously, used it once and he ended up in bed with us "
24. Plastic shaped bibs with the scoop for catching 'stuff' – "made more mess than they saved"
25.A pee pee teepee – "WHAAAAT?!!?"
26.Trousers / pants – "I live in south Florida (it's above 80* 90% of the year) and people always comment how my baby isn't wearing pants. I'm like, really?"
27.Sophie the bloody giraffe!!
28.Baby flannels
29.A 'coming home' outfit
30.Jumperoo
31.Gina Ford book
32.Ewan the dream sheep – "I find myself infuriated by product after product that claims to make babies sleep better, from 'dream sheeps' to special vibrating seats. Stop trying to make parents think buying stuff solves the problem! The stuff gets in the way of the thing the baby really wants…their mummy and daddy!" / "A phone app is all you need"
33.Top and tail bowls
34.A baby grooming kit
35.Baby changing table – "I've always changed my sons nappy on the floor on a towel which has meant he's had to freedom to move around and explore his surroundings"
36.Playpen – "never got used, not even once ?"
37.Crawling ball
38.An egg shaped thermometer for their room – "causes anxiety if the room increases by 0.5degree! Needless to say it didn't last more than a few weeks!"
39.Tummy time pillow – "still trying to sell it on a Facebook group some three years later"
40.A bumbo / all the other devices you can use to help child sit/ stand – "Just wait a few months!"
41.Bath kneeling pad – "what about just some towels or the sink?!!"
42.Electric swing
43.Steriliser – "we just boiled the kettle or used a tablet"
44.Nursing chair
45.Baby towels – "tiny little things that barely even cover the babe. I'd much rather use a regular, full size towel, without cartoon characters on it."
46.Baby safe laundry detergent
47.Nappy rash cream
48.Baby specific plates and cups
49.Dummies
50.Grow bags – "think my baby must've slept one night in his. And we were gifted three."
So next time someone offers to send you a list or asks you if you've bought all your baby stuff yet, perhaps just smile and nod (and reflect upon your clutter-free home and slightly fuller purse). It took me having my second child to realise that babies need so little to be happy and are actually very minimal creatures. Anything I needed was a conscious decision once I was past the newborn stage – there's nothing that can't be bought as and when it's needed – or even better, borrowed or acquired second hand.
One parent told me that "apart from having more wooden spoons around the house – for eating, nibbling on when teething and drumming on any surface that would make a sound – we didn't use any of the baby must-haves most lists seem to have." Another wrote "All babies need is love, food and warmth ❤️️❤️️❤️️❤️️❤️️". And I have to say, I tend to agree.
Is there any item you would add to the list?
Emma xxx
P.S Sustainable Newborn Essentials and 10 Ways to Reduce Waste and Live with Less