Travelling slap bang in the middle of the day with the sun at its hottest was not something we'd really thought through. But then again, we're not necessarily the most forward- thinking people (you may have realized that about us by now). Once we were on board, there was no turning back though and what we didn't realize was the "party" waiting for us. Let's just say, it wasn't quite like a Transport for London experience….For this is Central America, where reggaeton, cold watermelon and chilled beers are staples for every occasion – even just a ferry crossing . Kids were hot, adults were sweating, but it sort of didn't matter. The views were beautiful and with a bit of baby boogying, Jack was soon passed out on Sam's back and stayed that way for the duration of the journey. The hours passed quickly, and before long we had reached the mainland of Puntarenas and had to disembark. A similar situation then started to play itself out as when we had first arrived in Costa Rica: a quickly setting sun, sporadic phone signal, diminishing battery life, uphill dirt tracks (along the side of a mountain) and sketchy directions. Thankfully, we managed to get hold of Elisabeth at El Sol where we were staying who kindly sent someone out to the roadside to basically retrieve us. (slightly embarrassing that we had to be essentially rescued but hey!) We were led by torchlight to our new home, poised on top of a steep hill, and shown our gorgeous cabin. We fell into it, so warm, cosy and vivid were its interiors and I had the instant feeling that this would be a special few days for us. Fortunately we had arranged for dinner to be delivered to us (El Sol is very secluded so they offer this AMAZING service) so after a lovely bath (a huge treat to have a tub again to bath Jack in!), a man came knocking at our door with a basket of delicious rice, eggs, two pieces of fresh fish and fruit which we eagerly chowed down as night fell and the sounds of the animals emerged for the night. Again, it was a disturbed night (we were getting used to them) as Jack's bed was a mattress on the floor which caused some havoc with him basically lolling all over the room much of the night. None of it mattered though because the sight we woke up to blew my mind. We were enclosed in our own little garden but beyond were the most amazing wide, open views over forested slopes. There was nothing – no TV, no other voices, no cars – except pure nature, family and caffeine to enjoy (I couldn't resist a cup, sorry bump!). It wasn't long before breakfast in the form of pancakes, toast, fresh fruit, scrambled eggs, rice and beans arrived on our doorstep and we filled our bellies for the day whilst admiring that view.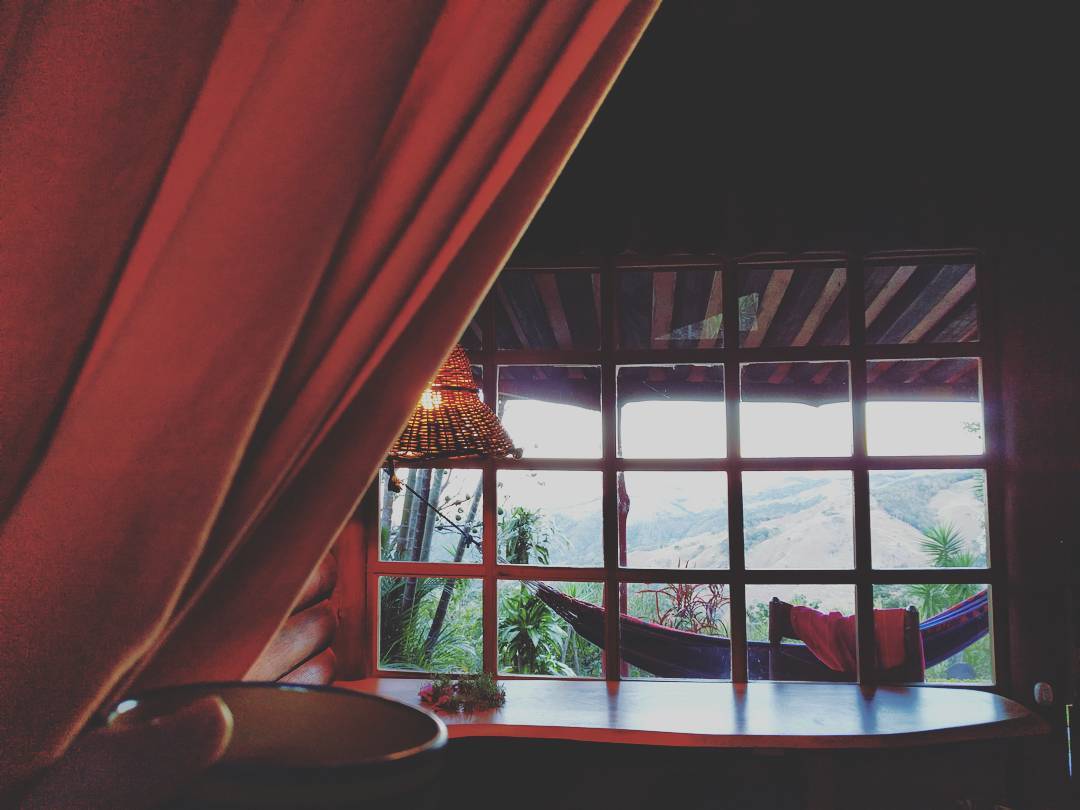 This region is known for its temperamental weather and due to all the different microclimates, there can be a torrential downpour in one area but if you were to drive 5 minutes, you would well find yourself under clear blue skies again. We were really fortunate and enjoyed beautiful sunny days for our whole stay. We started our first day there slowly, ambling into the town of Santa Elena where I started to appreciate that an organic way of living truly pervades this country. Everywhere I looked there were vegan restaurants or organic farms; the town had a slow, quiet feel as if it were resisting the influx of tourists that the rest of Costa Rica is experiencing. The predominant tourism industry here centres around birds and wildlife; it is a real centre for birders who traverse the dirt tracks to make their way to observe the mighty queztal bird. We grabbed a sandwich at Stella's bakery , a particular favourite haunt with bird enthusiasts due to the garden out back and we just about managed to make it out of there before Jack upset too many birders with his darting in and out of the garden. After that we headed to one of the Nature reserves, Bosque Eterno de los Ninos, where we hiked one of the trails with Jack dozing on Sam's back before heading back to basecamp, eager to try out the infinity pool before sunset. As Jack and Sam splashed away in the natural pool, the general sense of space and quiet that flowed through the entire of El Sol made me feel so at calm and content. We ventured out that evening and had one of our only duff meals of the trip at Sabor Tico, situated above a shopping mall (I don't know why that in itself didn't put us off) and masquerading as an authentic Tico restaurant but in reality just a place for Americans to eat fajitas and watch TV screens. Fortunately, Jack was sleeping in the buggy which did allow us some 'couple' time. The rest of our days in the cloud forest were spent ziplining high in the trees (Sam did this at Selvatura Park whilst we played with ants in the gardens and then got well, a little bit antsy), attempting to do coffee and chocolate tour (not possible it turns out with a toddler in tow), chilling in the cabin, taking long baths and exploring the beautiful grounds. If you are into adventure activity, this is the region to try out white water rafting and suspension bridge walking – there are numerous adventure parks but be prepared to drive over dirt tracks for some time to get there 🙂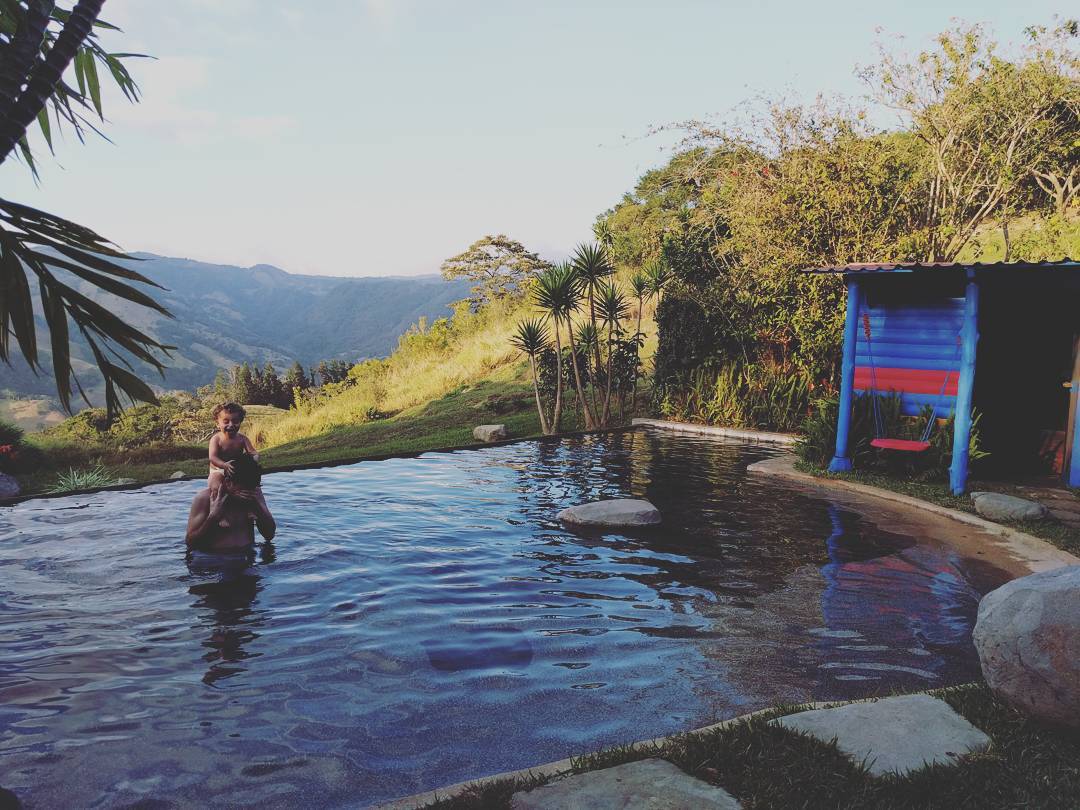 Before (not) long (enough), we were packing our bags and preparing for our longest drive yet right across the country to the Caribbean coast of Costa Rica, and the part of the trip that I was personally most excited about. Besides, I felt we were ready to get back to the sea. By this stage, we had learnt that setting off early in the day is key and given that we had a 6 hour journey, including through a huge national rainforest with huge lorries tustling for road space, we stuck to the plan and were on the road by 8am, only having to stop twice for a refuel and stretch of our legs. Fortunately Jack was absolutely legendary during car journeys and would mainly sleep / look out the window and made it clear when he was getting twitchy – I actually don't think we had any meltdowns in the car whilst driving which I was so grateful for as that makes driving super stressful. We actually ummed and ahhed about coming to this part of the country given its distance from where we were coming from, and the negative comments about potential bad weather and creepy crawlies but I am so pleased that we decided to go with our gut instinct and get ourselves there. For sure, the Caribbean coast used to be a lot less touristy and when we reached our destination, Puerto Viejo de Talamanca, I'll admit that at first sight driving through, I had my reservations. Everything appeared slightly tacky to me – rasta trinket shops, Bob Marley t -shirts hanging from shopfronts, sushi bars offering all-you-can eat. But by the time we had got off the main drag, out through the other side of town and to our final destination, my worries had been allayed and indeed by the end, I only wish we could have stayed longer.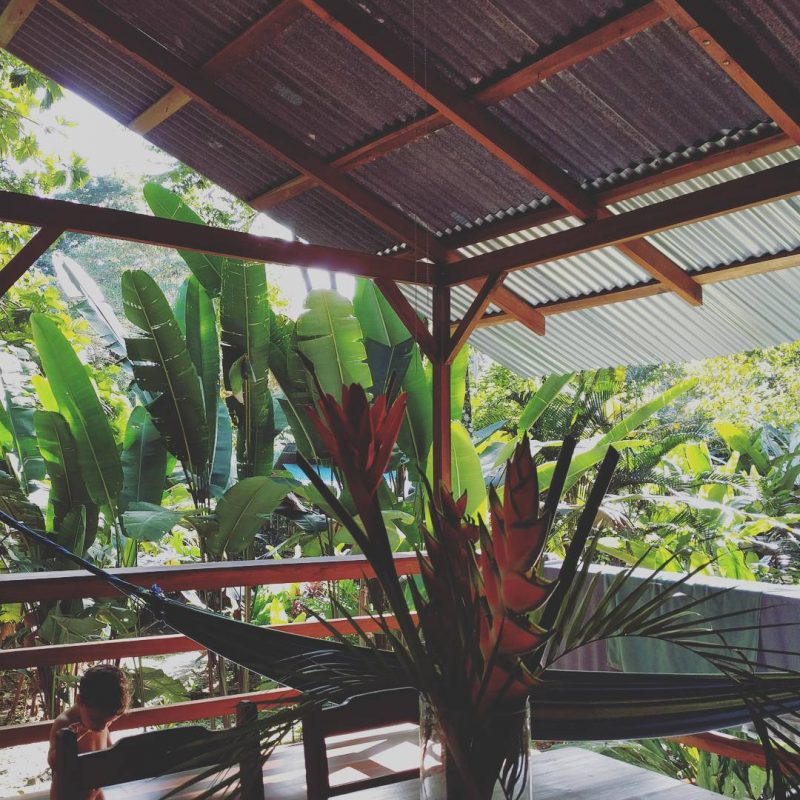 With impeccable directions, Caribe Town beat all of our other lodging hands down with its warm welcome. We were greeted with hugs and smiles and shown to our bungalow, which was located just a minute's drive away from the main reception area and so blissfully private. We had a gorgeous large wooden terrace, complete with hammock and dining table for 6, a full kitchen, bathroom and lovely large double bedroom. Everything was interconnected which gave the place a gorgeous feeling of space. It felt great to be back by the sea and before long, we were grabbing our swimwear and heading for Playa Cocles (to be clear, a "grab and go" with a toddler is in reality about a 35 minute mission to find every item you might possibly need for an afternoon on the beach – which is a fair bit) , just a 5 minute drive away, blissfully quiet and with rainforest fringing the edges and a long expanse of white(ish) sand, it was by far the most beautiful beach we'd been to. It was amazing/ slightly terrifying watching how much more confident Jack became by the sea towards the end of trip – he would run fearlessly into the water, squealing with delight, hardly looking back. We had to really watch him as Costa Rica is renowned for its impressive waves and indeed many beaches are not suitable for swimming. (there are some great diving and snorkelling spots, however) If we had had more time, we would have checked out Manzanillo, Playa Chiquita and Punta Uva which are all supposed to be stunning too but as it was we didn't want to spend our days rushing between too many places. Jack was so at ease on the beach, and we would let him just be as "wild" as possible, covering himself in sand and running about as he pleased – I loved giving him this freedom. One afternoon he played with some local kids (they had huge trucks which he was in awe of), other times he would try to make sandcastles, play with the surf boards, dance around dogs, and generally do anything that kept him from napping. The other awesome part about where we were staying was its proximity to the Jaguar Rescue centre which, despite its name, has no jaguars but takes plenty of other injured, orphaned or maltreated animals in for rehabilitation and eventually for reintroduction into the wild when possible.  We saw monkies, crocodiles, lions and most importantly sloths, fulfilling Sam's life long dream to meet one. The Caribbean is brimming with amazing wildlife but to really see animals in their natural environment head to Parque Nacional Cahuita. I strongly advise you pay a small amount to  a guide to walk around with you and point out animals which I just don't think you'd pick up on without an expert. We saw howler monkeys, racoons, crabs. more sloths, birds, lizards, crocodiles – and to see them in the wild was truly beautiful. The reserve itself is small – just 10 sq km- and contrary to what guidebooks would have suggested, seemed basically untouched by tourism and was delightfully quiet, filled with gorgeous coconut palms and fringed with a gorgeous narrow beach.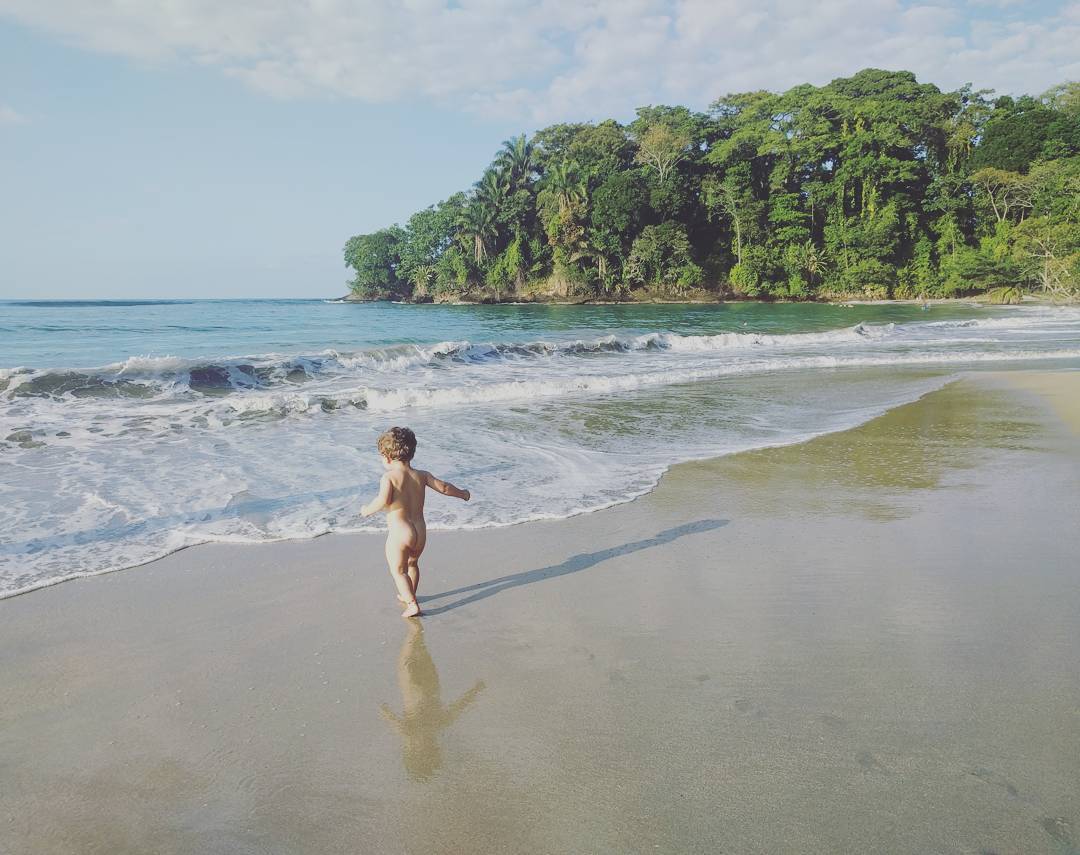 The vibe at Caribe Town was just perfect – it felt somewhere between a totally private rental home and a hotel because every morning guests (who we'd see none of during our stay) would gather in the communal area by the pool for an awesome breakfast of home-made bread, eggs, chorizo, fresh fruit and fresh coffee as well as a special of the day which would range from banana muffins to rice and beans. We generally ate super well in this part of the country and found the food, with a Caribbean twist, by far some of the tastiest in the whole of Costa Rica. Head to Stashus con Fusion for incredible rich fish curries or tandoori chicken in coconut sauce mixing Caribbean, Indian and Asian flavours and a super chilled out, fairy-lit vibe with great vegan options and El Refugio Grill has the best home-made tortilla chips and perfectly succulent steak. On a Friday evening we wondered into Puerto Viejo town centre to see some of the town by night. We didn't get far before we were taken in by the brilliant live reggae music at Salsa Brava Beach Bar right on the beach and had to stop for a beer and a dance. It was one of my highlights of the whole trip – watching Sam and Jack paddle in the water, with the reggae music playing as the sun was setting. We carried on wondering, up and down the main drag picking up a vest for Sam and a token wood chime for the house, taking in the amazing vibrancy of the place, chatting to locals and generally loving the slow pace we had now become accustomed to. Leaving the Caribbean was tricky – I'd even grown fond of the frogs and creepy crawlies we'd find hiding out in our bathroom – and certainly didn't feel like we had enough time to explore the town by day, and it's multiple cafe spots, or the other beaches. Reluctantly, after one final sumptuous breakfast, we said goodbye to our amazing hosts and headed back to the city where we were to stay one last night before flying back to the UK via Miami. Of course, though, this journey was not without its drama and it after hours of driving, and ending up in San Jose in a part of town that looked distinctly unfriendly and unlikely to play host to a b&b, following an awkward phonecall, it emerged that I had in fact booked us into a place three hours away from San Jose. Ooops. Exhausted after all the driving, and Jack beginning to get uncomfortable, Sam amazingly found us a bed for the night in a hotel near the airport. It was actually perfect and we ate room service and got an early night.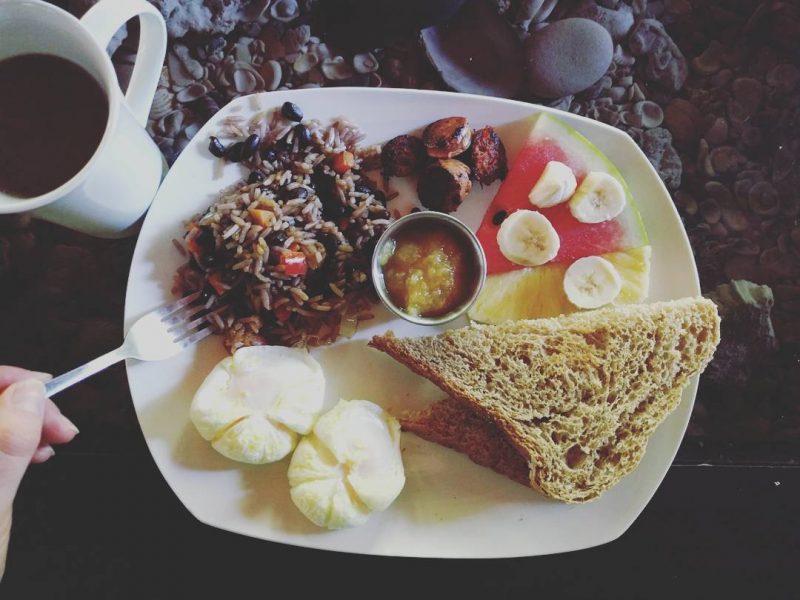 The trip home was, as expected, long and pretty grueling. The plane was nearly full, and since the basinet is in no way large enough for a toddler to sleep in, and given it was a night flight (which, by the way for South Africa, with a baby, worked perfectly), we had a difficult time trying to get Jack to sleep. At some point a man got up from a seat he had been lying across and I just – mother instinct – leapt onto it and lay Jack down for a few hours of rest before the man could do or say anything (sorry Mr!). Landing in the UK and finally arriving home was amazing. As we stood in our kitchen, I felt closer than ever to my little family. Sure, parts had been tiring and there had been stressful times … but that's the stuff memories are made of! Watching Jack welcoming the world with open arms and giving him the chance to explore with his mum and dad by his side makes us the happiest parents in the world. There was cuteness overload at every turn and I already cannot wait to tell Jack about the adventures his mad parents took him on where he was not even two.
*********************
A perfect holiday is coming away with something that you didn't have in your grasp before. This holiday taught us to trust in our instincts and be confident as parents, to go all out with Jack in terms of experiences and most importantly, it has made us grow stronger and closer as a couple and as a unit, working together to do what makes us happy as people, and as a family. And now of course, I just want to plan our next adventure! Have you been away travelling with your little one? Do you have any recommendations of places to visit? I'm thinking somewhere in the Far East but would love to hear any tips…Thanks so much for reading about our trip, if you have any comments or questions, I'd love to hear them so just drop them below. Oh and check out my instagram for a few more holiday snaps and my youtube channel for theor just click below! xxx