As I've written about before, my husband and I were keen to continue travelling once we had sproglets. We're still relatively young (no back/ groin issues and adept users of Facebook. OK yes we were amongst it's first users back in 2005 but hey…), we still want to see the world, explore different cultures, hang out with a diverse, fun and sometimes guitar-wielding crowd and quite frankly, whilst having children undoubtedly makes you grow up, neither of us are ready to lose our free-spiritedness and thirst for gathering our belongings on our back and seeing some of the world. I'm not ready to give that part up of us yet and I wouldn't want becoming parents to make me do that. In my mind, becoming a parent should enhance your life, bring out the best in you and create more experiences, not take things away. And sure, you ask yourself why you do it as you're bathing in sweat, with an equally sweaty, crying child, just trying to dig out a likely half-falling-apart, grubby dummy from the depths of your backpack as you try and make a dignified exit from a hostel whilst said guitar wielding boy is just starting up a rendition of "Let it be"(wow, we must be a tragic scenes at those moments.) But we do it. And we love it. And we giggle about it once Jack is soundly sleeping in the back of the car (60 seconds later). And most importantly, we remember these moments forever, and they bring us closer.
Jack went to his first festival at 3 months, we've camped in the rain, stayed on a canal boat and backpacked around South Africa, and yes it's difficult and it's intense but we did it and if we keep doing it, it will just get easier. Also, It might sound perverse but I also sort of relish the challenge – is that weird ? I will be writing a separate post about travelling with a toddler so I'll stop now and tell you more about our actual itinerary.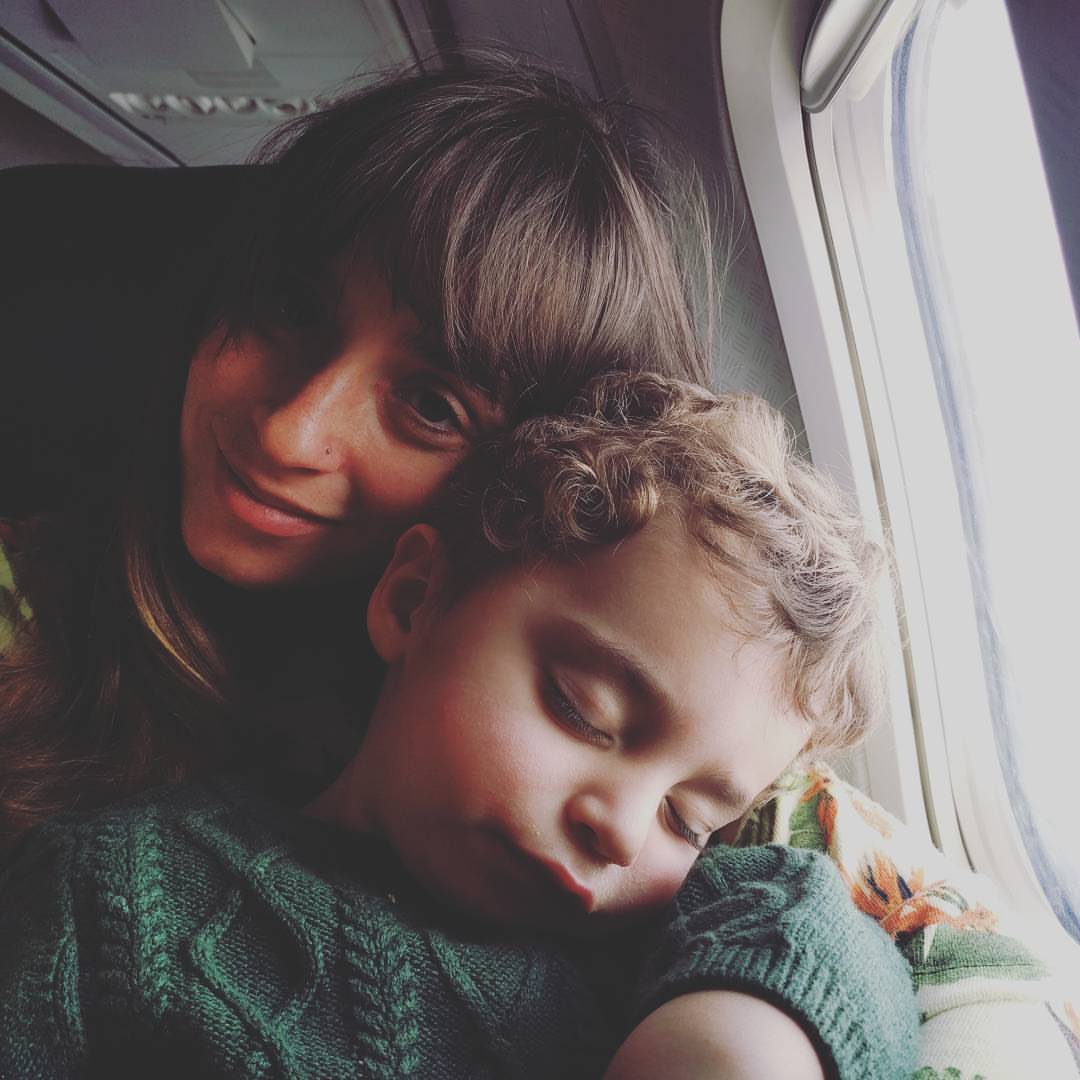 So, Sam and I sat down one evening to decide where in the world we could share with our kiddo and growing bump next? What is still feasible when we only have one ? What is sensible given I'm pregnant and ideally should have some sort of access to healthcare should anything happen. Both Sam and I lean towards Spanish speaking countries (I think it's because we can both more or less string together a sentence in the language) and whilst Colombia or Nicaragua may have been our first choice in our childless days, we settled upon Costa Rica as the perfect place to seek adventure without straying too far off the beaten track. And whilst Costa Rica is officially a third world country, asides from the roads (more on that later…) it does not feel like one. For starters, the country is known for its clean energy values and is at the forefront of the green tourism industry – it is arguably the cleanest country in the world given that last year it set a record using only renewable energy for the first 75 days of last year and by 2021, it aims to be carbon neutral. Everywhere is spotless and much of the country is protected, you can drink the tap water and wifi is commonplace (in built up areas) The flip side of this is that it is a more pricey country to visit than some of its' neighbours, and arguably more touristy (although I am convinced that the bad sort of tourist is easily avoidable.)
We set upon Costa Rica via Miami (Note: from April onwards, BA will be flying direct to Costa Rica. We timed that well…!) which would allow us two nights with our American cousins which was perfect for arriving to take away pizza waiting for us, a freshly made bed, a bathtub for 4am jetlagged splashes, for getting our first taste of the sea and for generally kicking back. South Beach surprised me with its beauty and emptiness and we spent a lush afternoon playing in the sand and wandering up Ocean Drive. I'd also thoroughly recommend Michael's Genuine for a slightly fancy meal – especially fancy when your toddler is fast asleep in the buggy and 'sleeps through' (the dinner that is) – score!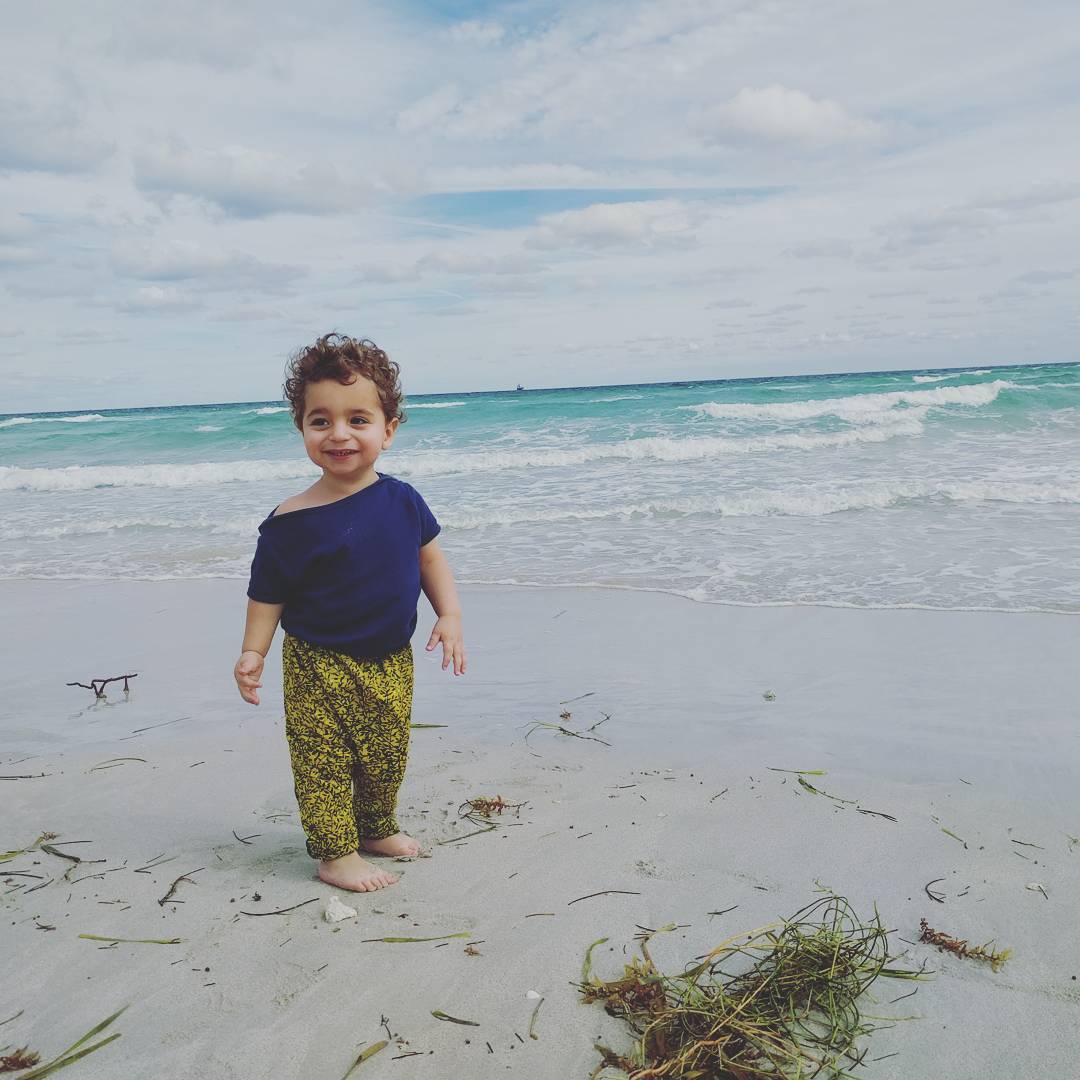 The flight to Miami was surprisingly good, mainly because it was half empty so Jack was able to stretch out on the seats for a sleep rather than use the basinet which is far too small for any child over 1. We were also sat besides some friendly folk, had our beloved Ergo on board with us and Jack managed to charm some of the cabin crew, which gets you a long way it turns out. (I've written about my tips for flying long haul with a toddler here). In fact, it was the 3 hour flight onwards from Miami to Costa Rica that really caught us out not least because we were sat on the plane for an hour before taking off with one extremely fidgety toddler.
It was still only 3pm when we landed in Liberia which seemed relatively civilized to us. Jack was super hyper by this point and spent a good 45 minutes sprinting all over the car rental office including behind their desks whilst Sam sorted the car and baby car seat (a rickety affair with a tray and material as thin as paper…luckily Jack got used to it). Do not hire anything other than a 4×4 if you are planning on doing a lot of driving in Costa Rica – we had to do a lot of off road driving up and down steep dirt tracks with pot holes, just for fun, and which on occasion, led to swamps…The car rental folk booted us out (not they sure they were loving Jack running behind their desks squealing with delight upon finding a corner of phones and wires) looking somewhat baffled when we told them we were heading to Montezuma in the Nicoya Peninsula. "Es lejos", they said. But Google Maps assured us it was only 5 hours away, so we'd arrive in perfect time for a nice meal and an early night. Right? And therein was our first of many learnings of our trip. Check what time the sun sets wherever you are, because it turned out in Costa Rica, by 5.30pm it's pretty dark and by 6pm it's pitch black. Add to that, no food, dirt tracks so bumpy I was genuinely worried Jack might incur some sort of head injury from the side of the car seat, phone signal so intermittent I was resorting to shaking the phone and a 2% battery life. A particular low point was stopping off at the side of the road, pitch black, for Sam to dash into a small kiosk only to return with a sole baby puree, which I proceed to feed to Jack with a straw. You see, no roads in Costa Rica have names so when I was probing for an address from our amazing air b n b host, all I got back was "go to the butterfly garden and turn left". Fortunately Carla, was on the other end of text messages assuring us all would be OK and telling us to keep going to the next bridge (a lurching ancient looking bridge strung over swampy waters from where strange noises echoed) and keep going up. At 10pm we finally arrived, exhausted and delighted to find a person to hug, a dog to delight Jack and before we knew it, an overflowing bowl of fresh pasta and beers placed in front of us. The night ended with Sam and Jack jumping into the midnight-lit pool before retreating to bed for what was always going to be a somewhat disturbed night, not just by Jack, but by the incredible howler monkeys and birds whose noises would become the soundtrack to our adventure.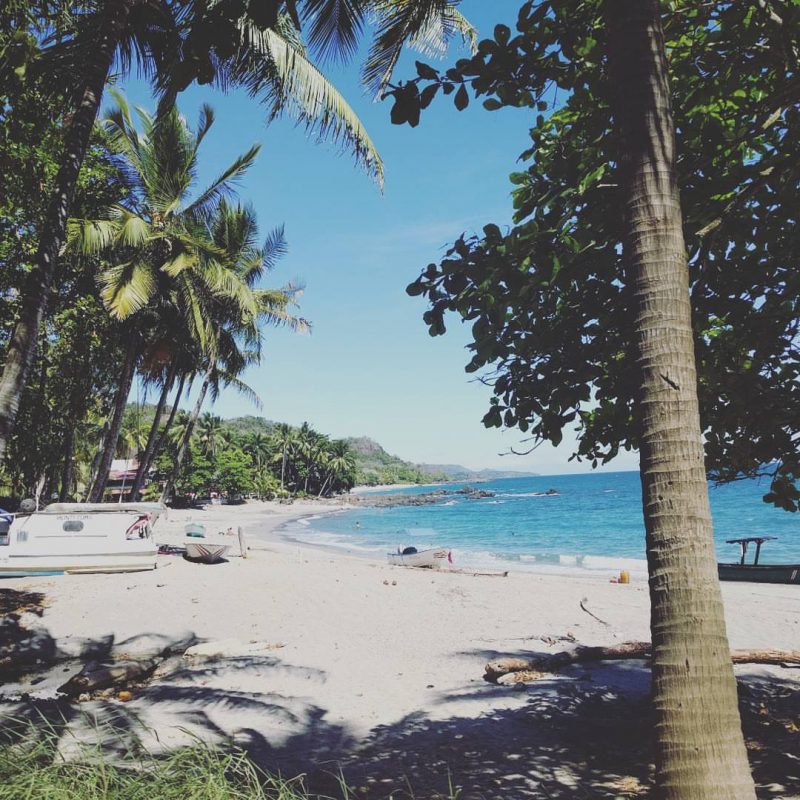 We woke to the most spectacular sunrise followed by a fresh break-feast prepared by Carla of delicious chilli scrambled eggs, toast, tamales and a huge platter of fresh fruit. She even made me decaf coffee and a special small portion of everything for Jack. We spent the next few days discovering the old fishing village of Montezuma now turned hippy enclave which consists of a few streets lined with "sodas" (local eateries and definitely your best option for fresh fish, rice and beans – a staple dish in Costa Rica), vegan cafes, artisan jewellery stalls and the odd tourism centre. People seemed young and carefree, locals ("Ticos") were easy to talk to, ambient music was wafting out of shops. It was when we pulled up to Las Palmeras, a gorgeous family – run soda perched in the hills looking down on to the sea that we first heard the Costa Rican catch phrase "pura vida" after we enquired about parking. I think it was our cue to properly relax as we sat drinking fresh pineapple juice and having our first proper local meal, chatting to other travellers, watching as Jack looked out on to the sea and attempting to teach him the beginnings of an all important new vocabulary: "sea", "hammock" and "palm tree." I think Montezuma is the sort of place people come to and six months later, are still there. After filling our bellies, we headed to Las Manchas, a beautiful and small non-touristy beach lined with palm trees where swimming was safe (many of the beaches in Costa Rica are for surfing only and not safe for swimming due to the tidal waves) and Jack entertained himself (and others) bopping to the reggae beats played out by locals, darting around dogs (which was to become a bit of a theme, and actually my greatest fear for him during our travels) and squealing as he rode the waves with Sam. Another morning we took a hike to a 30 foot waterfall, the tallest in Montezuma, and with Jack on his back, Sam lept over waters and scaled small rocks whilst I watched from behind, heart in mouth. Once we got to the waterfall, Sam dived in whilst Jack and I happily watched from the sidelines and scavenged watermelon from some friendly Dutch travellers. We ate at Clandestina one evening, a tiny restaurant lit up with fairy lights strung across the bar and only a few tables which were filled with adults chatting and eating and generally seemingly loving life. It was super serene but Jack had more of an appetite for Paw Patrol that night, which thankfully we were able to satisfy with some strong wifi and a fully charged phone battery. Meanwhile, Sam and I enjoyed a lovely beef taco and goats cheese salad. (I spent substantial time pregnant craving goats cheese and feta cheese whilst in Costa Rica. Not so easy to come across, it turns out).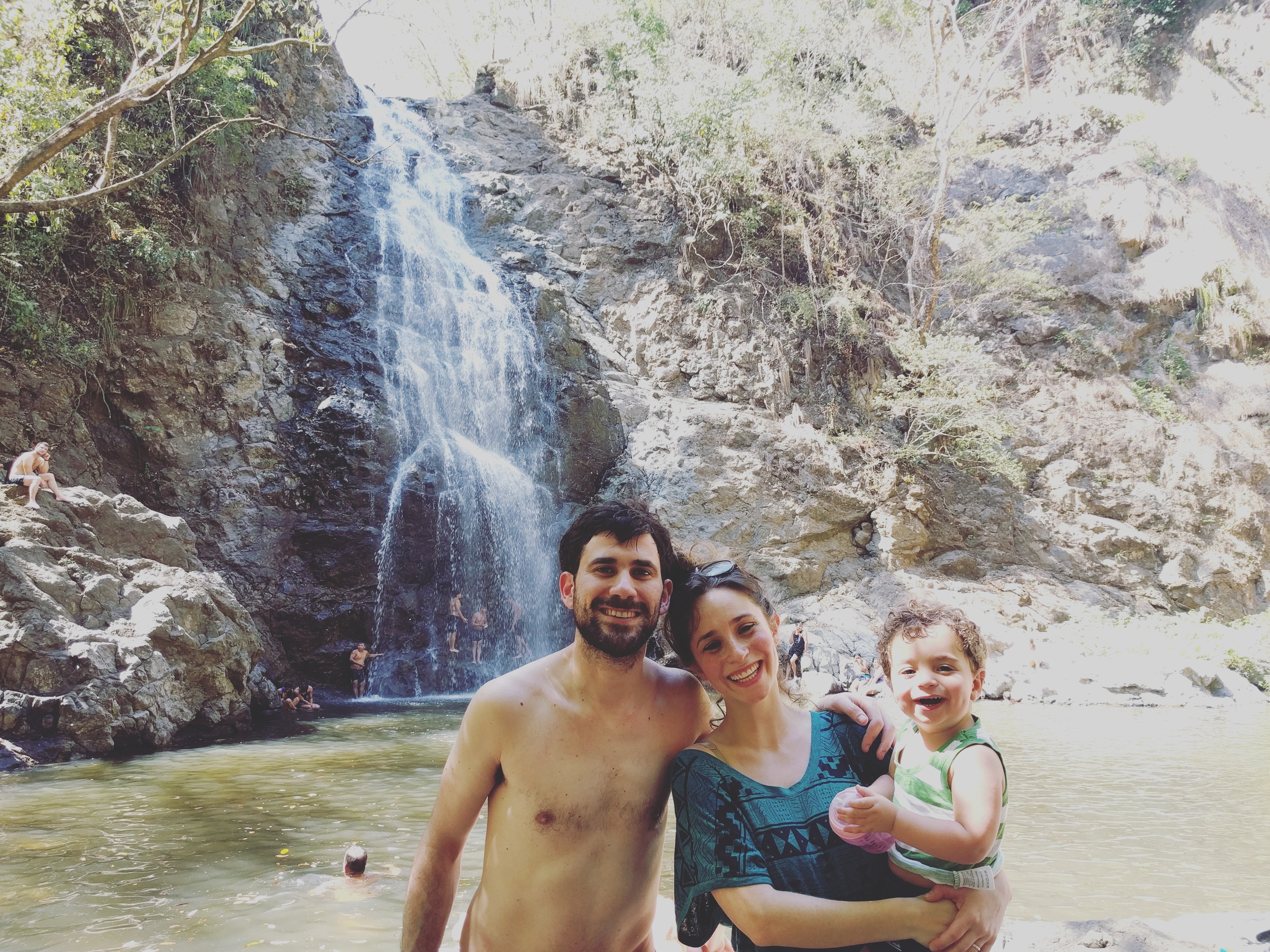 The rest of our time in Montezuma was spent back at our air b n b villa high in the hills, relaxing in its gorgeous albeit extremely un child-friendly environment. The main issue was the sheer drops off three sides of the property onto a steep hill leading to the jungle but then there were also the banister- free concrete stairs and infinity swimming pool. If you are a nervous parent, this is not the place for you. We absolutely loved it though, and it was potentially even our favourite place we stayed in the whole of Costa Rica as we now appreciate that nowhere we stayed would be child-friendly. But then again, in my opinion, child-friendly does not exist: plonk a bed in a room and you've got the perfect launch pad for a toddler to catapult himself off from and land on the wall/ tiles/ window.
Before long, we were packing up our backpacks and heading to our next spot. I love the ritual of packing up your bag every few days and find it strangely cleansing; an opportunity to reassess what's in your bag, check you have everything and guestimate when you will next need to do a clothes wash. Fortunately we weren't driving too far – only to the next town along, Cabuya, which is a smaller, quieter suburb of Montezuma and a spot that had been recommended by a friend. Again, there was no address but now we had full stomachs (ice cream) and we still had plenty of daylight left (we were learning… or so we thought) What we arrived to was umm, interesting…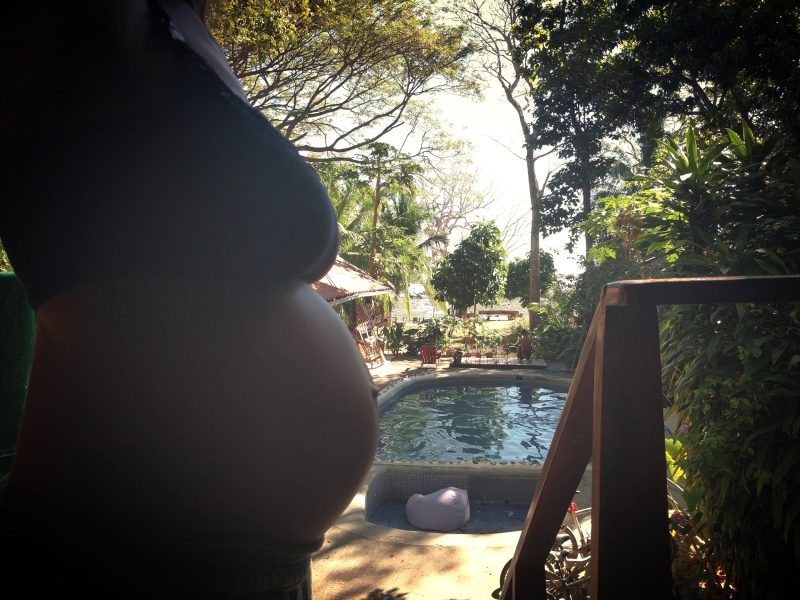 As a parent, when you arrive somewhere new you automatically, silently and very quickly scan your new environment for any potential dangers. And when you're shown your cabin, and there is an empty swimming pool right outside it, that's really all you see. We had a private kitchen and bathroom downstairs and steep stairs leading to the bedroom and a balcony upstairs with a one sole wooden bar across the top. There was no cotbed to be seen (even though this had been previously agreed) but the friendly if not slightly "merry" Irish owner, Jim, along with his manager, a gentle, equally "merry" old dreadlocked Tico who lived up in the mountains, soon knocked one up which was genuinely perfect. A few lifeless dogs loitered (not good), as well as a cute, jumping puppy (good). "A puppy is good!", I weighed up in my mind, counteracting the empty swimming pool which I think still haunts me. I always knew this hostel would be basic – but it really was very basic. My personal guideline is that ideally, there should be some sort of personal cleaning in the bathroom. Here there was nada. Not even a sole bar of soap hanging around. What followed though were some of the most memorable days we would spend in Costa Rica. We hung out with fun couples from America and Israel, let Jack explore the backyard and its various animals, barbequed red snapper on the beach one evening, had a delicious watermelon- fuelled lunch at Cabuya bakery and may have even taken advantage of the super strong wifi to let Jack watch – and be glued to – an episode or five of Peppa Pig, which allowed Sam and I to truly relax. One particular highlight was dinner at, admittedly one of the only restaurants in town, Delphin de la Luna. We turned up late; there was not a soul in the place bar a small, grey-haired lady we could see clearing up in the kitchen behind a counter. We asked timidly in Spanish if she was still open. She shrugged but invited us nonetheless to sit down which we did eagerly, and waited to see what would happen next. We'd given Jack one of his ready meals we'd brought from the UK so he was thankfully sleeping sound in the buggy which was fortunate as there were slightly less than well-looking dogs hanging around and it meant that Sam and I were able to enjoy one of our most tasty dinners yet. This was definitely the kind of restaurant where you dont ask for a menu, and simply eat whatever is put in front of you. Often the best kind of restaurant. We were treated to a huge plate of freshly fried fish, rice, frijoles, and all accompanied by the hugest jar of chilli sauce. The best part? The moment at which Senora Lila pulled up a chair and we began nattering away as if we had known each other for years. She gave us all the goss of the town, and told us with fierce pride she was the only elder woman still working. We left feeling fuzzy and full and as if we'd just been fed by our grandmother. We fell soundly to sleep, sooner rather than later to be woken by the monkeys and the cockerels.
That next morning, Sam cooked up a storm of scrambled eggs, cheese, tomato, ham and fresh bread from the local store. We hung out with new friends, took it in turns to lie in the hammock whilst the other chased Jack around before saying our goodbyes and packing up. We had decided to treat ourselves to a night in a local resort called Ylang Ylang which people had raved about online and which we thought would add a nice touch of luxury to our trip. And anyway, resort life – transfers to the hotel, people to help carry your bags, drinks bought to you whilst you lounge on a lilo – it would all be pure bliss, right? However, as I mentioned in an instagram post, sometimes the things that should be simple and "perfect" turn out to be bloody tough, and the things that should be tricky are a breeze. This was one of the former scenarios. For some reason, the transfer from our car to the hotel was one of the most gruelling moments of the whole holiday with Jack just extremely unhappy and his parents equally so. And once we arrived things generally didn't get much better. I'm not a lazy person but everything just seemed a bit of a "mission" in the resort given its size, the food was distinctly average, the atmosphere stale and mainly, most people there seemed over the age of 45 which made me feel like a kid trapped on holiday with parents everywhere. We were woken at 4.30am not by Jack or by the sounds of nature (both of which would have been far preferable), but by the booming loud (American) voices of our neighbours. That said, our room was right on top of a gorgeous beach and we were able to hang out in a hammock (and read – my holiday book was The Hypnobirthing Book by Katharine Graves) and go for a sneaky morning dip before packing up and heading off. I'm sure for the right people, Ylang Ylang is perfect. But it just didn't work for us and made me so grateful for the choices we had made along the way. As we were shuttled back to our car, I wasn't sad to leave and felt eager to get back into our own ransacked 4X4 and continue our adventure onwards to the mystical cloud forest of Monteverde. Not before a four hour drive through the country and two hour ferry ride back to the mainland though…(CONTINUED OVER ON PART TWO)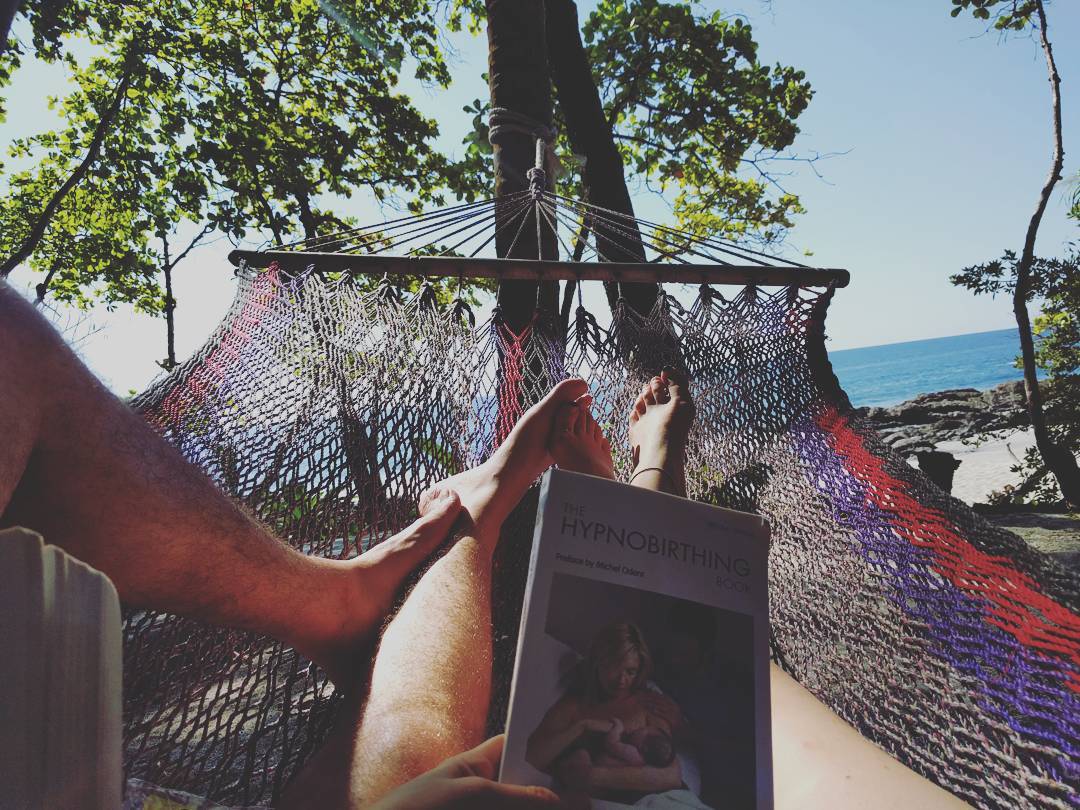 Have you seen my vlog from our trip? Check it out on my YouTube channel by clicking on the image below: