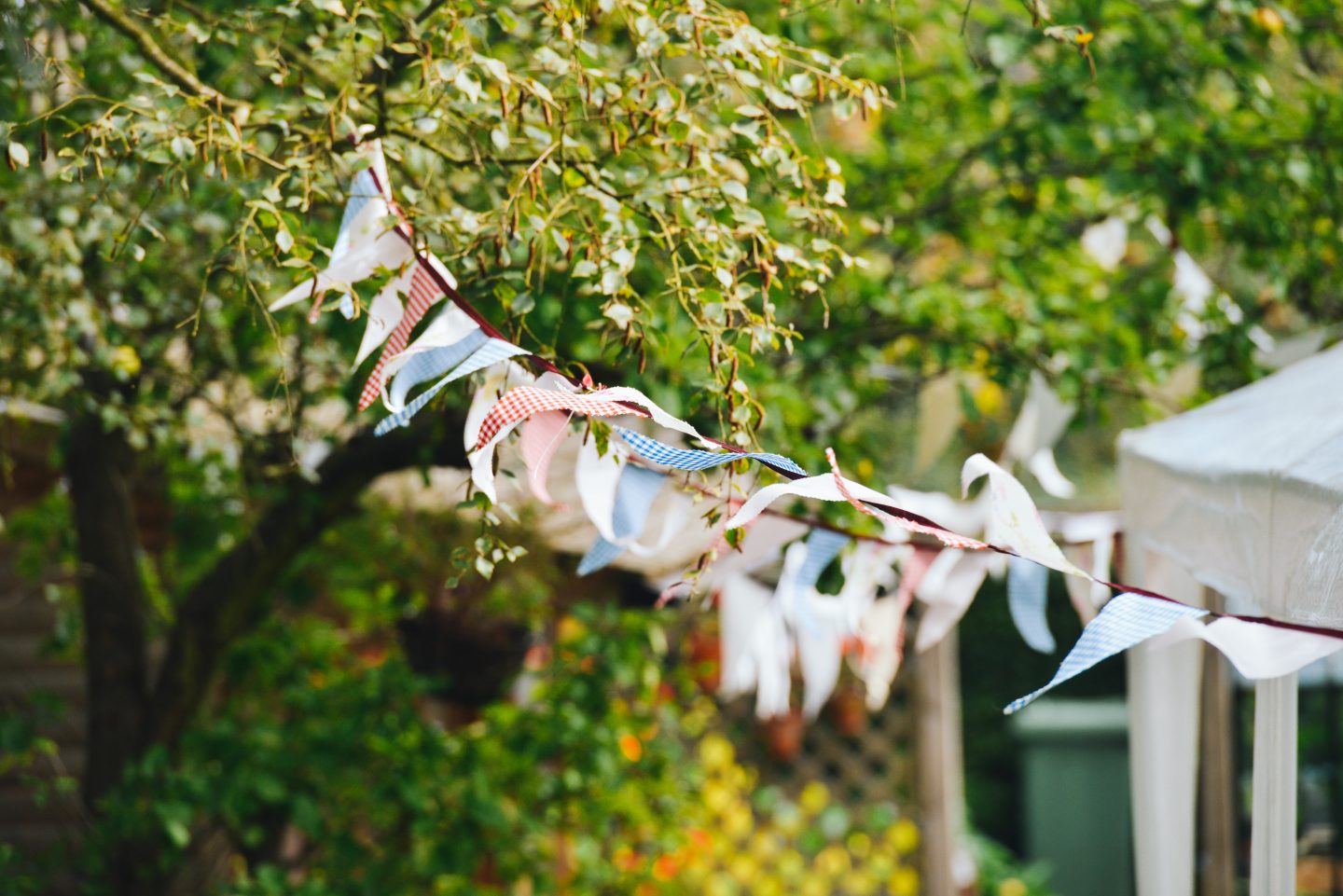 Celebrations are an integral part of life and rightly so – it's important to rejoice in good people and good things! These days though, celebrations can often go hand in hand with waste and birthdays especially, along with conferences and festivals, can result in black sacks of rubbish, piles of uneaten food and a load of unwanted gifts. Whether it's peer pressure from other friends or parents or just wanting to please your particular person, I want to show that celebrating sustainably, and from the heart, not just from your wallet – according to an article in the Guardian, some parents admit to spending £800 on their little one's birthday bash, with £300 being the average cost – can be just as joyful. It's time to move (back) to a time when a simple game of pass the parcel and a homemade cake is what really makes a day special. Here's some ideas to get you started…
Invitations
Although paper can be recycled (if free from glitter, grease, paint or dirt….), they can end up just filling up other peoples' homes (or getting lost at the bottom of school bags). So long as you have folks' email addresses, why not opt for online invitations and thank you cards, which are far more practical for guests. I'm a big fan of Paperless Post where there's a bunch of different options available – tick the 'Free' box option if you want something simple (NB: you have to work quite hard to avoid creating a card that requires 'coins'). If you did want to go for something tangible, what about plantable invites made from seeds or a hand painted little invite? Alternatively, go super simple and go for an email or a Whatsapp message with a sweet photo – it might just be the most efficient, sustainable option out there.
It's time to move (back) to a time when a game of pass the parcel with a homemade cake is enough, more than enough
Location
Growing up, my parents always made us birthday parties at home – it's all I've ever known and I – and my childhood friends – have fond memories of being sat cramped in my parent's hallway, wishing the parcel would land on us and taking turns to have a whack on the homemade piñata. If you're fortunate to have the space – and are OK with your home being overrun by small and often not so small people – nothing beats the intimate environment of a home. If this isn't an option or if you don't fancy the mess, why not support a local small business (here's where I've got my eye on for one of our upcoming celebrations!), school or place of worship, or if the weather allows, take your party outdoors. What better location than the woods for kids to explore and run around in! If you are celebrating somewhere public, just be sure to check any legislation around this and remember to arrive early to clearly signpost your event.
Crockery
We have a set of these palm leaf plates, cups and bowls and have been bringing them out each birthday, year after year. Otherwise, it clearly depends on the age of your child but I don't see any problem using proper plates, forks and knives – then just pop them in the dishwasher afterwards. cups and have a pen on hand to ask kids to write their name on it and keep it for the duration of the party – it's incredible how otherwise they'll just keep getting another one for every second slurp. Follow Food Bites for the cutest kid food inspiration.
Decoration
I might make some very simple banners and string them up, plus we'll use our staples of fairy lights, pom poms, painted paper chains and bunting that we bring out every year. Call me old fashioned but there's something so lovely and nostalgic about packing up and bringing out the same decorations each year, almost ageing with your child. This year I also got some chalk paint and painted some boards to create more signs and we also have a simple white linen birthday crown we bring out each year that the birthday person gets to wear all day.
Balloons and party poppers are a no go for me, unless I've got some lurking at the back of a drawer from years ago. Ever noticed how toxic balloons taste when you blow them up? Plus, what goes up, must go down…Fresh flowers or greenery also make any party look pretty.
To Theme or Not to Theme
If you do want to go down the 'themed' route, then choose a theme that you think you can create easily with what you already own or can borrow – local Facebook groups are also great for acquiring some extra bits here. For me for example, being a crazy plant lady, makes a jungle themed party pretty ideal. Other ideas I come back to again and again are food related – breakfast parties or pizza parties are particular favourites around here. DIY pamper parties could also be a really nice idea.
Location
Gifts
Ever just watched your kid tear open gifts, without a thought who they're from, before tossing it aside and moving on to the next? It's not pretty. There are a few options when it comes to low waste gifting: if sharing a party, why not suggest to the children that they donate a few of their presents to charity. Alternatively, ask guests to bring only one gift to the party, unnamed and then distribute equally amongst the birthday children as a way to reduce quantity. Another option could be to ask guests to contribute to a meaningful gift or experience as a group or raise money for charities that are close to their heart – try Twish or Gudoo.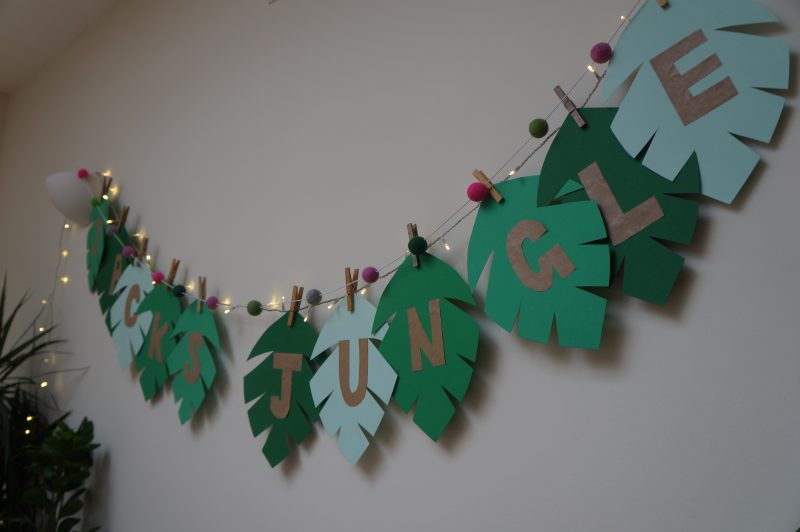 Entertainment
This largely hinges on the weather, the age of your child, what sort of space you're in and your decided budget. First up, a banging kids' party playlist is always great to play (we rotate this with 'adult music' too if adults are there). So far (and our eldest is 5), we've done the 'entertainment' all ourselves / with other parents. Most recently, we divided the children into different groups and had stations set up of different activities run by different parents; we've had races, a craft table, face painting, pass the parcel, musical statues, reading books, and cupcake making. Of course remember to keep all materials used from tablecloths to toilet rolls.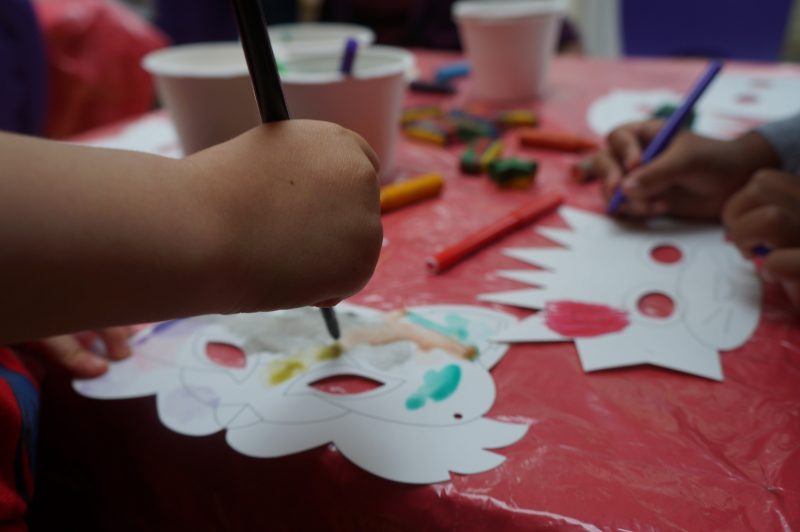 Food
Catering
Young ones typically don't eat much, so don't go overboard. Sandwiches, crisps and ice cream with a flake should be enough. Or ask family and friends to bring a dish and bake your own cake.
If you're not a baker, and don't know an enthusiastic amateur, buy plain fairy cakes and get the kids to decorate them.
Borrow a tablecloth and decorations from a friend. Or get a plain white paper cloth, scatter crayons and stickers on it and get the children to draw on it. Balloons are always popular, especially if you customise with glitter.
I'm not keen to serve up junk, sugar filled food but equally I knew that energy balls and hummus at a kid's party won't always hit the spot. As always, keeping things simple is my strategy. Cut up (plastic free) fruit and veg, cheese and salad sandwiches, diluted juice (I don't normally give my kids juice but as a treat…), and then for dessert, I love the idea of cupcake decorating: prebake some cupcakes using this super simple recipe and prepare some bowls of icing and toppings. Freeze any leftovers or use up – leftover fruit whizzed up makes the best fruit smoothies. For plates, we use palm leaf plates which we bring out every year – I'm not sure how long they'll last but for now, we just gently wash with soapy water, leave to dry and they keep on lasting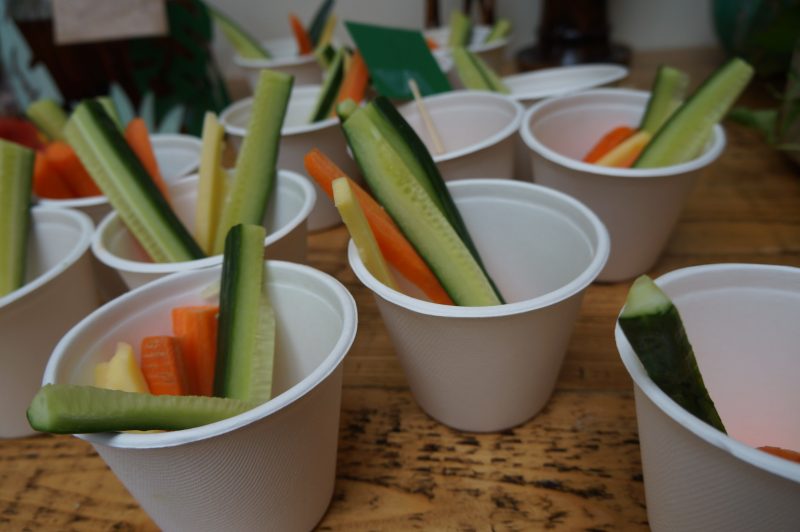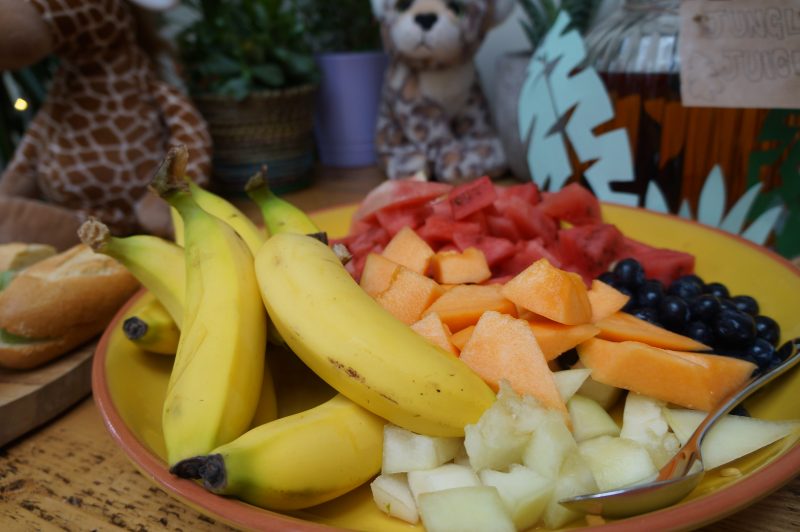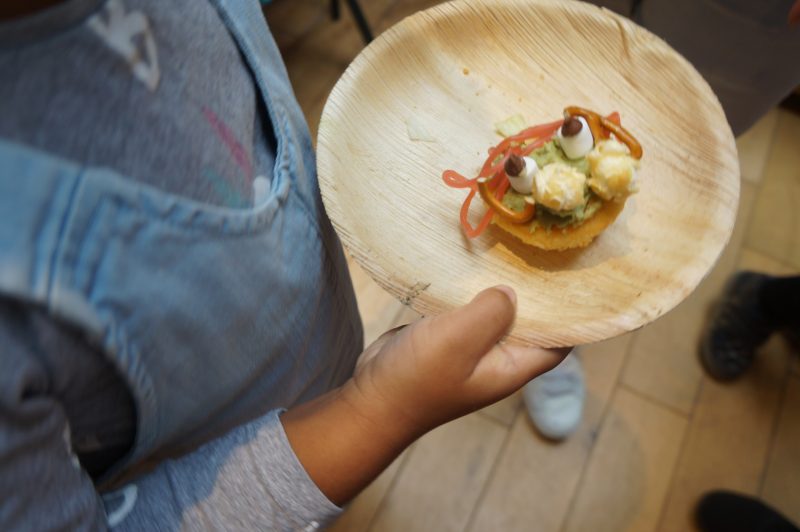 The Cake
Sorry for any baker haters out there, but it's got to be handmade. It doesn't matter how it tastes (honestly it doesn't ), it's just got to be made with love, and for me, that means
If baking really isn't your gig, try and outsource this part? A homemade cake would make the most awesome gift, would it not. We were gifted this for one of our wedding gifts by a friend of my mum, and it was honestly lovely.
I've always been a bit of a nervous cake maker but my mum is amazing in this arena and in the past I've often asked her to contribute this and she's always kindly agreed. I might also make my friend's Johanna's vegan chocolate olive oil cake – if you make it twice over (it's SO crazy easy), it makes the perfect two tier cake. At this year's party, one of the mums had the genius idea of getting the kids to decorate a cupcake each which cumulatively, made up a beautiful, very uniquely crafted (!) birthday cake. Oh, and always remember to keep and reuse candles – you won't know the difference once they're lit!
Going Home Presents
I have mixed opinions on going home gifts – part of me knows they're not necessary, but on the other hand, they have become the norm and the kids seem to expect them. Something simple and plastic free like books or a small pack of seeds plus some Bear Nibbles snacks work a treat. Check out Plastic Free Party Bags for another option, and use the code MAMALINA to get 10% off any order you place.
A few final tips for hosting a fun, low waste kids party
-Don't be afraid to go against the grain – you can be the parent to set a new way of doing things
-Get bins set up in a visible place – recycling, landfill and food waste – and label them clearly!
-Communicate clearly to anyone helping what they need to do to help make the party low waste eg. no mindless chucking out!
-Advanced preparation is key: love your freezer
-Accept it will be slightly chaotic and embrace it: there will be kids running everywhere if you're indoors
-If hosting elsewhere, enquire what their efforts are to reduce plastic waste: it will make them think, if nothing else
-Ask kids to bring a reusable container to take home any leftover food
-Ensure you have nothing planned for that evening (and maybe even a good bottle of wine ready!)
Have you hosted a low waste kids party? What sort of thing did you do? Please share any tips in the comments below.
Emma xxx
P.S A Toddler's Pyjama Party and a DIY Kids Party at Home
P.P.S A super cute idea for a birthday
Or what about a simple BYO system? Kids can simply pack a plastic plate and cup – so long as you can wash them up at the party, and the kids go home with everything clean.
And they're pricey too!