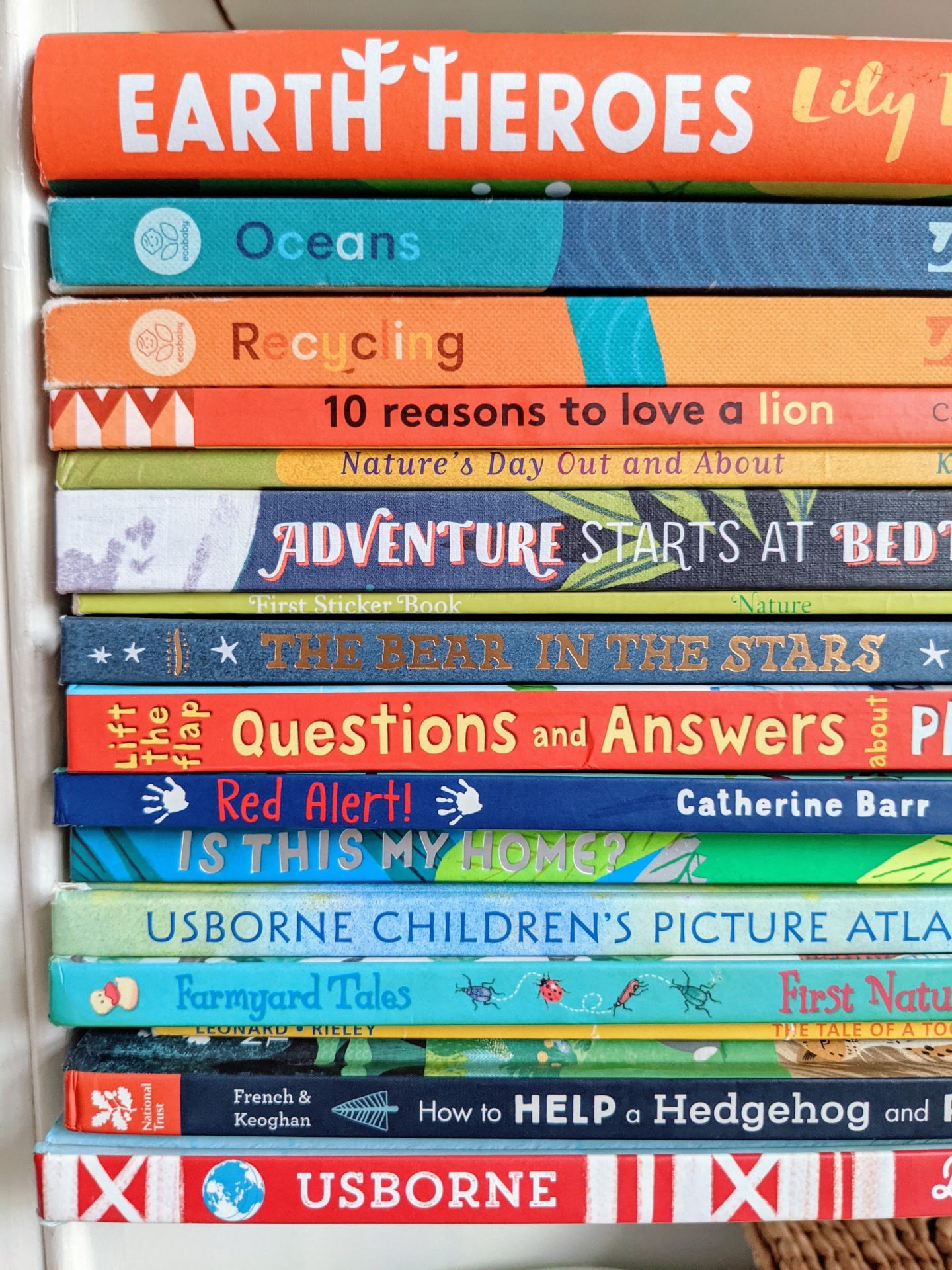 My husband and I were having a slightly heated debate the other day in the car about coronavirus when out of nowhere a small slightly sad-sounding voice piped up from the back of the car, "I wish Covid would go away." My four year-old son's voice stopped me in my flow and reminded me that with so much anxiety around, it's near impossible for our children to avoid absorbing some of the world's worry right now.
For me and for them, Nature has been our greatest antidote. We get out as far into the middle of nowhere as we can go where we climb, run, play, sing, kick, forage and feel free. It's more important than ever that my children have a strong love for and trust in Nature so I thought I'd share a list of our go to books to help us explore and remember that the world we live in is truly a beautiful, diverse and good one.
UNDER 5'S
Nature's Day Out and About by Kay Maguire
This book is a treasure trove of Nature experiences! Children can learn how to spot different birds, leaves, flowers, and insects, make a bee hotel, practice ice art, weave a daisy chain, colour in seasonal scenes and collect treasures for a nature box. The ruler at the back is a lovely touch.
Best for young kids who love getting out and about and a little bit mucky
The Bear in the Stars by Alexis Snell
A heart-warming fable about climate change following the great bear as she leaves her snowy realm in search of food, friends and a new home. Based in Yorkshire, the author Alexis works in lino and cuts by hand – catch a sneak peek behind the beautiful process here.
Perfect for sensitive little ones
Oceans / Recycling by Lorna Freytag
Beautiful bold colours and shapes, these books are perfect for introducing the importance of looking after the planet to our little ones.
Best for morning reading, perhaps even on the potty
Is This My Home? by Sean Henrik Moore, and in partnership with Ørsted
This is a stunningly illustrated story of a little girl who travels around the world in search of her true home, after realising that there is a difference between 'house' and 'home.' Along the way, she encounters animals who show her the importance of caring for the planet. You can also nab a PDF version for free here.
Perfect for sensitive children who might be getting their head around environmental issues
Usborne First Sticker Book 'Nature' by Felicity Brooks
A simple sticker book for small children to build their own countryside scenes with hundreds of animals, plants, bugs, birds and flowers stickers and a wide range of habitats – just wish the stickers were reusable!
Best for learning about Nature whilst practising fine motor skills, too
First Nature Book, 'Farmyard Tales' by Minna Lacey
An incredibly sweet book where children join in with characters Poppy and Sam exploring the natural world through fun activities such as pond dipping, making bird food and planting seeds.
A wonderful introductory book for newbies to Nature!
10 Reasons to Love a Lion by Catherine Barr
A gorgeous book part of the '10 Reasons to Love' book series and published in collaboration with the Natural History Museum which details ten reasons why lions are incredible, and five ways to show them some love. A super positive and factually informative book.
Best for sharing a conservation message and a 'realistic' depiction of the animal kingdom
Are You There Little Tiger? by Sam Taplin
Abe loves peeping through the holes and scratching the textured pages in this beautiful hide-and-seek board book.
Perfect for spotting cheeky monkeys, bears and chameleons!
The Tale of a Toothbrush by M. G. Leonard
From pirate-ship bottles to dancing shampoos and an inquisitive albatross, this is a hopeful, heart-warming story to help children explore the impact their choices have on our planet.
Perfect for bringing the plastic problem to life through the everyday action of brushing our teeth
365 Penguins by Jean-Luc Fromental
A super quirky and memorable book first published in 2006 which tells the story of a family who mysteriously receives a penguin to their door every day for a year. At first they're cute, but with every passing day, the penguins pile up—along with the family's problems. A great book to explore environmental issues and humans' responsibility in a fun and retro way.
Perfect for those learning to count – or anyone that loves Madagascar or the March of the Penguins!

OVER 5'S
Adventure Starts at Bedtime by Ness Knight
Thirty true stories of daring, danger and intrigue detailing jaw-dropping moments from some of history's most intrepid adventurers. The stories are the perfect length to read and prompt a thousand questions from our 6 year old, with stunning illustrations by Qu Lan to boot.
Perfect for sparking wanderlust in children
Earth Heroes by Lily Dyu
These twenty inspirational stories are a true beacon of hope for the future of our planet as each one celebrates the pioneering work of Earth Heroes from around the globe. Greta Thunberg and David Attenborough are of course mentioned but it's also brilliant to see lesser known pioneers included too.
Best for Kids who might feel a little hopeless in order to show them that one person can make a difference
Questions and Answers About Plastic by Katie Daynes
What's plastic made of? How does it get into the ocean? Can we live without plastic? This book is a super fun and accessible way to learn through lifting over 60 flaps all about plastic, recycling and how it can damage our environment. There are also tangible tips, and links to video clips and activities.
Great for children who love interactive learning
Our Planet by Matt Whyman
The official children's book of the notorious Netflix documentary, this is a stunning book that combines beautiful photography from the series with gorgeous illustrations to teach children the interconnectedness of our habitats, plants and creatures. With a foreword from David Attenborough, children can learn so much and totally loose themselves in this book.
Perfect for gifting to an environmentally conscious family
The Story of People by Catherine Barr and Steve Williams
As the title might suggest, this book is less about Mother Nature per se and more about the humans inhabiting her. Children are taken on an incredible journey through the evolution of human beings up until today allowing them to evaluate their own place in the world.
Perfect for children who love history
Red Alert by Catherine Barr
Pick a habitat, choose a creature, and then discover its story, the danger it faces and crucially how to help it survive. Endorsed by the 'Red List' database maintained by the International Union for the Conservation of Nature (IUCN), this book is packed with crucial information and will leave your little ones wanting to take action.
Perfect for budding conservationists
Big Picture Atlas by Emily Bone
Never mind the kids, I love curling up and poring over this book, it's epic! With 15 big, bright and beautifully illustrated maps, you can explore countries, continents, oceans, mountains and ice caps of our amazing planet and learn where different animals and people live. With fascinating facts about each country, plus flags, capital cities and an index of place names, this book has it all.
Perfect for anyone!
The Dragon Ark by Curatoria Draconis
From Deep-Sea Dragons off the coast of New Zealand to plant-loving Parvula Dragons in the Amazon Rainforest, children travel all over the globe and see some of the most incredible dragons in this book on a mission to find the rarest dragon on Earth. This book is a lot of imaginary fun, and visually simply beautiful.
Best for children with a wild imagination and strong reading
How To Help a Hedgehog and Protect a Polar Bear by Jess French
A truly accessible and uplifting book, this is a perfect one for really teaching children that animals all over the world need our protection. The book explores thirteen different habitats – gardens, hedgerows, heathlands, woodlands, highlands, wetlands, the coastline, freshwater, oceans, savannahs, jungles and mountains – and simple everyday ways to look after them.
Great for children who love to absorb lots of information
---
I really hope you enjoyed reading the list – do you have any of these books? Which one is your favourite? And here's to us and our children finding solace in Nature, for all our days.
Emma xxx
P.S An Awesome Gift for Nature Loving Kids and Advice From a Tree