Whilst I don't have a capsule wardrobe, I am systematically whittling down my clothes to a few select items. I have zero interest in fashion itself or what's trending and literally tend to pull on what I'm drawn to that day whether that's a pair of green tights or a homemade tie dyed t-shirt. The kind of clothes that excite me most right now fall in to three categories: there's a story behind them, they're super versatile or they're made from a beautiful fabric. Mainly, an item of clothing has to make me feel friggin' good, otherwise it gets donated. My Barbour coat is six years old and still feels like new (though it is due a rewax) – it's probably one of the most expensive items I own but its quality is unrivalled.
I was fairly 'new' to dungarees but they're now an absolute essential for me simply because you can stick absolutely anything underneath them. (Yes, weetabix stained tops work perfectly in case anyone is wondering). The other reason I love dungarees is that it's almost impossible not to re-wear them for at least three days in a row which helps my ever expanding laundry pile and avoids unnecessary washing.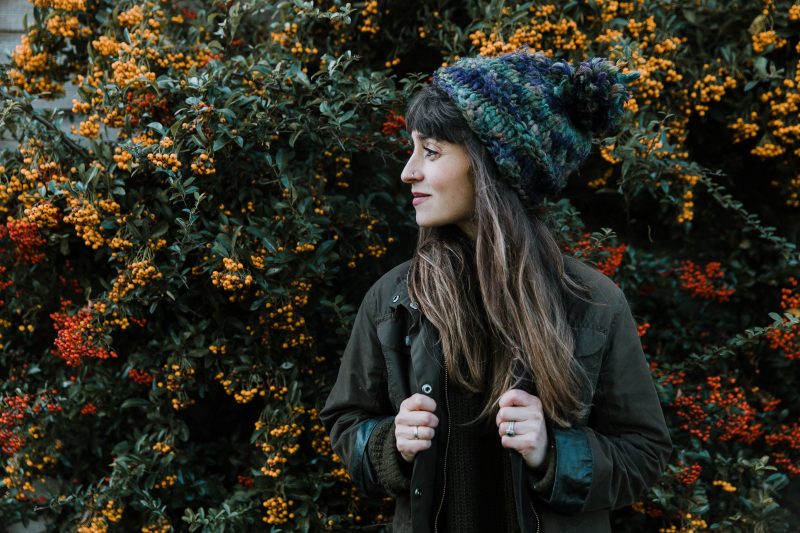 I love bobble hats any day of the week and now that I'm going to be ditching shampoo again, I know that they're going to be even more of a necessity. Any recommendations, anyone?
We spend a lot of slow days at home , often on the floor, and so I spend considerable time hanging out in my pyjamas until far too late in the day. A good pair of pjs is always an appreciated gift for me.
I picked up this green polka dot skirt for €8 from a vintage shop in The Marais when I lived in Paris in 2006 as a student as part of my University year abroad. I remember seeing this skirt with its broken zip and knew I had to have it. NB. ironing is not my strong point.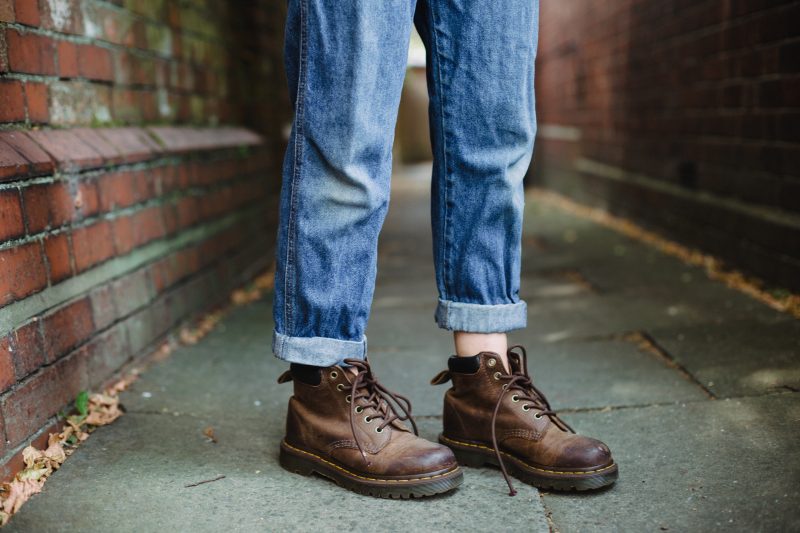 Dr Martens are an example of true quality in my mind. These boots have been through mud, snow and rain and they still look like new. One of my worst habits is not wearing socks with them – that's my anklet poking over the top there, and probably a few leg hairs..! I definitely want to check out the Dr Marten vegan range too.
When I used to work for Google, this would often be my look. I don't really like heels but when I used I do love a wedge midcalf boot.Now that I've quit corporate life, it is very rare that These are suede and I grabbed then in the sale – I don't like shopping but when I do go, it's in the sales. I'm only pint size so sometimes a little extra height can be nice. A baggy blazer is my go to to 'smarten' up Also, polar necks make me feel strangely chic.
Do you have a particular style? What sort of clothes do you gravitate towards?
Emma x
P.S The Experts Tips on Packing Lightly and A Pair Of Dungarees I'm lusting After
(Photos by Yasmin Anne)